Rare 1961 Oselli Mini 'Barn Find' Headlines Classic Car Auction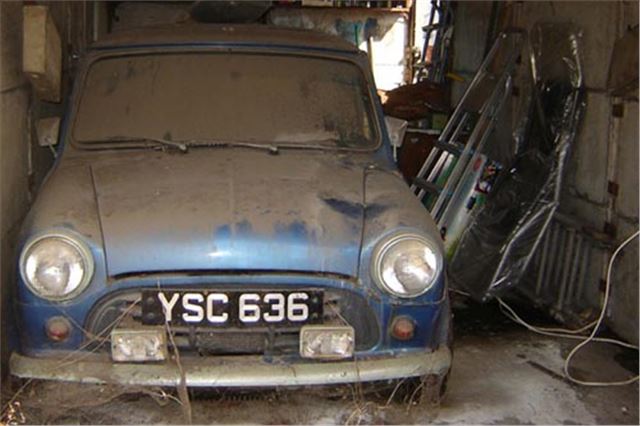 An extremely rare 1961 Mini, modified by Oselli to 1,125cc, goes under the hammer in Barons British Heritage auction at Sandown Park on 18th September.

This particular car is one of the famous performance tuning specialist's first conversions, but was taken off the
road in the early 1980s, then sat gathered dust in a garage for the past 31 years. Restoration projects like this are now much sought after at it is estimated at £7,000 - £10,000.
If you don't fancy oil under your fingernails, there's a near perfect 1969 Mini Cooper Mk II, restored to the last nut and bolt in a 1980s replacement body and never driven either in the wet or in bright sunlight. That one is estimated at £14,500 - £15,500.
The British Heritage sale also features a fine 1950 Bentley MkVI, which the vendor's late husband acquired in 1987 as a swap for 'a very nice Ford Cortina', and then comprehensively restored. Well known to Bentley Drivers Club members, and the winner of a number of concours' trophies over the years, it carries an estimate of £18,000 - £22,000.

The 'nut and bolt' restored 1948 Rover P2 12 Tourer on offer is one of just 200 examples ever built. In beautiful condition, it is offered complete with the original slide out toolkit. Estimate £16,500 - £18,500.

And the sale also includes the perfect registration number for an Aston Martin DB9 owner. 'DB09 AML' doesn't just feature the model identity, it also carries the initials for Aston Martin Lagonda. £4,750 to £5500

The auction also offers a section for cars made outside the UK. This is headed by a very glamorous, 1939 French-built Hotchkiss 686 Riviera DHC, equipped with a revolutionary Cotal electromagnetic self-changing gearbox. £37,500 - £42,500. And the European glamour continues, with a very stylish 1958 Mercedes-Benz 190SL, complete with factory hardtop. £30,000-40,000.

Barons is still accepting entries for this sale in the splendid Surrey Hall at Sandown Park. For further information, or to consign a car to the sale, visit www.barons-auctions.com, or email info@barons-auctions.com.
Comments