Big Classic Auction at Blenheim Palace on 14th July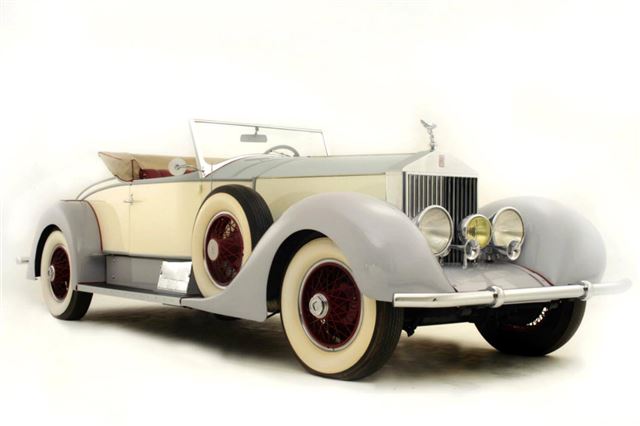 Coys Classic Car Auction at Blenheim Palace on 14th July includes over 120 vehicles, the star being a 1927 Rolls-Royce Phantom I Playboy Roadster with a Hollywood past.
There will also be a Concours d'Elegance, which is free to enter and open to anyone with an interest in cars.
Entries to the Concours d'Elegance include a Ferrari 212 Inter, Ronnie Hoare's C-Type Jaguar, an Alfa 8C Monza and an Auburn 851 Speedster from the National Motor Museum.
"But anyone can turn up and put their car into the Concours and have the potential for winning a prize. The car doesn't have to be exotic it could be a Mini or a Ford Anglia.
Classes include"The Churchill Trophy" for best car of the day, the COYS "Spirit of Motoring" to celebrate the epitome of the motoring enthusiast and "The Kensington Trophy" for the most elegant design.
The auction includes a fine selection of micro cars, a 1965 Morris Mini Cooper S recreated to the Italian Job specifications and the Jaguar Legend collection, with several E-Types, a SS100, a SS Tourer and various models of the XK and MK series, amongst others.
Cars once owned by famous personalities include a 1954 Rolls-Royce that belonged to Dirk Bogard, and a 1972 Volkswagen Karman Ghia once owned by Kelly Jones and Javier Weyler of Stereophonics.
The auction also features a 1927 Rolls-Royce Phantom I Playboy Roadster, first owned by Tom Mix, the biggest cowboy star of the silent era, who had the car modified and updated. After his death, the car was briefly owned by Bette Davies and then went into the Warner Brothers' movie fleet, and over the next thirty years it starred in classic movies including 'Giant', 'The FBI Story', and 'Inside Daisy Clover', in which it was driven by Robert Redford. The 1927 Rolls-Royce Phantom I Playboy Roadster is estimated at £110,000 - £130,000.
Viewing will be open to public on Friday 13th July from 12:00am to 6:00pm and on the day of the sale from 10:00am to the start of auction.
For more information about the auction, click on Coys Blenheim Palace Auction
For more information about the concours, click on Coys Blenheim Palace Concours
Comments