Morris Minor Post Van Makes £8,000 For Barnados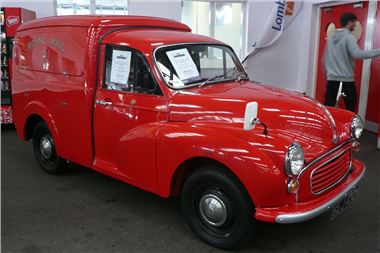 Hundreds of buyers packed British Car Auction's Blackbushe auction centre on Monday
13th September for the sale of a beautifully restored Morris Minor post van. The
Royal Mail had donated the van for sale with all the proceeds going direct to
Barnardo's, the Royal Mail's chosen children's charity.
The sale attracted collectors and enthusiasts to Blackbushe hoping to secure the
van, which was sold in the correct vintage livery from forty years ago. It raised
£8,000 for Barnardo's following some very competitive bidding in the auction hall,
with BCA waiving its fees for the sale.
"BCA is delighted to help Royal Mail raise such a significant amount for Barnardo's
through the sale of this vehicle" confirmed Tim Naylor, PR Manager, BCA.
"Barnardo's deserves support for the vital role it plays in bettering life every day
for countless children throughout the UK."
The 1970 Morris Minor van was finished in pillar-box red and was used for deliveries
in Christchurch, Bournemouth & Poole during its initial six years service. It then
went into private ownership for a number of years before going back into the Royal
Mail fold in the late Eighties when a team of four dedicated Royal Mail employees at
the Isle of Wight workshop worked in their spare time to restore the van to its
former glory.
Since its restoration, completed in 1992, the little red van was used by the Royal
Mail at local displays, fetes and festivals and it has raised money for charity at a
number of events around the Isle of Wight and other parts of the UK.
More at: www.british-car-auctions.co.uk
Comments