Ferrari F40 to Star in Saturday Auction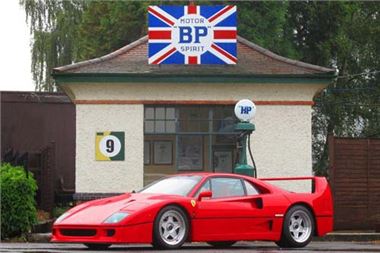 An original and unmolested 1989 Ferrari F40, the car that held the mantle of the world's fastest street-legal production car, is a dramatic last-minute addition to the 70+ classic vehicles that will come under the hammer at the Historics at Brooklands auction in Surrey, this Saturday, 25th September.
Such is the appeal of the F40 that examples are seldom offered for sale and Historics are expecting significant interest, valuing the car between £280,000 - £320,000.
The F40 was the last model commissioned by Enzo Ferrari, celebrating 40 years of manufacture at Maranello. During its production, from 1987-1992, the Ferrari F40 was the most powerful, most expensive and fastest car the company had ever produced, with 471bhp on its turbo-charged tap.
Owners of the 1,315 F40s produced enjoy a stunningly-designed and superbly crafted, red-blooded projectile - regarded by some as the greatest supercar of all time - which reached a genuine 200mph, thanks largely to its supreme aerodynamics and light weight.
The F40 weighs in at a meagre 2,400 lbs, through the copious use of carbon fibre, kevlar and aluminium. And, testiment to Ferrari's supreme styling and finesse 23 years ago, the F40 slips through the air with a drag co-efficient of just 0.34.
In contrast, the current holder of the world's fastest car title, the Bugatti Veyron Super Sport, thumps the scales at a beefy 4,160lbs, over 70% heavier than the F40, and required more than twice the power in order to claim the current record speed for a production car, at 268mph.
The F40 example offered at Historics on September 25th was manufactured in 1989. With a recorded mileage of just 10,500 miles, F311 ULB offers superb value for money and besides its electrifying driving experience, makes an ideal investment opportunity, with so few original and unmolested examples such as this, finding their way to the open market.
The sale of cars consigned to the Historics at Brooklands auction on Saturday 25th September gets under way at 3pm, with viewings on the day from 10am, and on Friday 24th, 10am - 8pm. Entry is by catalogue only, available prior to, or on the day of the auction.
Some other very interesting entries include:
1969 Pontiac Firebird Convertible, est £23k - £26k
1923 Rolls Royce Silver Ghost Salamanca, est £120k - £145k
1968 Ford Mustang GT, est £30k - £40k
1965 Ferrari GTO Evocazione (replica), est £205k - £235k
1969 Plymouth oadrunner, est £30k - £40k
1992 - 1993 Three Mini Mokes, est £6k - £8k
1965 Lncoln Continental, est £8k - £12k
1963 Ford Galaxie Competition 2-door, est £45k - £55k
1953 Jaguasr XK120 roadster, est £65k - £80k
2008 Shelby Mustang GT500 Super Snake, est £70k - £90k
1955 Jaguar XK140 roadsgter resto project, est £12l - £16k
1964 Jaguar E-Type 3.8 roadster resto project, est £25k - £35k
1959 Austin Healey 23000 Mk 1 BN7, est £34k - £38k
1970 Mercedes 280SE 3.5 V8 convertible, est £70k - £90k
1965 Astin Martin DB5 convertible, est £350k - £450k
1965 Ford Mustang GT350 Shelby Tribute, est 28k - £33k
1961 Jaguasr E-Type 3.8 roadster, est £60k - £75k
1968 Chevrolet Camaro RS convertible, est £18k - £25k
1957 Ford Rnachero pick-up, est £18k - £25k
1959 Cadillac Ghostbusters ambulance, est £60k - £70k
1954 Aston Martin DB2/4 Mi 1 2.6 competition for resto, est £65k - £75k
See you there.
For more information, call 0800 988 3838, e-mail: auctions@historics.co.uk, or visit the website, www.historics.co.uk
Comments