Morris Minor Royal Mail van in September Charity Auction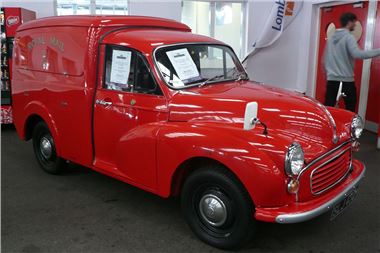 The chance to own a very special, beautifully restored Royal Mail Morris Minor van
comes up next month when it is offered for sale at British Car Auctions (BCA),
Blackbushe, near Camberley, Surrey. The sale, on Monday 13th September, will
showcase the pillar box red van, which comes with a great history as part of its
heritage. All the proceeds from the sale are going to the Royal Mail's chosen
children's charity, Barnardos.
Tim Naylor, PR Manager, BCA commented "This Royal Mail Morris Minor van will strike
a chord with anyone who remembers Royal Mail deliveries in the 60's and 70s. It
has been beautifully restored by Royal Mail mechanics based at the workshop on the
Isle of Wight."
Registered on 4th February 1970, the van was used for deliveries in Christchurch,
Bournemouth & Poole during its initial six years service. In January 1976 it was
sold to a local private buyer, but returned to Royal Mail 10 years later when it was
bought privately by one of the managers at Royal Mail's vehicle workshop. In 1991
it went properly back into the Royal Mail fold, when it was bought by Royal Mail for
special promotional activities.
A team of four dedicated Royal Mail employees at the Isle of Wight workshop then
worked in their spare time to restore the van to its former glory in what can only
be described as a 'labour of love'.
Since its restoration, completed in 1992, the little red van has been used by the
Royal Mail at local displays, fetes and festivals and it has raised money for
charity at a number of events around the Isle of Wight and other parts of the UK. It
has been a regular feature at the annual Goodwood Festival, where it was used to
make deliveries around the showground.
"The Royal Mail and its workshop team at the Isle of Wight Service Centre are really
keen that the Morris Minor Van goes to a good home" concluded Tim Naylor. "BCA are
looking forward to raising a substantial amount from the sale proceeds for their
chosen charity, Barnardos."
Curiously, the very last of these vans were perversely badged 'Austin' for some strange
'badge engineering' reason.
The Sale takes place on Monday 13th September at BCA Blackbushe.
More at BCA
Comments