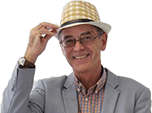 BCA Tewkesbury back in business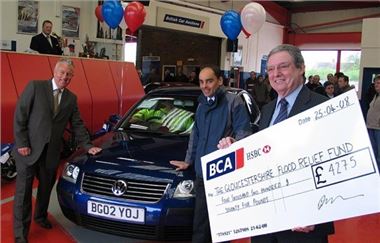 British Car Auctions (BCA) has re-opened for business in Tewkesbury, following the temporary closure last year as a result of severe flood damage. The centre, located in Northway Lane, Tewkesbury has been closed for seven months while repairs and refurbishment took place.
The first sale at the refurbished BCA Tewkesbury took place on Friday 25 April 2008 and a record 433 cars were offered for sale – the biggest sale ever staged at the centre. Cars were entered for sale by BT Fleet, Citroen, CarGiant, Motorhouse 2000, Motability Operations, Peugeot, Fiat Auto UK, Alphabet GB and Lookers.
BCA donated the first car to be sold - a 2002 VW Passat 130 TDi - in support of the Gloucestershire Flood Relief Fund. Following some competitive bidding, the car sold to Jeff Dillon representing Lookers PLC (Bristol Trade Centre) for £4,250.
Mr Dillon joined BCA's UK Operations Director Simon Henstock as he presented a cheque to Les Buchanan, Vice Chairman of the local Chamber of Commerce who represented the Fund on the day.
Mr Henstock, commented: "While we are delighted to have our Tewkesbury centre back in business, we are acutely aware that many residents are not so lucky and have yet to return to their homes. We thought it was appropriate that the first car we sold was donated by BCA with all the proceeds going to the Gloucestershire Flood Relief Fund which has provided essential help to local residents following the floods."
He added "I'd like to thank all our customers for bearing with us while the repairs were carried out and it is great to be back with a record sale entry at Tewkesbury."
Gary Toombs, Managing Director of Lookers Used Car Supermarkets added "We were delighted to bid on the charity car and were pleased it made so much money for such a worthwhile cause."
Nearly 200 buyers attended the re-opening event at BCA Tewkesbury and bidding was brisk throughout the sale.
Sales at Tewkesbury will be held every Friday, starting at 10 am and the auction centre is also introducing a brand-new Tuesday evening sale, the first of which will be on Tuesday 29 April at 6.00pm..
Further details of the Tewkesbury sales programme can be found online at
www.bca-europe.com
.
British Car Auctions
Newtown Industrial Estate,
Northway Lane, Tewkesbury,
Gloucestershire
GL20 8JG
Phone: 01684 292307 Fax: 01684 294246
Comments