Croft Circuit revs up for historic RAC rally action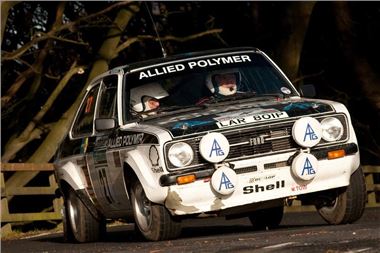 There are now just five weeks to go until Saturday 3 December when Croft Circuit in North Yorkshire hosts a stage of the highly spectacular Roger Albert Clark Rally for historic rally cars.
The R.A.C, named in honour of Seventies British rally great Roger Clark, is run in the same spirit as the famous Lombard RAC Rallies that wowed huge crowds throughout Britain from the Sixties into the Eighties.
The recreation is acknowledged as one of the 'blue riband' events for Europe's booming historic rallying scene with close to 100 crews set to contest the event in a mouth-watering line-up of competition-tuned Ford Escort MKIs and MKIIs, Porsche 911s, Vauxhall Chevette HSRs, Lancia Stratos and Fulvias, Saab 96s and Mini Coopers as well as other favourite models of cars from the era.
And now Croft, the North East's premier motor sport venue located just south of Darlington off the A167, can release more details about its much anticipated R.A.C Rally date (Sat 3 Dec).
Its special stage – incorporating its race track and pit lane – will be run first at 4.01pm and again at 4.19pm on the day. Competitors will pass through it twice on each run meaning spectators will see the cars in action four times.
Prior to the high-speed action, however, cars will begin arriving at Croft at 3.20pm as they 'clock in' to an on-event Service Park that will be in the circuit's paddock. This will enable the public to chat with the competing drivers and co-drivers and get a close-up look at the cars which were handled in their heyday by some of the world's most famous rallying names such as British heroes Roger Clark, Russell Brookes and Tony Pond plus Scandinavian aces Markku Alen, Hannu Mikkola, Stig Blomqvist, Bjorn Waldegard, Pentti Airikkala and Timo Makinen.

JUST £10 PER ADULT; KIDS 15 & UNDER FREE
Tickets to see the R.A.C Rally in action at Croft will cost just £10 (payable on the gate) with admission for children aged 15 and under FREE. For more details call the Croft Circuit office on 01325 721815 or visit the www.croftcircuit.co.uk website.
Croft Circuit Manager Tracey Morley commented: "We are extremely proud to be hosting a stage of this year's Roger Albert Clark Rally – the sight and sound of these charismatic cars always makes for an electric atmosphere. They represent some of the UK motoring industry's most iconic models of car and many of the public who watched them being rallied in their heyday remain fans. There is also a considerable following among owners club members and younger fans alike.
"The service area we are providing for the R.A.C competitors in our paddock will bring the public even closer to the action and the stages themselves promise to be very spectacular with lots of sideways action – particularly as they'll fall at sunset.
"Croft's motor sport fixture list in 2011 will have been one of its most memorable since the circuit re-opened in the mid-Nineties. Already this year we have attracted to the region the very best in two and four-wheeled racing action with visits from the British Superbike and Touring Car championships. On top of that, our own 'Nostalgia' weekend has rapidly established itself as one of the most popular historic racing festivals on the UK motor sport calendar.
"In just over week (Sat 5-Sun 6 Nov) we're hosting the final round of the British Rallycross Championship plus the British Rallycross Grand Prix and our club-level fixtures in 2011 have also produced some of the best of their kind in the UK.
"Hosting a stage of the R.A.C Rally really is the icing on the cake for Croft Circuit."


Croft's stage takes place on the second of the R.A.C Rally's four-day route. Furthermore it represents one of only two asphalt-surfaced challenges for competitors with the remainder of their stages being held on gravel roads through the forests of North Yorkshire, Cumbria, Kielder, the Borders and Dumfries and Galloway. For more information on the event visit its official www.rogeralbertclarkrally.org website.


Photo Classic Escort Rally Car by Gavin Higgins.

Comments