1957 Ford Zephyr Convertible Makes £22,412 at Barons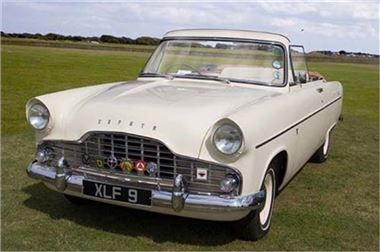 The top-seller of the day at Barons on 30th October was a blue 1962 Mercedes-Benz 190SL, which, after a prolonged bidding battle between a bidder in the hall and a phone bidder calling from Germany, eventually went to the British buyer for £32,500.
A silver 2000 Ferrari 456M GTA achieved £28,000, while a Porsche 911 Carrera 4 sold for £14,230 which was above reserve. The very rare 1956 Ford Zephyr MkII Convertible disappointed slightly, yet still managed to achieve a very respectable £22,400 including premium and represents a strong investment.
A 1972 Primrose Yellow S3 FHC E-type Jaguar was offered complete with interesting registration number BRA 500K. This car, which had been the subject of £20,000 worth of expenditure over the past 12 months, sold for £18,600. The buyer who acquired the 2004 Jaguar XJ8 4.2SE for just £5,500 definitely got a bargain. But buy of the sale was undoubtedly the bright yellow 1934 Hudson Terraplane Challenger. At £6,950 this highly charismatic car was a steal.
The 1965 Fiat 500D with just 35,600 miles on the clock would probably have made more than its £8,100 if it had come with more paperwork - demonstrating that it's important for owners to try to hang on to all the administrative bits and pieces that a car accumulates over the years. 
Entries for Barons' Yuletide Classic on December 18th are already rolling in, with a rare 1966 428 Thunderbird Convertible and an even rarer 1965 Margrave Wood and Picket Mini Cooper S topping the list at the moment. This sale is always popular, not just because Barons rolls out complimentary sherry and mince pies but also because of the selection of cars usually consigned to the event, which has become a favourite among classic enthusiasts.  For further information, or to consign a car to this sale, email info@barons-auctions.com, visit www.barons-auctions.com or call 08454 30 60 60.
| | | | |
| --- | --- | --- | --- |
| Year | Make | Model | Sold @ inc |
| 1962 | Mercedes | 190SL | £32,492.00 |
| 2000 | Ferrari | 456M GTA Coupe | £28,000.00 |
| 1956 | Ford | Zephyr MKII Convertible | £22,412.00 |
| 1972 | Jaguar | E-type S3 FHC | £18,604.00 |
| 1999 | Aston Martin | DB7 Vantage 6.0 V12 | £17,652.00 |
| 2007 | Hayden | AC Cobra 427 Replica | £17,092.00 |
| 2002 | Porsche | 911 Carrera 4 Tiptronic | £14,236.00 |
| 1965 | Fiat | 500D Saloon | £8,076.00 |
| 1934 | Hudson | Terraplane Challenger | £6,956.00 |
| 1992 | Porsche | 968 Coupe | £6,004.00 |
| 1980 | Mercedes | 280SL | £5,836.00 |
| 2004 | Jaguar | XJ8 4.2SE (X350) | £5,500.00 |
| 1994 | Jaguar | XJS 4.0 Coupe | £4,940.00 |
| 2004 | Jaguar | XJR V8 (X350) | £4,828.00 |
| 1994 | Land Rover | Range Rover 4.2 LSE | £4,604.00 |
| 2000 | Jaguar | XJ8 | £3,260.00 |
| 1972 | Opel | Manta 1.9SR Coupe | £3,036.00 |
| 1992 | Jaguar | XJR Sports Saloon | £3,036.00 |
| 1991 | Mercedes | 500SEC | £2,980.00 |
| 1989 | Toyota | MR2 MKI | £1,592.00 |
| 1971 | MG | Midget | £1,592.00 |
| 1992 | Vauxhall | Astra LS | £992.00 |
Comments