1963 Bentley Continental Makes £159,000 at Auction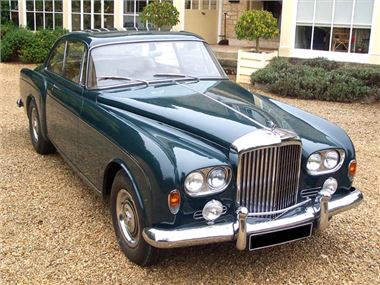 Barons' October 26th event at Sandown Park was the second-best sale in the 12 years since Laurence Sayers-Gillan founded the classic and collectors' car auction house. The star of the sale was the beautiful and extremely rare 1963 Bentley Continental 2 Door Coupe by Mulliner, which romped up to £159,000 gross after a protracted battle, which finally came down to a single bidder in the hall versus a telephone bidder, who was the eventual buyer. The packed hall burst into applause as the hammer fell.
One of just eight examples built in right hand drive configuration, and one of only 11 built in total, the Bentley was in completely original condition. But while it may have been the ultimate star car, there were also some significant prices achieved for a pair of Jaguar E-type FHC's. The lovely 1969 Series Two went for an impressive £31,860 gross and the 1967 Series One 4.2, a very healthy £53,000. In fact, Jaguars were very much in vogue on the day, with seven out of the top ten cars being representatives of this legendary marque.
The event also saw the sale of a mint-condition SAAB Sonnet II V4, which achieved £9,790 gross. Barons' auctioneer Fabian Hine admitted that he had never offered such a car in his 37-year career and most auction-goers had never even seen one.
Barons' Managing Director, Laurence Sayers-Gillan, commented, "This was an excellent result and was not only significant for the sale of the Bentley. With a total of over £544,000 and 37 cars finding new owners, the result was very good all-round."
"We now look forward to our popular annual Yuletide Classic sale at Sandown Park on December 7th. This is already looking good with some very tasty consignments, including a lovely SSI Tourer, an Aston Martin DBS 6 with ZF manual box, a rare Lotus Cortina SE MKI and other interesting motor cars.'
For further information please visit www.barons-auctions.com or email info@barons-auctions.com
Full results below.
1963 Bentley (H.J. Mulliner) Continental Coupe - £159,000
1958 Jaguar XK150 Roadster - £55,886
1967 Jaguar E-type S1 4.2 FHC - £53,093
1958 Jaguar XK150SE DHC - £42,350
1959 Jaguar XK150 FHC - £32,419
1969 Jaguar E-type S2 4.2 FHC - £31,860
1974 Jaguar E-type S3 Roadster - £27,390
1953 Oldsmobile 98 Sedan - £14,539
1962 Jaguar MKII 3.8 Saloon - £12,186
1967 Saab Sonett II V4 - £9,789
2002 Lotus Elise Sports Tourer - £9,342
1969 Chevrolet (GM) Camaro SS Coupe - £8,951
1987 Bentley (R-R) Mulsanne Saloon - £7,499
1968 Lancia Flavia Coupe - £7,499
1968 Jaguar MKII 3.4/340 Saloon - £6,269
1972 Mercedes 280SE - £6,158
1990 Mercedes SL300 - £5,878
1965 Triumph 2000 MKI Saloon - £5,878
1988 Jaguar XJ-S 5.3 V12 Convertible - £5,040
1973 MG B Roadster - £4,481
1993 Mercedes E320 Convertible - £4,370
1987 BMW 635 CSi £4,146
2000 Rover Mini Cooper Sport - £4,146
1985 Jaguar XJ6 3.4 Saloon - £3,643
1983 Mercedes 280SL - £3,364
1968 Daimler (Jaguar) 250 V8 Saloon - £3,364
1986 Chevrolet (GM) Corvette Coupe - £3,140
1988 Fiat X1-9 - £2,805
1990 Mercedes 300CE - £2,749
1979 Alfa Romeo Spider Sports 2000 - £2,470
1992 Mercedes - 300CE - £2,358
1984 Rover (BL) SD1 2600 VDP - £2,302
1989 Mercedes 500SE - £2,135
1980 MG (BL) B GT - £2,117
1990 Mercedes 300SE - £1,288
1990 Mercedes 300CE- £1,288
1996 Rover 100 Kensington - £588
Comments