Volkswagen Golf Estate (2009 - 2013)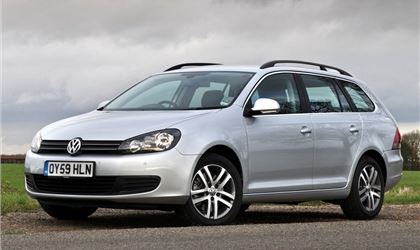 1.6 S tdi bluemotion
reviewed by Anonymous on 17 July 2019
5
Tax/Insurance/Warranty costs
4
Cost of maintenance and repairs
4
How you rate the manufacturer
Not a town car
I've had/driven lots of cars over 20 years. This car was passed down through the family. Really impressed with VW build quality, dashboard and controls feel soild and suspension has a big car feel, good at ironing out the road. Doors are reassuringly heavy. This version is the 1.6 Bluemotion, which is specifically tuned for motorway driving. The torque profile is terrible at low revs, it's very easy to stall. And the gearing is rubbish for round town, it's too high. Where you might be in second gear in a normal car, this car will need to be in 1st, which makes it hard work in slow traffic, driving round surburbia etc. I also find that on the motorway it requires more effort to hold 70mph, it will drift down quite quickly if you take your eye off the ball. I think this is to do with the turbo/engine map.
The S spec is not poverty spec, it's punishment spec. It's VW chastising you for buying a cheap version. The seats are terrible, and there's no support for you lower back so you slump uncomfortably. There's also no speakers in the back and the stereo is poor.
MPG is good on motorway, I've had over 70mpg in roadworks sections, but it drops off quite a bit as you speed up. The engine is gutless til the turbo kicks in, then you get an enjoyable boost of speed.
I did a fair amount of research on this car, and there are some very expensive bits that can go wrong, far more than a petrol. This is a constant worry as the mileage creeps up. DPF will inevetably get full of ash one day and need replacing, the DMF will also go at some point. Either of these alone is over £1K in repairs, so it doesn't make economic sense to buy a used diesel anywhere near 100K these days.
If I drove this every day I'd have sold it ages ago, but since it's rarely used it's not worth the cost to change.
I would absolutely consider buying another Golf Mk6, but a petrol SE. Better seats, more driveable round town, less expensive consumables.
It's actually a bit depressing how little genuine choice there is for medium hatchbacks. They are all flawed in different ways:
Sporty handling=bumpy
economical=slow
practical=dull
stylish=blind spots/cramped rear seats
value fo rmoney=cheap interior
......I think this is why people buy Golfs.
reviewed by Peter Hilsdon on 13 July 2019
reviewed by Peter Hilsdon on 20 June 2019
reviewed by Andrea321 on 14 March 2017
reviewed by Ryan Marjoram on 31 December 2016
reviewed by marty342 on 28 August 2013
Write your review
About this car
| | |
| --- | --- |
| Price | £18,600–£25,260 |
| Road Tax | B–F |
| MPG | 44.8–67.3 mpg |
| Real MPG | 83.9% |
Just reviewed...