Volkswagen Tiguan (2008 - 2016)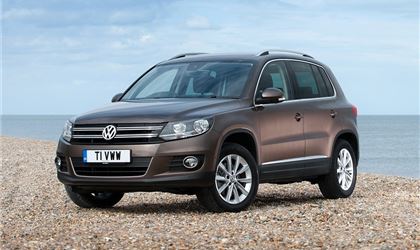 2.0 TDI 110ps 6speed S BlueMotion Technology 2WD 5dr SUV
reviewed by Anonymous on 1 January 2018
5
Tax/Insurance/Warranty costs
5
Cost of maintenance and repairs
5
Experience at the dealership
4
How you rate the manufacturer
This is a grower
I now feel qualified to assess this genuinely easygoing car. Let's get the bad stuff out of the way the boot is too small ( a common complaint) the seats in the basic version are ok but need better support,park assist a waste of time, wipers are too slow, wing mirrors too small,no rear seat armrest and the 2.0 tdi 110 while fine 90% of the time lacks balls in hilly Galicia.
The good stuff; safe handling even fun, ride firm but never unpleasant, no fuss interior, excellent bi-zone c/c, steering direct, controls satisfying to use, good km/litre with good quality fuel, stereo better quality (8 speaker) than many, great price in Spain, looks dated but will still look good in ten years and touch wood has been reliable like 1980s vw. Next car will have mid trim, bigger boot and bigger balls.
reviewed by wildersmouth on 14 December 2017
reviewed by ELFYN on 17 October 2017
reviewed by zundapp on 8 August 2017
reviewed by Neil Rowan on 14 April 2017
reviewed by Rjj on 29 July 2016
reviewed by JPNuman on 20 June 2016
reviewed by Norman Foster on 12 May 2016
reviewed by toni2has on 19 July 2015
reviewed by toni2has on 11 May 2012
reviewed by brocky on 6 June 2011
reviewed by donrover on 7 May 2011
Write your review
About this car
| | |
| --- | --- |
| Price | £20,125–£32,050 |
| Road Tax | D–J |
| MPG | 31.7–56.5 mpg |
| Real MPG | 84.5% |
Just reviewed...