Volkswagen Scirocco (2008 - 2017)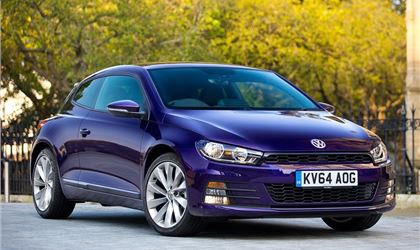 GT 2.0 TSI 210 3dr
reviewed by Anonymous on 14 November 2020
4
Tax/Insurance/Warranty costs
4
Cost of maintenance and repairs
2
How you rate the manufacturer
The smart person's 3-door GTI
Great in town; fun on a B-road; serene on motorways.

IME, Sciroccos handle and grip better than Mk5 or Mk6 GTIs.

Surprisingly spacious in the rear, it's a genuine 4-seater, with an adequate boot that's very useful when the rear seats are folded. Great driving position and headroom (I'm 6' 3").

Pleasantly surprised by motorway MPG – easy 41+ when cruising at 80 during a trip through France and Spain; a 50mph cruise yields 45mpg.

But, compared to a Mk1 SEAT Leon Cupra R, Scirocco brakes are feeble, the steering feels inert, and the gear shift is imprecise.

If you're looking for a 210bhp version, make sure it's had the cam chain and tensioner upgrade. If not done, the engine can die without warning at *any* mileage / age. A replacement engine costs £5k.

Beware, VW UK are ****holes re. warranty: one week and 3k miles after the 6-month warranty for a replacement clutch expired, VW would not replace mine, which started to vibrate like a road drill.

Intriguingly, Sciroccos seem to attract the opposite sex. And it was definitely the car not me, because my wife had the same 'problem' when driving solo. Oh, to be single...
reviewed by Andrew Fitton on 8 March 2020
reviewed by Andrew Fitton on 8 March 2020
reviewed by zundapp on 25 January 2016
reviewed by Zantrop on 31 October 2014
reviewed by DGJ on 28 August 2014
reviewed by RustyBalls on 30 November 2013
reviewed by A_T on 24 August 2013
Write your review
About this car
| | |
| --- | --- |
| Price | £20,550–£35,330 |
| Road Tax | B–J |
| MPG | 34.9–67.3 mpg |
| Real MPG | 87.0% |
Just reviewed...