Volkswagen Touran (2003 - 2010)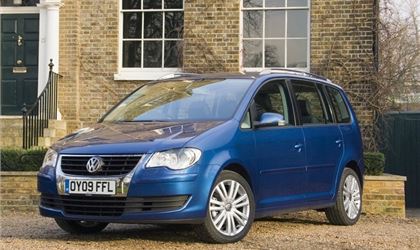 SE 1.9TDI BXE engine
reviewed by Mark on 29 June 2019
3
Tax/Insurance/Warranty costs
3
Cost of maintenance and repairs
5
Experience at the dealership
4
How you rate the manufacturer
All round family car that keeps on going and has passed 236000 miles
At the time of writing i have had this car 12+ years and have used it all over Ireland and irish roads can be bumpy...

It has never broken down but it has been unwell and for the first 8 or 9 years passed its NCT (MOT test) but it has had work done on it over the years to keep it going almost all of it suspension work.

The only annoying fault was the wiring to the MAF sensor was intermittent causing the engine to loose power but turning the engine off and on would restore power and once the wiring was fixed all was well.

There are two other faults i can and have lived with for years the EGR vale jammed shut at about 120000 miles you dont need it on this vehicle and it still passes the NCT, the other is the flywheel knocking with the car in neutral and foot off the clutch that started probably at less than 90000 miles and is still going strong and is not slipping or juddering.

even though the car was supplied on long life servicing i had it changed to 10000 mile fixed intervals and the oil and filters are changed along with the cambelt as needed.

Due to rough roads and high mileage all the front suspension bushes have been replaced as well as all the shocks and all the springs (at different times).

with the rear seats removed at one time i got an entire kitchen from B&Q in the car so if thats not practical i do not know what is.

the only downside with the car is the front pillars but to be honest you get used to it and its very easy to park as you can see all your corners so to speak.

I have to disagree with the review the three seats in the back are full width adult seats and this allowed us to have two child cars seats in the back and still have plenty of room for an adult between them very few cars this size can do this.

The other downside is the 7 seater has no spare wheel and the repair kit let me down twice so i bought a space saver from a scrap yard Golf and as the boot is so big anyway its no inconvenience and provides peace of mind.

Its been a great family car but i may have to replace it soon as the road tax here for it is astronomical.
reviewed by Anonymous on 28 November 2018
reviewed by rebel.mc on 14 April 2016
reviewed by Catfood on 5 July 2012
reviewed by wyremech on 20 July 2010
Write your review
About this car
| | |
| --- | --- |
| Price | £16,725–£24,045 |
| Road Tax | F–J |
| MPG | 34.9–52.3 mpg |
| Real MPG | 99.4% |
Just reviewed...