Volkswagen Touran (2010 - 2015)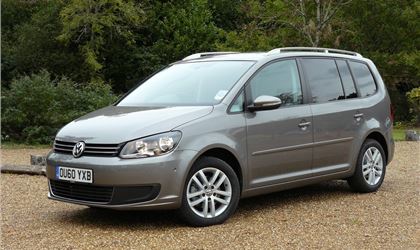 1.6 diesel 7 speed dsg
reviewed by Keith Gladman on 16 February 2019
3
Tax/Insurance/Warranty costs
1
Cost of maintenance and repairs
3
Experience at the dealership
1
How you rate the manufacturer
Generally ok except new ERG and now at 77000 miles dsg gearbox failure.
The car suits us for the upright seating and auto gearbox as recommended for my wife. I had the ERG give warnings and had to have it replaced at probably 50000 miles. Then I had the emissions software modification which did not seem to change the cars drivability as far as I could judge.
At 77000 miles after driving fine I came to park and there was no reverse drive. Then found only D1 selectable.
So far the mechatronics unit has been repaired and the repaired has found that a magnet has dropped off in the gearbox. Note the magnet is assumed to trigger a sensor and damaged the mechatronics unit when it came off.
VW do not supply spare parts.

Repair costs climbing away and 3 weeks off the road so far.

DO I WISH EVERYTHING IS RELIABLE AS A VOLKSWAGEN?
reviewed by Road Rat Rod on 8 December 2018
reviewed by Anonymous on 22 April 2018
reviewed by Road Rat Rod on 25 July 2017
reviewed by Road Rat Rod on 31 January 2016
reviewed by scramble on 2 November 2015
reviewed by Road Rat Rod on 20 August 2015
reviewed by CLSDean on 19 March 2015
reviewed by Road Rat Rod on 29 October 2013
reviewed by manymanymiles on 11 July 2012
reviewed by Anonymous on 17 February 2012
reviewed by niki on 3 November 2011
Write your review
About this car
| | |
| --- | --- |
| Price | £19,655–£28,350 |
| Road Tax | D–G |
| MPG | 41.5–61.4 mpg |
| Real MPG | 85.9% |
Just reviewed...