Volkswagen Beetle Cabriolet (2013 - 2019)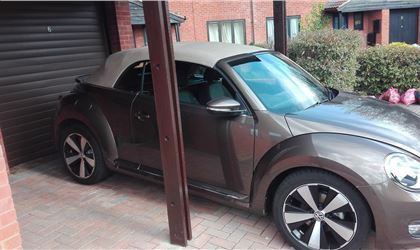 1.2 TSI 105 Design DSG
reviewed by John in MK on 5 April 2016
4
Tax/Insurance/Warranty costs
5
Experience at the dealership
4
How you rate the manufacturer
Bring me sunshine !
I have previously driven larger cars - Chrysler 300C, Skoda Superb, Volvo S60 recently - but had a MG Midget in the garage for summer fun use. I sold the MG a couple of years ago but missed the open top motoring. As my wife has a Renault Captur that would cope with luggage, I decided to forgo the space of the larger cars and get the fun back with a rag top and replace my Skoda with a convertible.

I decided that I wanted a Beetle convertible. Four seats (just) and iconic style were the main factors in my choice, plus, as this was before the VW scandal, the good name of cars from the VAG group that had always been extremely reliable for me. I would have preferred an ex-demonstrator or low mileage 2nd hand example, but as my bottom line was an automatic with cruise control, I was not spoilt for choice at the time.

Even new examples were on a 14-16 week back order, but luckily there were 2 that met the spec in the docks unallocated so I became the proud owner of a bronze 1.2 TSI design with DSG with the tan hood.

What an eye catching combination and the number of people who have commented on the colour supports my opinion.

So far, done 5000 trouble free miles and looking forward to the sun this summer. OK - it's no speed wagon but it is nippy enough for me. Space is tight for 4 and the doors are huge, so watch when parking in a car park.

The boot is small, and too narrow for a suitcase, although a hold-all that takes 20kg clothing for holiday can squeeze in. Larger suitcase is a back seat job.

I would recommend the optional rear wind deflector (mine came with it) to cut down the wind when top down.

The major downside is the fuel consumption. Mine is averaging about 33 mpg overall from the trip. Not much better than my 300C or Volvo and worse than my Superb. Not an issue for me given my mileage, and the manual may be better, but not too good for a modern 1200cc.

You don't buy a beetle with your head - analysing your needs would rarely come up with a beetle as the answer. But you don't buy one with your head, do you? Maybe a Cascada would be a more logical choice or, if a bit more money was involved, BMW, Audi or Mercedes Benz. But I have to say that I am currently still very pleased with my choice.
Write your review
About this car
| | |
| --- | --- |
| Price | £20,550–£29,860 |
| Road Tax | C–I |
| MPG | 36.2–64.2 mpg |
| Real MPG | 87.7% |
Just reviewed...