Volkswagen Beetle Cabriolet (2013 – 2019) Review
Volkswagen Beetle Cabriolet (2013 – 2019) At A Glance
If you'll excuse the marketing twaddle, the Volkswagen Beetle Cabriolet is more than just a car. It's a lifestyle. A feelgood factor. The opportunity to enjoy those endless summer days – or the occasional glimpses of sunshine between the showers. Although production stopped in 2019, the Beetle Cabriolet is the ideal choice if you can't stomach the idea of the Volkswagen T-Roc Cabriolet. 
Not enough of you bought a Volkswagen Beetle Cabriolet, which is why it has been consigned to the history books. Today, if you fancy a drop-top Volkswagen, your only option is the T-Roc Cabriolet. You can't even buy a Golf Cabriolet.
If you didn't buy one when it was new, why are you reading this review? We suspect it's because you've always had a soft spot for the Beetle Cabriolet, but maybe you couldn't stretch to the relatively high prices when the car was new. Or maybe a change in circumstances means that a topless Beetle is now a viable option for you.
Whatever the reason, you'll probably love the Volkswagen Beetle Cabriolet. Removing the roof from the Beetle coupe adds an extra layer of desirability to a car that, if we're being cynical, is little more than a less practical Volkswagen Golf.
Indeed, a Golf makes more sense for a number of reasons, but none of these will matter when you're enjoying the sunshine in your Beetle Cabriolet. It's a feel good car, to be ranked alongside the Mini Convertible and Fiat 500C.
There's space for four adults, and even though you get less boot space than you'll find in the Beetle coupe, you can squeeze the same amount of luggage inside, regardless of whether the roof is up or down. You can even fold the rear seats down to provide more space, but check with the people travelling in the back before doing this.
It feels like a premium product, which helps to justify its lofty price. That said, you should avoid the entry-level version, because the spec is a bit miserly, while the absence of any cosmetic upgrades means the cabin feels a little low-rent. You'll find some cheap plastics inside, regardless of the trim level.
You'll also find that Volkswagen was a bit mean with some of the features, with leather seats and front and rear parking sensors not standard on any model. Tick a few boxes and the Beetle Cabriolet begins to look more expensive than the price list would have you believe.
Not that this concerns you, because you'll be picking from the Beetle Cabriolets for sale on the used market. Sales slowed to such an extent that you might struggle to find a very late example, but early cars start from around £10,000.
To its credit, the Beetle Cabriolet drives as well as the standard Beetle, but we'd avoid the R-Line trim. Although it looks the part, the large alloy wheels and sports suspension combine to create a harsh and uncomfortable ride. The standard car is fine, although the rare Dune edition is the most comfortable Beetle Cabriolet you can buy. Good luck finding one.
Overall, the Beetle Cabriolet is easier to justify as a used car than it was as a new one. Depreciation means that it offers better value for money, although you won't be able to enjoy the fun of selecting from the range of personalisation options.
What do owners think of the Volkswagen Beetle Cabriolet (2013 – 2019)? Check out our
Owners' Reviews
from people who live with the car day in, day out.
Reviews for Volkswagen Beetle Cabriolet (2013 – 2019)'s top 3 rivals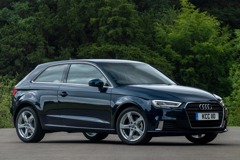 Audi A3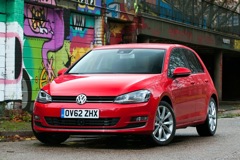 Volkswagen Golf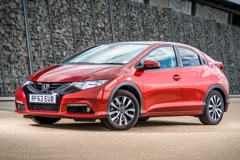 Honda Civic
Ask Honest John
Can you recommend a fun vehicle which is a bit 'different'?
"I'm now 64 and retired but still love cars. We have a nice 2000 model Jaguar XKR coupe for classic car shows and summer day driving. For everyday driving and towing the caravan we have a 2011 150PS Freelander 2, but this includes regular 120 mile family runs and all the local stuff. I want a third car to ease the mileage on the Freelander but not something that shouts "pensioner now approaching". Good, sensible options like a Jazz, a Cee'd, a Clio or a Golf GTI don't fit the bill. I want "different". To be different but to still enjoy the drive and worthy of a weekend polish I am thinking of 2005/6 Toyota RAV4 short wheelbase or a 2006-2008 Beetle, perhaps even a convertible model if the better summers persist. The mileage will be 5000pa. I'm budgeting about £6000 but can spend perhaps £8000. I'll cope with low/mid 30s mpg for the pleasure of driving something different. There will normally only be two adults but on occasion two grandchildren in their child seats, and we do live 1000ft above sea level so we're a bit in the sticks with poor winter road conditions. "
You've got your Freelander for snow, so no need for another 4WD. A late Toyota Celica would be good, especially a GT180. That's got back seats. But I understand the desire for a convertible. October is quite a good time to buy one because summer is over. Even better next month. I'd prefer a MINI R57 to a Beetle, but it's up to you: www.honestjohn.co.uk/road-tests/mini/mini-convertible-r57-2009-road-test//
More Questions
What does a Volkswagen Beetle Cabriolet (2013 – 2019) cost?