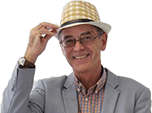 Honest John's Motoring Agony Column 22-04-2017 Part 1
Published 21 April 2017
This week's crankshaftings concern parking misjudgements, the colour of money, a two wheel tragedy, an exchange of fluids, a scale muddle and so much more you might even put off cleaning the car. 
As usual, emails to Honest John should be addressed to: letters@honestjohn.co.uk  Please try to keep them as short as possible.
Ticket machinations
I am not at all sure that your advice in relation to a penalty for failing to key in the whole car registration is correct. The legislation, and particularly the Supreme Court ruling, does not address this point. The law is predicated on there being a contract and the question that was addressed related to problems claiming appropriate damages. If Parking Eye seeks to seek damages on the basis of breach of contract, then it follows that it must be an assumed term of that contract that they provide and maintain the means by which the contract can be fulfilled. In other words, if the machine malfunctions in a way that prevents the customer from recording his full car registration, there has been a breach by Parking Eye. It may be that there would be a dispute as to whether the machine was faulty or whether the reality is that the customer just failed to properly operate the machine. That would be matter of fact to be decided on the evidence, but it is wrong to say that the law gives a one-sided right.
JO, Bowness on Windermere
Someone needs to argue this in court and take their case all the way to the Supreme Court. My point is that, though Beavis was deemed to be at fault on the facts, the ruling in Beavis v Parking Eye is being used by the parking enforcement outfits to penalise the public for any breach of their rules. And they run their own supposedly 'independent' appeals process. That is why cases based on mistyped registrations, broken ticket machines, and same day returns to the same carpark need rulings on the particular facts, otherwise parking enforcers will continue to use Beavis to assert their right to unfairly exploit the public.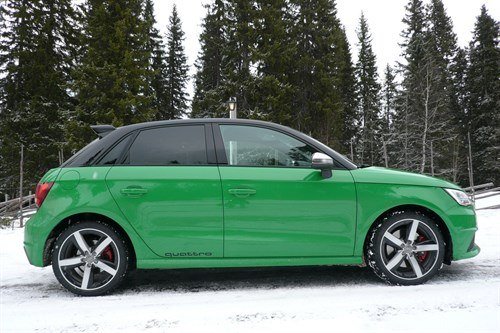 Sporty little numbers
I am looking to purchase an Audi S1 Sportback. Could you tell me what spec I should go for and which colour would be better for holding its price. My favoured choice is Mythos black, but I also like Sepang blue.
ME, via email
I'd go for standard 17-inch wheels with 40 profile tyres. 18-inch with 35 profile tyres make the ride worse. You'll probably want the Tecnology pack including satnav at £1,495. Stick to standard seats that come with lumbar support. I wouldn't go for leather (but that's personal choice). Sepang Blue is classy, but £475 extra. The green I drove is shouty and seems to be a very expensive Audi Exclusive colour. Mythos Black at £390 is a nightmare to keep clean and any dirt makes it look shabby.
Biker goan
Having passed his bike test our son Alex decided that a 125cc was too small, but he didn't want the weight of a 600cc four-cylinder motorbike. After much Internet research and reading (including the August 2012 Telegraph review), he decided to look for a secondhand Daelim VJF250. Having found a three year old with 10,000 miles at a dealer, he bought it with no warranty in the middle of February 2017. Whilst he waited for the start of March to pay his VED, he decided to give the bike a service. Air filter was no problem, oil came out okay, but the sump plug was stripped. We had that Helicoiled, but the engine then cut out on a run with the screen going dead as well. We have fitted a new battery and checked connections, but the bike continues to cut out and the display goes blank. I have to be honest that I am a points and carburettor man and so am at something of a loss. As it is from a dealer, can the bike be returned because it doesn't work?
DH, via email
Yes. When you wrote, he might have been within the 28 days allowed by the Consumer Rights Act 2015, but only had days to spare. See: /faq/consumer-rights/
Maxed out
I purchased a 2013 Ford C-Max 2.0 TDCI Titanium Powershift from a dealer in St Albans, on 8 August 2016. The salesman told me, my wife and my adult son that the car was fully serviced. I later discovered from the servicing invoice No. 148657 that the automatic Powershift oil had not been replaced in accordance with the Ford schedule of service. I wrote two letters to the dealer complaining about this on 19 August and 5 September but did not receive a reply. My local Ford garage quoted £246 for this service but I believe I can have it done at my local garage for £134.  What further steps should I take concerning this matter? I am puzzled that an oil change is required at 3 years even though it is an ex-Motability car and had then done only 13,000 miles. Ford states that a 3-year oil change is necessary despite low mileage, which implies that the oil must be decaying. 
CC, via email 
It is very necessary to change this fluid. Send written notice to the dealer that you intend to have the oil changed at a Ford dealer and will send the bill to them, taking the matter to Small Claims if they refuse to pay.
Scale of the problem
The heater in my three and a half year old, 32,000 mile CX-5 2.2d stopped working in January.  When this was looked at by a Mazda dealer in February they said the cooling system needed a citric-acid flush. The dealer was supposed to come back to me with a date for this but never did. Within a couple of weeks, the vehicle went from occasionally showing an overheating warning to severe overheating and the EMC unit putting the vehicle into "limp mode", requiring immediate return to the main dealer. The Mazda dealer has finally carried out the citric-acid flush and all appears back to normal. Apparently this is not a one-off occurrence. The service manager said that they have "done a few of these now". Living in a hard water area, a citric-acid flush sounds like the kind of service I give my kettle every few months to remove the build-up of limescale. I have not experienced this kind of problem in any vehicle before. It seems to be a problem with heater matrix becoming blocked.  I'm wondering how likely this is to re-occur in 2-3 years and whether the new CX-5 has addressed this? Also could the issue be resolved by using distilled water in the coolant mix rather than local tap water?

CP, via email
First I've heard of this. An owner would never normally top up the cooling system of a car within the first 4 years or so, so this must indicate either that Hiroshima where the car was built is a hard water area or there is some element in the factory fill coolant additive that causes the problem. I too live in a hard water area and when I ran older cars that needed the cooling system flushing I never came across this problem. But I did switch to a better type of pre-mixed coolant rather than using tap water.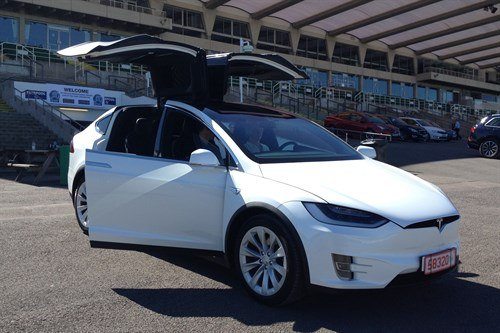 Charging across France
I am 75 years of age, fit in wind but not in limb. I have bilateral hip replacements, a degenerate spine and a left shoulder replacement. I have never been one to repeatedly replace my car, especially if I found it a good one. My present car is a Mercedes CL500, which I have owned since 2003. I love it but I am now severely compromised by the low position for access and the lack of four doors for our dog.
Sadly, I have to change, but for what? I am happy to buy whatever you recommend but I must add that I now cover no more than 5,000 miles a year, though most are long journeys to southern France.
Therefore comfort is essential, but economy is not a major part of the equation. I was thinking of a used S-Class or Audi A8, but my motoring friends say that my thoughts are flawed and that I should lease a classy hybrid or Tesla. What am I to do?
TF, London SW1
Not sure you can 'supercharge' a Tesla right across France, but the new Tesla Model X might suit you: https://www.tesla.com/en_GB/modelx/ Certainly a good choice for Central London, providing you have off street parking and a charging point.
Parks and spender
After parking at Marks & Spencer, Sevenoaks I received a Parking Charge Notice, which I disputed. Smart Parking told me to complain to the Independent Appeals Service (POPLA), which later told me that there was a backlog of 13,000 cases, but that I should not pay any penalty until it had adjudicated. On 20-03-2017 I received a letter from Direct Recovery Plus telling me that the POPLA jurisdiction had run out of time and that the "findings" of Collections Manager Jason Murdoch were that because I had not actually contacted POPLA (it had clearly received my complaint as indicated) that I must pay up. Any advice?
RC, Westerham, Kent
If you dispute it take your case to Small Claims, then on to the High Court and the Supreme Court. The legislation in The Protection of Freedoms Act 2012 Clause 56 and the ruling in Beavis v Parking Eye in the Supreme Court in November 2015 is being used by parking enforcement operators to justify penalties for all sorts of things that were not covered by this case. Beavis was a straightforward overstay, but penalties where ticket machines were broken, where drivers entered a wrong registration into a machine and where drivers returned t the same carpark the same day have not been separately ruled on by the courts and they need to be.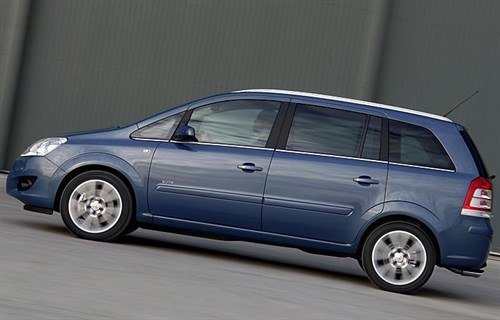 Shaky start
We recently bought a Vauxhall Zafira with 24,000 miles recorded. We don't dispute the mileage, but the first time we drove it on a dual carriageway the steering wheel was oscillating when it reached 60mph suggesting wheel balance problems. The dealer has an account with a tyre workshop, so the front wheels were balanced there but the improvement was minimal. The dealer then took it back again, saying he would "sort it out ". However, when we collected the car there was only a slight improvement and the steering wheel "shake" remained at 70 mph. The dealer says he hasn't had this sort of problem before, which seems unlikely to me, but because the mileage is so low the car has probably been standing for a long time without being moved, so what sort of problems could this cause?  Also, what can we do if he prevaricates about correcting the problem. 
NW, Sandiacre, Nottingham
Standing for a long time at normal pressures flat-spots the tyres and that's probably the problem. It's still worth trying swapping the tyres back to front (same side) to see if that helps. If it doesn't, over-pressuring the tyres might get them back into shape, but I don't recommend that. Ultimately you might need new tyres and at 24,000 miles it can't be far off needing new tyres anyway.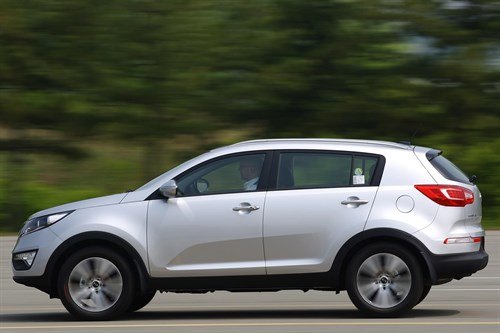 Sports noter
I am looking at a 2014 KIA Sportage 1.6GDi 1-spec with 35,000 miles at £11k. Are there any potential problems to be aware of? It is a petrol engine

MF, via email
Generally very good and should still be covered by the balance of the 7 year warranty. Problem areas here: https://www.honestjohn.co.uk/carbycar/kia/sportage-2010/?section=good
Phoney war
If a person is driving, it's obvious that using a mobile phone for phoning, texting, Facebook, Twitter, email or scrolling for music is distracting. It has led to people being killed as The Telegraph  reported on 21st March, the second such court case this year (the other had a lorry driver breaking up with a woman on Facebook while driving). But phones can also be used as Satnavs. My iPhone 6 is definitely better at it than my 5-year old Garmin and both are more accurate than the one built in to my 10 year old car. Judging from the late indicating and lane dithering I see these days, many satnavs are slow or out of date. It would be better if there was more use of phones as satnavs but, as it's a phone, is it legal? It's certainly questionable for those wanting to be sure of staying on the right side of the law.
PO, Claygate, Surrey
If it's in a holder it's okay to use the satnav function. No different from using a TomTom or Garmin. Not okay to use it hand-held.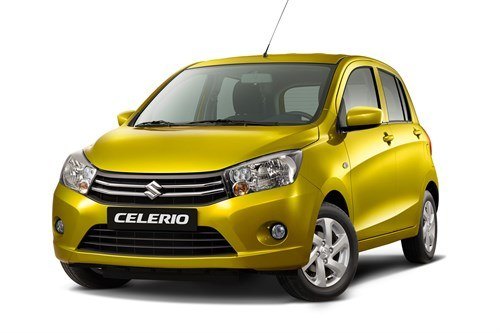 The narrow, the short and the tall
What car for 81-year old very tall lady to fit 1960s narrow garage, low mileage town car automatic. Goes to Brighton every six weeks and Salisbury, Wilts twice a year. Must have head and legroom.
VS, via email
A Suzuki Celario: https://www.honestjohn.co.uk/carbycar/suzuki/celerio-2014/ Or a Vauxhall Viva: https://www.honestjohn.co.uk/carbycar/vauxhall/viva-2015/
Factoring in
PA's experience (The Law's An Ass 18-3-2017) has all the hallmarks of another Private Parking scam. When you use a private carpark, you enter into a Contract with the parking company and PA would have seen the parking Terms and Conditions displayed on a sign next to the ticket machine and a statement that a contravention of the T&Cs would result in a £60 Parking Charge Notice. I presume one of the T&Cs said that a full registration needed to be entered when purchasing a ticket. However, the Contract was "varied by agreement" by the parking company when they accepted the parking fee from PA, even though PA had only entered part of the registration, or the machine only recorded the first 2 digits. On that basis, the parking company has no grounds to issue a £60 PCN as there is no contravention of the Contract T&Cs as they agreed to a variation by accepting the payment. I would suggest that PA talks to the local Trading Standards.
DP, via email
Quite right but this legal argument needs to be made in the Supreme Court otherwise Parking Enforcement Operators will continue to use Protection of Freedoms Act Clause 56 (2012) and Beavis v Parking Eye (2015) to justify all kinds of extortion from the public and it will only be when the Supreme Court on the specific facts that we will all know where we stand.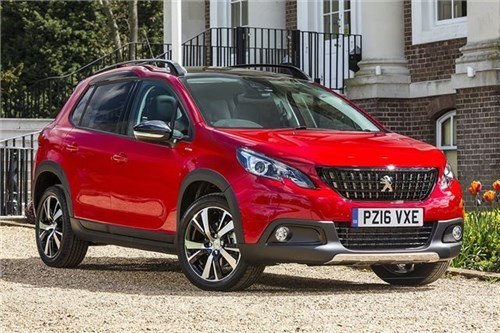 Contract purchase
My wife and I are long retired and want to exchange our two cars: a 15 year old Renault Megane DCI and a 10 year old KIA Picanto for a petrol 4-door automatic, comfortable, low road noise, and able to get through our 86 inch garage door opening.
WA, via email
A Peugeot 2008 1.2 Puretech 110 EAT6 automatic: https://www.honestjohn.co.uk/road-tests/peugeot/peugeot-2008-puretech-110-eat6-2016-road-test/
Port in a storm
To garage a car or not to garage a car?  We recently came home one wet afternoon and put our car straight into the garage, which is fairly well ventilated. The next morning when I got the car out I noticed the car and the floor were still wet which, of course, isn't doing the car or garage any good. I suggested that we erect a car port and leave the car out during wet periods. Your comments please.
LG, Lincoln
Correct. Never put a wet car away in a garage if you can avoid it. A carport is a good idea.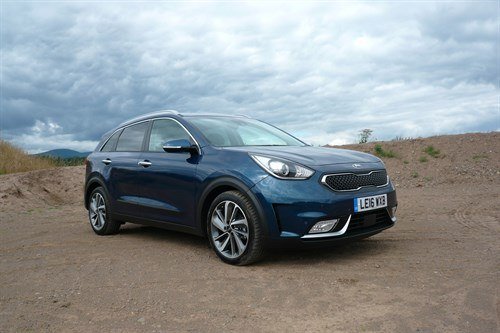 Motion sickness
I am currently driving a Golf BlueMotion and wish to change it for a petrol or hybrid car. I suffer from a bad back, so an automatic might be better. I do about 5,000 miles a year, mostly urban. I need 4 or 5 doors because I regularly have grandchildren in car seats and do not want to struggle to strap them in. My previous car was a SEAT Toledo, so I have been used to a bit of power, and have been a bit concerned by the lack of acceleration in some small automatics, but accept that as a 70 year old I am not racing around. I would like to buy nearly new, given the new tax rules, but could buy new.
PL, Shrewsbury
A KIA Niro: https://www.honestjohn.co.uk/road-tests/kia/ Or a Toyota C-HR: https://www.honestjohn.co.uk/road-tests/toyota/toyota-c-hr-2016-road-test/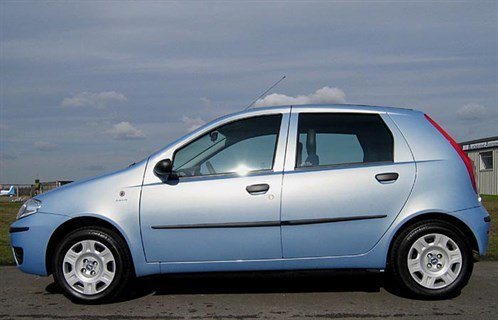 Prolonged Active life
My 2004 FIAT Punto 1.1 Active 5-door has 78,000 miles is used mainly as a 'runabout' for short, local journeys. I've just had a new rear exhaust and front coil spring fitted to get through the MoT, but there are more notes of concern regarding rusting parts. I'm now thinking that maybe I should be looking to replace it rather than spend any more money on it. What car of similar size of about 2 years old would you recommend? What would you recommend if I went for new?
JH, via email
It's done well to last 13 years. Unfortunately, everything has gone up. A FIAT 500 1.2 Lounge has risen from £9,250, to £13,450 over the past 9 years. The cheapest cars are Dacia Sanderos, Vauxhall Vivas and Suzuki Celarios. Then prices jump a bit to the Hyundai i10, KIA Picanto, Ford Ka+. Fiestas now start at £12,995. Though, oddly, Vauxhall discounts Corsas right down to £9,000. I've just been driving the new Suzuki Swift, which was brilliant: /road-tests/suzuki/suzuki-swift-10-boosterjet-automatic-2017-road-test/ But the duller KIA Rio comes with a cast-iron 7-year warranty: /road-tests/kia/kia-rio-2017-road-test/ Remember, never buy by list price. Always negotiate. And from April 1st the annual tax on all ordinary new cars goes up to £140 a year.
Listed building
I am thinking about purchasing a new car listed at £37,000, but with extras it would pass the £40,000 mark. Would it then be liable for the higher rate of VED? Also if a car listed at over £40,000, but then discounted to bring it below that figure how would it affect the VED?
BS, Radlett
If the extras are factory fitted and bring the list price of the car + VAT to more than £40k, then the extra luxury tax Of £310pa is applied in years 2, 3, 4 and 5. Discounts and the fitting of extras by the dealer do not affect this. Remember that the total 'luxury tax' over 4 years is only £1,240, which is a lot less than the £16,000 of extras fitted to some Audis, BMWs and Mercedes.
Click to Honest John's Motoring Agony Column 22-04-2017 Part 2
Comments
Author

Honest John
Latest