Honest John's Motoring Agony Column 29-10-2016 Part 2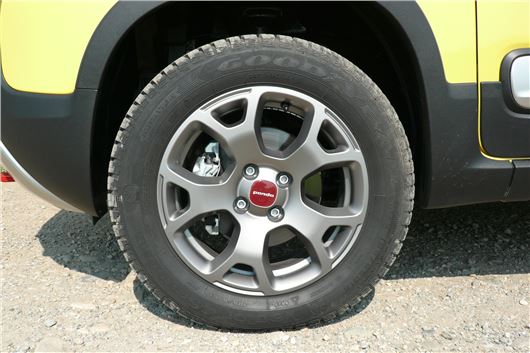 Published 28 October 2016
Click back to Honest John's Motoring Agony Column 29-10-2016 Part 1
Going spare
We recently corresponded about a defective key fob. By chance I went into Timpsons, South Street, Chichester and obtained a same day repair for £15. I just bought an 18-month old Panda 4x4. Is it possible to retrofit a spare wheel in place of the inflation kit? The supplying dealer does not think so - strangely enough.
RD, Rowlands Castle
You can find out. Jack the car up. Take one of the wheels off. And see if it fits. If it does, the answer is yes. If it doesn't, the answer is no. I don't think it will because though Pandas and 500s can take space savers they don't have room for full size spare wheels. So I think your choice is between a space saver and the completely useless tyre repair kit.
Sue-able case for treatment
Thank you very much for your advice. We have successfully obtained £875 for defects on my partner's son's first car through the Small Claims Court. We claimed for items found defective after purchase: Clutch, radiator, damper, and power steering pipe severely corroded. 
GG, via email
Many thanks for the heads up. It's good to know the small claims track is working.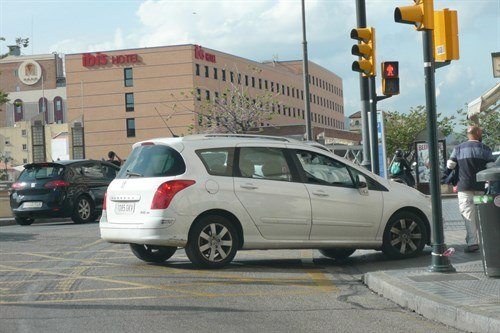 Non stop
Can someone Please advise me if, on entering a yellow box junction as the light changes, the traffic ahead if the junction is held up for whatever reason and you enter the yellow hatched area, realising you can't escape, you immediately reduce your speed to less than crawling speed (but remain moving) and don't actually come to a full stop, is it breaking the law regarding these junctions? I've done this and not received a fine/points but, never sure if my ploy has worked, or whether the junction that I happened to have not stopped in, was not monitored. I don't make a habit of this, but have been caught out on unfamiliar city streets, (I live on the edge of the New Forest, and only usually have to avoid horses, donkeys and cows and the occasional piglet, Sorry.)  Can someone give me the benefit if their advice?
CC, Southampton
The rule is you can't enter it the box junction you can't leave it. You could turn left, or if traffic ahead moves out of the way and you keep moving you should be okay. You will certainly get done if the lights change and you end up stuck stationary within the box.
Miss-taken identity
My wife received a penalty notice for £130, dated 26 September, from the London Borough of Newham that says her car was illegally parked near London City Airport at 1.01 a.m. on 22 August. Although the registration number is my wife's, we have never driven her car anywhere near London City Airport and know for a fact that we were both at home in Tunbridge Wells on that day. The notice says that if I disagree with it, I can "make representations" but I am also concerned that the number plate has been cloned. How should I proceed?
PW, via email
Respond as you did to me that the car was at your home at the time and date of the parking offence. You will probably be okay, but any evidence you can put together that your car was at home during the 2 - 3 hours surrounding the time of the alleged offence will help. It might be a cloning or it might simply be a misread registration.
Rights and wrongs
The Consumer Rights Act 2015 appears to be of limited use if the seller refuses a refund/replacement and disputes the fault. I was under the impression that if a fault occurred within 30 days then you have the 'right to reject'. This being in order to protect, for example, from an intermittent fault that doesn't show on diagnostics. So within 30 days of purchase and even after giving the opportunity to repair and to replace they can still refuse to give a refund?
CS, via email
The Consumer Rights Act 2015 is a statute. How effective it can ever be depends on case law based on facts. In your case, the fact you allege cannot be proven. And that is the basis of all contract law. If you could prove your case you could take it to court. But, unless the fault occurs again and is professionally witnessed, you can't prove it.
Sharp intake of death
The air intake manifold of my 2011 Jaguar XF was replaced 4 weeks ago due to failings at a cost £1,400. Three weeks later I returned the car to the garage due to engine knocking. They told me that the engine requires replacing at a cost of £13,000 if I go ahead. Reason quoted was originally crankshaft bearings, then they said that, on checking the oil filter, there was evidence of metal shards and swarf in the oil indicating the failure of a component in the engine. They contacted Jaguar who have said that they will contribute 40%, but I think if they are admitting component failure they should pay. My question is, the car has done 63,000 miles, with full service history and a lot of additional repair costs for basically failing parts. I would say this is not normal. Would you agree? And also if, as the garage said, they took the engine out to replace the manifold, would they not have checked the oils before putting it back in? It is plausible that a new fault would have developed 3 weeks later?
MT, via email
I think your best plan is to suggest to the garage that they dropped something such as a small nut, bolt or screw into the engine in the course of the manifold replacement and that caused the engine failure.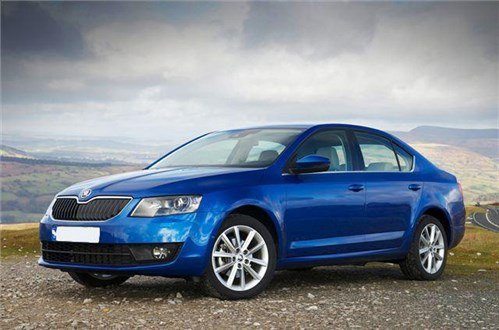 Pinky and perky
I bought a Skoda Octavia S 1.2TSI in September 2015 from a franchised dealership. It was a year old with 14k miles on the clock. I had a few niggles on picking it up but these were finally resolved. In January 2016 I got a phone by them for recall works for the cambelt pulley. I had the car serviced in June by the same dealership and informed them of a 'tapping noise' from the engine around 1,500 revs. No issues where found. The noise continued and, due to my persistence, I was informed that a replacement engine was fitted by the dealers in August 2015 prior to my purchase. If I had known of this it would of prompted further questions before any potential purchase. They have offered an additional years warranty as goodwill. They changed the water pump in August. Now the engine is 'pinking', which they have confirmed when they completed further test drives on the car with me. They have suggested I use a 'Branded Superfuel' to hopefully stop this 'pinking' noise on the next two tanks of fuel I will use. I have held a joint meeting with the Brand and Service Managers this week and have agreed to do this. However my patience is now being pushed and I want this resolved. What steps do you think I should take now?   
RR, via email
These problems with the belt cam 1.2TSI are new to me. But these engines need 99Ron super anyway. Always did. No skin off your nose because if you use the improved torque at low rpm to change up earlier, the resultant improvement in fuel economy should pay the extra cost of the fuel. I always use Shell V-Power in everything and have never had any fuel system related problems. I don't see a straightforward, over-the-table resolution unless they offer to buy the car back at 'market value' or offer to replace it with another. It's worth noting that the 1.2TSI 4-cylinder engine has now been dropped and replaced with a 1.0TSI 3-cylinder.
Unused car
I am laying up my 2009 Auris 1.6 for a year in my garage. What's the best advise to ensure the thing will work OK when I get back to using it, next year? I will be able to move it a short distance up and down my drive, and I intend to do that and idle the engine for 1/2 hour every weekend. Is that enough?

AF, via email
Starting it up every week and not driving it anywhere is not good for a modern engine. If the car cannot regularly be driven distances of 20 - 30 miles then overpressure the tyres to 40-45PSI to prevent flatspotting, put the car away in the garage bone dry (preferably after a 20 - 30 mile run), then hook the battery up to a battery conditioning float charger. It also makes sense to get an oil and filter change, brake fluid change and coolant change before you tuck it away, then there will be less chance of corrosion from contaminants. Chock the wheels and leave the parking brake off.
All or nothing?
The Swiss TCS has brought out its latest tests on winter tyres, done in collaboration with AA/RAC type organisations in neighbouring countries. Source: www.tcs.ch  Various tyres sizes were tested.  Personally I have used Barum Polaris, Michelin Alpin and Uniroyal on a number of different vehicles and they were pretty good.
SW, Geneva, Switzerland
Many thanks. Actually, the last few years weather conditions have meant that full cold weather tyres are becoming less relevant in the UK and all weather tyres are becoming more relevant. Peugeot now fits most of its 2008 and 3008 ranges with Grip Control and Goodyear Vector 4 Seasons, which are outstanding. And I've just done at least 12,000 miles on Michelin Cross Climates on an HR-V that significantly improved the car as a whole and are still only about half worn. Renault also fits most Capturs with Goodyear Vector 4 Seasons as well, so both 2008s and Capturs have switched from being jacked up 'crossovers' into very capable all-weather SUVs. (I might now be proved wrong and we'll have the worst winter for 30 years.)
Keeping your air on
I have a VW Polo SE TSI 1,197cc registered 14-11-2014. Whilst holidaying in France this summer and doing 200 miles on several days in heat of between 26-30C, the air conditioning would stop producing cold air for 30-45 minutes at intervals, leaving us to swelter in the heat, then it would come back on of its own accord. Turning the fan control up just produced more warm air from outside. I thought that I could detect a faint 'click' behind the dashboard when it went off and when it came on again. Have you any suggestions as to the fault?
RS, via email
A/c compressor pumps used to be electromagnetically clutched controlled by the climate control temp sensor in the cabin or by the temp dial. If the clutch failed it was a simple £50 - £100 fix. But if it's an all in one compressor with no separate clutch you could be in for a new compressor. It could also be the valve into the a/c matrix in the cabin, which may involve removing the dashboard. Take it to an a/c specialist rather than a VW dealer.
Carbon copy 
My BMW 320i is flashing an orange light intermittently on the dashboard. It is showing an engine type diagram and pointing to catalytic converter and emissions. I am running on high-grade Shell fuel, which has to a degree eliminated the problem, but it is still there every so often. Is there an additive that I can purchase to clean the catalytic converter, or what do you suggest?
WA, via email
Usually caused by carbon build up on the inlet valves because in a direct injected engine they are not cleaned by the fuel. There is an additive called Cataclean for which bold claims are made, supported by testimonials, but I have yet to receive any directly.
Click back to Honest John's Motoring Agony Column 29-10-2016 Part 1
Comments
Author

Honest John
Latest