Your best questions of March 2018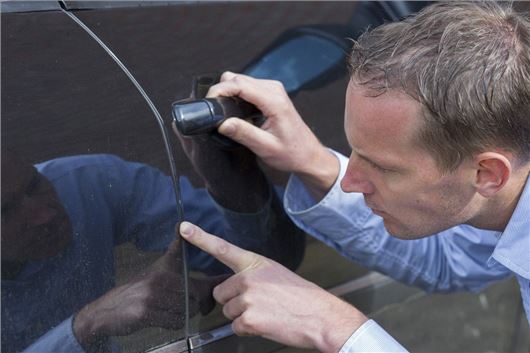 Published 01 April 2018
We get lots of great Asks every month from our readers. So, from false insurance claims to stolen cars, here are the best 10 from March.
Ask HJ
Is leaving a car unattended while it's de-icing illegal?
I regularly go out early in the morning and start the engine of my car to de-ice the windows and mirrors. Because the car has keyless start and is parked on a private driveway I can then get out and lock the doors and when I do this the horn beeps twice. I go back inside my house and wait until the windows are clear because diesels take quite a while to heat up. Am I really breaking the law and potentially invalidating my insurance by doing this?
You are not breaking the law on private property, but if you are on the road you need to be present if in charge of a running vehicle: http://www.highwaycode.info/rule/123 You are possibly invalidating your insurance. If you left your keys in the vehicle, then you would definitely be invalidating your insurance. With keyless ignition, it is a very grey area. The contract of insurance requires you to make sure your car is "secure". Having done that - and you have - it should be covered. The issue with keyless cars, are the devices that can be used to boost the signal from the car to your key. As the car is already running, you have done half of the work for a thief. There are various tricks that can be used to gain access to the vehicle whilst the engine is running while locked. This then becomes a very sketchy area. The best advise is to not do it, or sit in the car.

More Questions
Ask HJ
Is it normal to be charged extortionate amounts for 'defects' when handing back a leased car?
I was charged £600 for body repairs to a vehicle I returned at the end of a 42 month lease (22,000 miles) recently. I have now received a final demand from the leasing company. I spoke to a lawyer through my LV= Home Insurance Legal Cover, which advises me that the leasing company are entitled to request payment for any defect that they feel is "repairable" under the terms and conditions of the agreement, irrespective of whether they carry out the repairs or not. They have also advised that, in these circumstances, they are unable to proceed and I'm "on my own" if I choose to pursue this. The leasing company have agreed to remove two of the "defects" from their final list, which leaves me a claim for £177 for a repair (which I could probably get done by a specialist for about £70). Seeing that a solicitor would charge me about £150 for a consultation, it hardly seems worth pursuing it. However, if you have any evidence of a successful case I would love to know about it.
Basically you have probably won as much are you're ever going to win on this one. Not worth fighting over £177. But, as leasing companies start finding themselves unable to get the residual values they had predicted for diesel cars - and which they based their figures on - there is going to be a lot more of this type of "grabbing back" going on as the leasing companies attempt to remain solvent.
More Questions
Ask HJ
My car was written off - what happens to the finance payments I've made so far?
My Ford B-MAX was involved in an accident and the other party accepted liability. I didn't want the hassle, so I claimed against my own insurer. I lost my excess but, as I have legal cover under my insurance, it should be recoverable. However, my car was under finance when it was written off. The same model isn't available, so I can't get a replacement even though it's new. Gap insurance will cover the difference, but they don't agree with the settlement figure. I need to know what happens to the finance payments I have made so far and the initial deposit to Ford Finance. Do I get that back? Is it counted as an uninsured loss? I don't want to be left with nothing when I have paid nearly £5000 towards the car already.
Any payments made after the accident are considered an uninsured loss, any made before are not. As for the gap insurance, it depends on what type you had - whether it was bridge the gap or back to invoice. I would be very surprised if you cannot get another B-MAX the same as you had, always ask for a new vehicle replacement if it is part of the policy. This way, if they cannot source the exact model, they should pay out the last list price of that vehicle. The market value at the time of loss can be very different and gap insurance should bridge the gap between the settlement and what you owe. This does, however, mean you may lose your deposit. Is your car actually a total loss? If the repair costs are less than the market value, insist on it being repaired.

More Questions
Ask HJ
A vehicle I've driven for six years has just been revealed as a write off - what do I do?
I have a Ford Torneo that I bought in 2011. I have owned the vehicle for six years. When I bought the minibus, it had a V5 with two letters attached from the DVLA. The letters said their had been a discrepancy with the vehicle and asked it it could be taken to DVLA Leeds to be inspected. The vehicle was taken there and the marker was lifted off. I had no knowledge what this was about until I came to sell the vehicle in January 2018. The buyer said the vehicle was a Cat B write off in 2010. I spoke to the DVLA and they checked the vehicle, which confirmed the marker was lifted in January 2011. As long as it is taxed and MoT'd, it could be used - but suddenly I cannot get it insured. Where do I stand?
Was the check done a vehicle identity check? This does not lift a marker, it only validates that the vehicle is what it pertains to be. Did you have a HPI check done prior to purchase? As a Category B, the vehicle should not be on the road and should have been scrapped. Your can contact the DVLA and ask them to contact the Motor Insurance Anti-Fraud Theft Register (MIAFTA) to advise a clerical error has been made and the vehicle should have been a Cat C, rather than Cat B. It will be very, very doubtful they will do this. If anything, it does not change the fact that the vehicle may well be unsafe and should not be on the road. The only other option to try and legally do something is to contact Autolign Inspections (https://www.autolign.co.uk) and explain the situation. They can usually only remove previous total loss markers that are not Cat B or Cat A. So, again, the chances are very slim. It sounds like you've been majorly conned.

More Questions
Ask HJ
My daughter had an accident when she was a learner, without a qualified driver in the car - can her insurer ask for £10k to cover their losses?
Over two years ago, my daughter had a minor accident whilst driving as a learner. At the time, she did not have a qualified driver in the car accompanying her. My daughter's insurance company declined to cover my daughter as she was not driving within the terms of her licence. My daughter was convicted of not having a driving licence and not being insured for which she received six penalty points. The cost of the repairs to my daughter's car were around £300. Two weeks ago, my daughter received a demand for £10,000 from her insurance company to cover their losses for this incident, followed by a threat of county court action today if the £10,000 is not paid within a week. What is your opinion regarding this demand? They declined to insure her, so should anything be paid? She doesn't have a spare £10,000, what action should she take?
The insurer still has to provide cover for any third party claim against your daughter under the Road Traffic Act. They will argue that they then also have the right to reclaim the losses they have incurred as a result of your daughter's negligence and not driving within the terms and conditions of the contract. Your daughter is technically liable for the £10,000, but she could argue that they refused to insure her so any claim then made against her should have been made via the Motor Insurance Bureau as she had no cover in place. The chances are very very slim of this being successful as your daughter has been caught driving without a qualified driver. This being the case, all you can then try to do is mitigate the loss. Ask the insurer for a breakdown of the full outlay of cost, and ask the insurer to advise what actions they took to mitigate the losses that they are now trying to pass onto your daughter.

More Questions
Ask HJ
My insurer paid out a false claim, leaving me with higher premiums - what can I do?
While sorting out insurance for my new car, I've been informed by my new insurer that there's a claim on my insurance for an incident that was reported on the 17 March 2017. There was an incident in a car park where a third party said I'd hit their car when I didn't. They tried to make out that I'd made a mark on their car, but there was no mark on mine and I know I didn't hit their car. I refused to share my details with them because, as far as I was concerned, they were scamming me. They got my number plate anyway and placed a claim against me. I got a call from my insurers and I informed them that I didn't do anything and that they were making it up. I was then contacted by someone who checks cars over after a claim is made and he came out to look at my car. There are marks on my car as it's 13 years old (I'd had it for six years at the time), so plenty of wear and tear on the car. But there were no dents or bumps on the bumper where the third party had said I hit their car. I heard nothing back from my insurance company, so thought the issue was over. I then receive my insurance renewal from Halifax in January this year and, on the documents, it states that the accident is pending. But still nothing on there to suggest a claim had been made or any money been paid out from my policy. My new insurer tells me there is a claim on my insurance and a pay out of £562 had been paid from my policy. I knew nothing about this. How can they find it in the third party's favour when there was no police, no video footage, no witnesses and no proof? Furthermore, how can they get away with not informing me? Is there anything I can do?
All you can do is raise a complaint with the insurer and the take it to the Financial Ombudsman Service. Completely down to your insurer being lazy, and they will advise you it will cost more to defend the case than to pay it out. This is not true. If a vexatious claim is defended in court and found in your favour, then the court can make the claimant pay all the fees. You can advise that your insurer have breached FCA regulations under ICOBS 8.3.3 by acting in conflict to your interest. You now have an affected claims history that will lead to higher premiums as a result of them choosing not to defend. Did you photograph the other vehicle at the scene? Whether or not there's damage, always photograph everything.

More Questions
Ask HJ
Our car was stolen while we left the keys in to defrost it - can we claim for any damage?
Our car was stolen a couple of months ago. Unfortunately, it was during the icy weather so we were defrosting the car. We left the keys in it for a few seconds to retrieve gloves from the house. A car drove up, a guy jumped out and got into our car. As the keys were inside the insurance company wouldn't pay out and we had to settle the car finance in full ourselves. The car has now been recovered (it was involved in a crime) and we now need to pay to get it back. There is some damage to the car, both windscreens are smashed, and from what we know some minor (hopefully) bodywork damage. However, as the insurance never paid out, would we at least be able to try for the windscreen repair on our insurance? I know we need to phone them and ask but would like some sort of idea as to how likely that might be or what we should expect from them.
Good question. Technically, you can claim because it's a separate provision of cover on your policy and is not classified as a claim. There should be no reason for it not to be covered.

More Questions
Ask HJ
My new car was stolen and recovered with an extra 2000 miles on it - can I ask the insurer to total loss it?
My three-month old Audi S3 was stolen and recovered three weeks later. It was bought from new and was still in showroom condition with 1800 miles on it. It now has an extra 2000 miles on the clock, is absolutely filthy inside and out - but has minimal bodywork damage and has no doubt been abused for those 2000 miles. The damage doesn't look enough to write it off, but can I insist that it be a total loss due to the fact that the insurance can't return it to its prior condition with the extra miles and no doubt excessive wear on the engine, brakes and suspension? It will also affect the terms of the finance agreement because of the extra miles and now excessive wear and tear.
Yes you can. Ask the insurer to warrant the car from any future mechanical failure that may result from the vehicle being used whilst stolen. Also ask them to cover the loss in value due to mileage and the financial loss you have sustained due to the need to adjust your finance agreement. Your insurer must indemnify you i.e. put you back to the situation you were in prior to the loss occurring. Ask them to connect your vehicle via it's OBD and have them check for how many standing starts it has done, hit the rev limiter etc. You will soon have enough evidence to scare them into deciding to constructively total loss your car. Then ask for a new vehicle replacement.

More Questions
Ask HJ
A kid on a quad bike damaged my car - can I take the father to small claims court?
I was driving with my ten year old at around 10-15 mph (there are people who can vouch for this) when I heard a thud. When I got out it, I realised it was a child who had run into my car on a quad bike. An ambulance was called and the child was okay, although his father's first thought was to take the quad bike and hide it rather than check the well-being of his kid. I was in shock so wasn't aware of why he was doing this, but when the police arrived at he scene they told me that he had probably done this due to it being illegal to drive these on a road - especially if they are uninsured. The police have vouched and said it was clear the child hit my car, so the father verbally agreed at the scene to pay for the damage to the car, which belongs to my father. My dad and I don't want to claim on the insurance and didn't think we would need to as I was told it would be covered. I can only afford to pay a small amount each month to be insured to drive this car and it would be impossible for me to do so otherwise. I contacted a few places and was told that the cost would be around £1000. So when I contacted the child's father he told me they had lost an expensive quad and would not be covering the damage, which was 'not his problem'. I'm the carer of a disabled child so I'm unable to work at this time, I can't afford the repairs. Do I have a case against this man in small claims court? It's quite clear this family could cover the cost as they have well paid jobs, which they told me about at the time of the accident. I absolutely cannot afford my insurance to go up because of this, so cannot claim.
Yes, take to it to small claims court. You either need to have an independent engineer inspect your car to evidence the cost of repair, which will cost about£150-£200 if you contact the IAEA (http://www.iaea-online.org), they can point you in the right direction. If you cannot afford this fee, go to a respectable bodyshop and ask if they can do a "pro forma invoice" at retail rates. Then use claims online: https://www.moneyclaim.gov.uk/web/mcol/welcome (here is a guide on how to do it: https://www.gov.uk/government/uploads/system/uploads/attachment_data/file/684567/MCOL_Userguide_for_Claimants_August_2017.pdf). Issue against the father of the child for the amount of the cost of repair.

More Questions
Ask HJ
I jet-washed under the bonnet of my car and it now won't start, what's the issue?
I was recommended to pressure wash under the bonnet of my 2003 Ford Focus prior to putting it up for sale. This was against my better judgement, but I was convinced by my friend that it would be fine. The car has always started first time with no major issues, but now it it refuses to start and there doesn't seem to be any fuel getting through. I've been told it might need a new fuel pump, there could be water in the connectors or the crankshaft sensor connections are wet. I'm going to try using contact cleaner to dry out the connections, but do you have any other ideas. It did blow the fuse for the fuel pump, so that suggests a short somewhere.
With friends like that you don't need enemies. Impossible to guess by email quite what damage you have done. Certainly worth separating all main connection blocks and trying to dry them out with a hairdryer. You might need to replace all the spark plug coil packs. But if the water has penetrated something more major such as the ECU (which it shouldn't have done) you might need a new one.
More Questions
Comments
Author

Georgia Petrie
Latest