BMW 4 Series (2013 - 2020)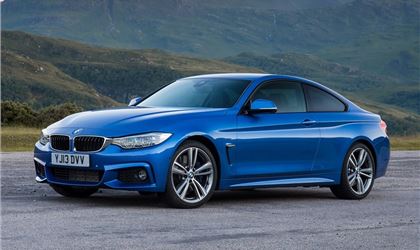 435dA 3.0 xDrive M Sport Auto 2dr
reviewed by Anonymous on 17 September 2021
3
Tax/Insurance/Warranty costs
4
Cost of maintenance and repairs
3
Experience at the dealership
3
How you rate the manufacturer
Perfect all rounder.
Some people think it's overkill. Others see it as the "thinking man's M3." Is there a car that can achieve above 40mpg on an unrestricted autobahn like this? M Sport Adaptive Suspension is a must. Although it beats SE suspension, the ride can feel wobbly at times. There is nose dive upon braking and acceleration. This can be remedied by aftermarket lowering springs. They also give the car a nice sporty stance. It's a shame to have to put money into something that BMW should have got right. Apparently this ride issue was better on the LCI models.

It drives well. In all conditions. You would have to be pretty daft or dangerous to lose control of it. It's sure footed and a cruiser rather bruiser. Comfortable on motorways and B roads are home. The seats are comfortable. The controls are typical BMW and the cockpit is geared to the driver. Much more simple than a G20 3 series when it comes to pressing a button for air conditioning. No menus to navigate through whilst driving. Although, on a G20 you might use voice control for that.

It's reliable. In 85,000 miles it never missed a beat. At 86,000 miles the glow plug controller was replaced. Otherwise, regular service with the usual intervals. Brake pads lasted around 30k miles at a time. Tyres were 18-25k miles. The X Drive can be fussy and low tread leads to issues. Anything under 1.6mm makes the system feel unstable and not as well put together. The same tread pattern all round helps too.

There were no DPF issues. Despite a few short runs which did see the engine get up to temperature. At 60k miles it was taking an age to get the engine up to temperature and this was down a bad thermostat. Something to keep an eye on if you notice it, it's the first thing to check.

It's probably the best engine BMW make. Phenomenal torque from a diesel. No other manufacturers can quite match the driving dynamics. It's like 3 cars in 1 courtesy of the driving mode rocker switch. For sedate or town driving you have eco pro mode, for comfort cruising there is comfort, and for a sportier drive there is sports mode/sports+

There is near 50:50 weight distribution and at the time of it's release it had the lowest centre of gravity in the BMW line up.

There are some reports of failed top chain on these. Very rare and few and far between. This can be down to extended oil change intervals. Oil is probably best changed every 10k miles from new or after the 60k mark. Otherwise, online accounts suggest extended intervals can spell trouble after 120k miles. The ZF fluid should be changed at 60-70k miles as per ZF recommendations to maintain the longevity of it.

It's easily a car you could keep and maintain longterm. Compared to newer models in the line up such as the 2020 BMW 4 series, personally I still think it looks better. However, the interior does look and feel dated compared to the new 4.
reviewed by b6waf on 16 March 2020
reviewed by Robert wheeler on 28 September 2018
reviewed by LEXOWNER on 24 August 2018
reviewed by Anonymous on 9 February 2018
reviewed by Anonymous on 26 August 2017
reviewed by Friendlybear on 23 August 2015
reviewed by jah216 on 16 December 2014
reviewed by CHARB on 18 February 2014
reviewed by Quadlock on 16 January 2014
reviewed by Anonymous on 1 December 2013
Write your review
About this car
| | |
| --- | --- |
| Price | £30,610–£46,095 |
| Road Tax | C–I |
| MPG | 34.9–70.6 mpg |
| Real MPG | 75.3% |
Just reviewed...