BMW 5 Series Touring (2017 on)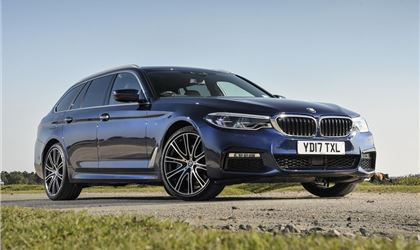 530D Xdrive 3.0 SE Auto 5dr
reviewed by Anonymous on 4 November 2019
4
Tax/Insurance/Warranty costs
5
Cost of maintenance and repairs
3
Experience at the dealership
5
How you rate the manufacturer
Excellent car let down by dealers
I bought mine with delivery miles and a discount of over £19k on the list price with options. For that money the car was what I call good value. I find the seats very comfortable over long distances - certainly the best I've ever encountered including my last E-Class. The car is particularly quiet at speed with only a small amount of tyre roar detectable. The ride quality is very good despite my car having 19" run flats and no adaptive suspension. I imagine the 18" standard wheels would be better still. The 3.0 diesel has plenty of power and is pretty refined, though obviously not in the same league as my Mercedes-AMG 5.4 V8 petrol. Some vibration can be felt through the steering wheel from cold though it very quickly disappears. Economy is good for a 3.0l too, with mid-40's mpg easily achieved on the motorway. I have managed more than 55mpg from a tank when using EcoPro mode on long motorway trips. Unfortunately a lot of the worthwhile features are optional - such as the excellent Head Up Display, 360 cameras, memory seats, wireless phone charging and Apple CarPlay. The basic sound system is not great so an upgrade would be wise but there are plenty of firms who can do this after purchase. Also worth noting is that although I have xdrive the car is usually rear driven so the rear tyres on mine wear out twice as fast as the fronts. With wider tyres at the rear it means you can't rotate them to even the wear. If I had the choice again I'd stick with a 'square set' of 18" wheels and there would be more choice of run flat tyres and they would be cheaper too. After using 3 and 4 series BMWs whilst mine has been in service my 5 series feels very much more refined with a big car feel, but it also lacks some of the fun go-cart type handling of smaller BMWs. It is a large car to handle on small twisty roads and for parking in tight spaces. As a motorway cruiser it is perfect but I might downsize next time to get back some of the old BMW feeling of agility. Finally, the dealers are not good in my area and seem incapable of doing the most basic things properly such as setting tyre pressures accurately. If you have a good specialist nearby then it should be no problem but it's a disappointment for me after excellent service from my local Mercedes dealer for many years. I'm prepared to put up with this during the warranty period as the BMW is nicer to drive and more refined than my last E-Class. It has also proven to be very reliable so far.
reviewed by terry1956 on 4 August 2019
Write your review
About this car
| | |
| --- | --- |
| Price | £45,190–£48,490 |
| Road Tax | C–H |
| MPG | 35.7–60.1 mpg |
| Real MPG | 78.9% |
Just reviewed...