BMW 2 Series Gran Tourer (2015 on)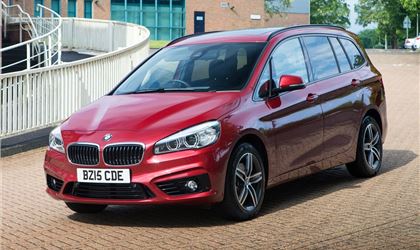 218d 2.0 M Sport 5dr
reviewed by Anonymous on 18 July 2020
2
Tax/Insurance/Warranty costs
1
Cost of maintenance and repairs
1
Experience at the dealership
1
How you rate the manufacturer
Not worth the hassle.
Initially this car was great. Great spec, looks good, loads of space for family of 4 and dog. Extra Boot seats put to use occasionally, but that leave no boot space at all really. MSport handles very well but is very heavy on the bumps. I should have chosen the Lower spec model!

However.....

After about 3 months of ownership I had Front near side suspension issues. Parts Replaced under warranty. Then mid Scottish island holiday, we had a rear wheel sensor fault, which literally lit the dash board up like Blackpool. Again, replaced under warranty (or so i thought), after driving around everywhere with it pinging at me.
When they replaced the wheel sensor, they also said there was an EGR recall.... so that got sorted at the same time...(or so I thought - you can see a pattern here)

Around 9 months later.... literally out of warranty, suspension issue again. BMW refuse to replace. Doh. Slight clunking from N/S. Told me it just an annoyance rather than dangerous.

2 months later.... wheel sensor issue - Same side, same wheel. BMW refuse again to sort. It goes to a local BMW specialist who get it on the ramp, and send me a video of the half hearted wiring weld and Duct tape job BMW have done the first time around. No sensor changed or at fault the first time around, it was a wiring loom issue and their repair has gone wayward.

Along comes an MOT. It goes to BMW as I have the free MOT warranty from them (as its been with them previously). Guess what it fails on...... the suspension!!! The thing was dangerous after all.

Overall, probably the worse car I have ever owned. It should have been the best, but it's not. ??
reviewed by Anonymous on 20 September 2019
reviewed by Anonymous on 9 April 2019
reviewed by khurram arif on 7 January 2019
reviewed by Anonymous on 9 March 2018
reviewed by Anonymous on 26 January 2018
reviewed by Anonymous on 9 June 2017
reviewed by clikfire on 10 November 2016
reviewed by pete1970 on 18 May 2016
Write your review
About this car
| | |
| --- | --- |
| Price | £26,285–£35,480 |
| Road Tax | B–F |
| MPG | 44.1–67.3 mpg |
| Real MPG | 73.0% |
Just reviewed...