BMW 5 Series Touring (2004 - 2010)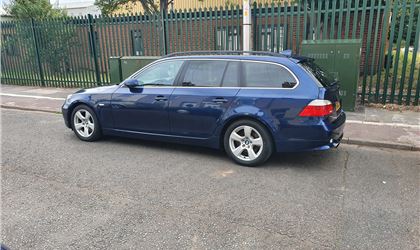 520d SE Business Edition Estate
reviewed by rgt1973 on 21 July 2019
5
Tax/Insurance/Warranty costs
2
Cost of maintenance and repairs
4
Experience at the dealership
3
How you rate the manufacturer
Great, but problematic!
I bought the 5 series as replacement for my Mercedes S210 320cdi. The Merc had 220,000 miles on and I was worried it was going to get expensive soon, so it was sold and the BMW bought.
My 520d had got 168,000 miles on, but had the timing chain done by BMW at 130k ( big issue with these engines ). Happy days I thought. 1 week in and EML light is on. £800 later and a DPF., EGR and inlet manifold and it's good again.
Easter holiday and it decides to destroy the crank with an oil pump failure. Only had it 2 months at this point.
Second hand engine, turbo, injectors, timing chain replacement as a precaution and a £3k bill.
I love the car, and hopefully it is now all sorted. Tax is cheap, fuel economy is good. It is streets ahead of the Mercedes in many ways, but boot space is much smaller. I will add more as we go on, can't afford to sell it now so it's a long term car.
reviewed by David Ellery on 11 January 2017
reviewed by edinburra on 25 January 2014
reviewed by gleadam on 31 October 2013
reviewed by Arbuthnot on 26 February 2012
reviewed by terry1956 on 3 January 2012
reviewed by edinburra on 6 September 2011
reviewed by Rob Gunn on 4 March 2011
reviewed by adam_ on 14 February 2011
Write your review
About this car
| | |
| --- | --- |
| Price | £27,925–£52,150 |
| Road Tax | E–M |
| MPG | 25.2–53.3 mpg |
| Real MPG | 83.5% |
Just reviewed...