BMW 7 Series (2016 on)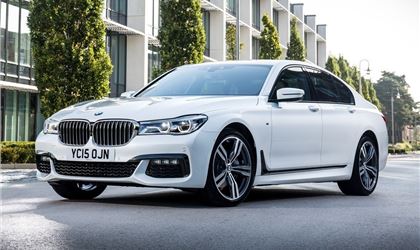 730d 3.0 Auto G11 4dr
reviewed by Ian Krender on 1 January 2020
5
Tax/Insurance/Warranty costs
4
Cost of maintenance and repairs
5
Experience at the dealership
4
How you rate the manufacturer
Good to drive and relatively inexpensive to run
Previously I owned a 5 series and was tempted to the 7 series by the phenomenal deal offered by my local dealer. This included an 18% reduction in the price (called a dealer contribution) with 0% interest over four years and only a £3,000 deposit. The repayments are £560pcm for a car that is arguably better than a Range Rover, which would cost over double. It is a bit like a slightly larger 5 series with lots of extra options included.
It is a big car, possibly too big for the country lanes around me, it comes into its own on the motorway, where you can achieve up to 60mpg and 800miles from a tank. It's lovely to drive, put it in sports mode and the car seems to shrink. It feels very responsive, the standard adaptive dampers lower the car and the throttle response is superb. The three-litre diesel sounds nice and is near silent on the motorway. A little gruff when cold like all diesels, but quick – 0-60 in about 6 seconds. Interior is sublime, leather everywhere, comfort seats as standard are great, though massage function is a gimmick that you won't use after a few weeks. There are other thoughtful features too, such as being able to move the passenger seat using controls on the driver's side. I opted for the surround parking aid. This is superb as it is a large car, and I would recommend. I also went for a sunroof, which is not worth it really, and the ambient air pack is another gimmick. A £1 air freshener will do the same. It comes with BMW advanced sound system as standard, which is more than adequate, I auditioned the Harmon Kardon system and did not think it was worth the extra unless you are a real audiophile. I was surprised how cheap it is to run for a large car - tax is £130pa, fuel bills cheap, I recently replaced the run-flat tyres at £120 a corner.
The dealership loaned us a 730d for a weekend before we purchased one, this version had the driver aids included, but I found it disconcerting having the car steer itself.
In summary – beautifully built, refined, quiet, very nice to drive especially on long journeys, a bit big around town/country lanes, surprisingly cheap to run and with the discounts and 0% finance deals that come around, it can be cheap to buy (relatively speaking).
Write your review
About this car
| | |
| --- | --- |
| Price | £63,040–£161,370 |
| Road Tax | A–M |
| MPG | 22.1–113.0 mpg |
| Real MPG | 75.1% |
Just reviewed...