BMW X3 (2018 on)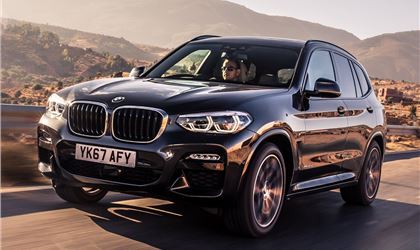 M40i Auto 5dr
reviewed by Anonymous on 29 April 2020
3
Tax/Insurance/Warranty costs
3
Cost of maintenance and repairs
3
Experience at the dealership
3
How you rate the manufacturer
Thrill a Minute ??
I used to own a 3 Series many years ago with the 6 cylinder, 3.0 litre and always yearned to another similar engined car. I'm not a petrol head, but when you start the engine the booming noise it makes turns heads (it's actually a bit embarrassing, but secretly I love it)! The acceleration is quite awesome and does need a bit getting used to, as it's flies when you put your foot down. The seats are very comfortable and excellent for a long journey. It's got a very spacious boot and with the seats folded there is a substantial load space. In the driver's seat it feels very spacious and airy with a great driving position, although can't see trip without leaning forward..

Not so great is fuel economy which at best is about 25/26 mpg, but it's a trade off having a big engine in a big car. I don't do a lot of miles, so it's not too bad. Would be very expensive if you were doing a lot of miles. Not had to service it yet, so don't know about costs, but long intervals to major service which is a bonus. I think first service will be an oil change at 18 month. Equipment levels are ok, but could better for a car in this price range, such a sunroof, unlocking without key fob. 360 camera would have great, although I know it's an option. I think I would definitely have these if I could have. Find the idrive system excellent and easy to use. The navigation system doesn't display speed limits which is very frustrating and is very useful, not sure why as it's got lots of info available.

Overall though when you are driving the car, you forget the little issues as it's such a thrill. I look forward with excitement, when I know I'm going out, even if it's just for a short journey. It's just how it should be........
reviewed by linedancer111 on 25 March 2020
reviewed by Admiral 1757 on 11 February 2020
reviewed by strathspey on 23 January 2020
reviewed by Admiral 1757 on 20 December 2019
reviewed by Anonymous on 9 December 2018
reviewed by Anonymous on 6 July 2018
reviewed by Anonymous on 6 July 2018
Write your review
About this car
| | |
| --- | --- |
| Price | £52,865 |
| Road Tax | E–L |
| MPG | 24.8–53.3 mpg |
| Real MPG | 82.0% |
Just reviewed...