BMW X5 (2014 - 2018)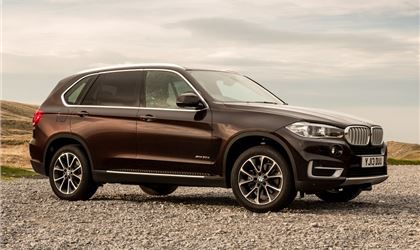 3.0d SE
reviewed by colin skinner on 9 October 2021
5
Tax/Insurance/Warranty costs
5
Cost of maintenance and repairs
5
Experience at the dealership
5
How you rate the manufacturer
comfortable reliable + low running costs
Purchased with 12000 miles at 18 months old for a bargain price (32K) SE spec and metallic grey paint not at all spectacular looking ( no head turner) hence low purchase price from non BMW franchise
Replaced tyres at 18000 miles with BF Goodrich urban terrains(non run flats - also purchased spare wheel and tyre for £250) BF Goodrich tyres still have 6mm tread left at 38000 miles
road tax £210 p/a
30 mpg average in comfort mode with start stop disabled
33mpg average in economy mode (ruins the cars feel)
27mpg in sport mode which feels great but a little bit heavy on the dinosaur juice
servicing cost over 3 1/2 years at bmw specialist (1 major service 1 minor plus genuine disc pads all round) £850
no repairs required so far ( 100% reliability )
tyres cost £600 but appear to have another 4 years tread left on them
So overall very low purchase and running costs for such a large luxury SUV with plenty of get up and go.
very very impressed after previously owning Qashqai and before that a Santa Fe (both troublesome)
feels very solid and secure on the road.
It is the best car I have ever owned over the past 50 years in terms of reliability and value for money.
I may just have just been lucky with this car so I am reluctant to replace with a newer car as it has been so easy to own and live with.
Whats more it still drives like a new car at 5 years old and 38000 miles covered.
Superb engineering all round !!. I think the SE trim with steel springs and and squidgy tyres on 18 inch rims eliminate the problems with air suspension and low profile tyres which suffer from uneven tyre wear and camber adjustment issues (but 20inch wheels with ultra wide rear tyres do look better)
The SE suits me fine but a bit of a grandpa spec which would may not appeal to a lot of BMW X5 buyers.
But for luxury SUV motoring it cannot be beaten for reliability combined with low running costs !
reviewed by Anonymous on 10 July 2020
reviewed by Komo_12 on 13 March 2018
reviewed by Tashman on 5 June 2014
Write your review
About this car
| | |
| --- | --- |
| Price | £43,745–£97,115 |
| Road Tax | A–M |
| MPG | 25.4–83.1 mpg |
| Real MPG | 72.0% |
Just reviewed...