BMW 3 Series (2019 on)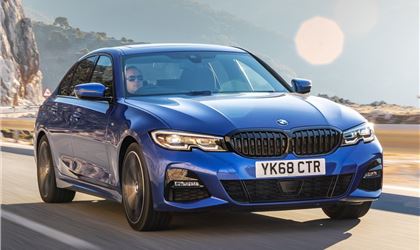 320d 2.0 M Sport Auto 4dr
reviewed by Anonymous on 25 March 2021
5
Tax/Insurance/Warranty costs
4
Cost of maintenance and repairs
5
Experience at the dealership
4
How you rate the manufacturer
Great for munching miles but not so driver focused.
The good: BMW listened to complaints about how the previous generation chasis was a bit of a let down. With near 50:50 weight distribution the car handles well for a saloon. Being a 2.0d it feels lighter up front and there is less nose dive compared with a heavier engine under braking. The sequential turbo set-up make the car feel virtually lag free. However, when you wring it out you know it's a diesel. Otherwise the cabin is fairly quiet thanks to strategically placed acoustic pads and glazing. Some driving modes are useful when they work e.g. Adaptive mode adjusts on the fly to road conditions and GPS data on road speed limit. It drives smooth once fully warmed up. It certainly doesn't feel like 190 ps though. Surprisingly on a dyno it actually made 205 ps but doesn't feel it. It's by any means the most powerful but not too gutless either. Feels sure footed and safe to drive. The interior seems well put together.

The bad outweighs the good here.
- Steering feels light but numb. Sharp but not quite as you'd expect from BMW.
- Many electric gremlins. Audio bass cut out. Harman Kardon amplifier replaced under warranty.
- Car would not start. Both keys not unlocking car. Only able to unlock via the BMW App. BMW Assist called out. Faulty ring antenna suspected. Thankfully following day car worked from one key. Driven to dealership. Both keys stopped functioning again. Ring antenna replacement and two new keys under warranty.
- Active grilles designed to provide additional cooling. The motor failed. Replacement under warranty.
- Seats are hard. For me anyway. After a few hours they can become uncomfortable.
- Lane / Steering Assist is intrusive and dangerous in my view. Should be turned off.
- Driver mirror failed. Warranty.
- Needlessly over-complicated. Turning off air conditioning used to be a button press but now it's a button and sub-menu or voice control.
- Gesture control does not always work.
- The air conditioning system is weak and this is not a fault.
- Boot space seems less usable for higher items due to the raised floor
- Laser lights are cool but seem to upset more drivers than adaptive LED did on my F30 BMW.

Conclusions: it's the devil's instrument, sipping away on diesel as it can reach more than 500 miles a tank. I can net 600 motorway and 300-400 urban. With a trip every other month to the dealership it's soured my experience. It may just be first year production issues. I cannot say I would recommend this car based on all the problems. It's over-engineered in many ways and personally I think the F30 was better for it's simplicity and driver focus even if it did start to look a bit dated. I wouldn't get another G20 again and when the lease is up I will likely go back to a F30 or look into a C class. The car lacks feel. For what it makes up for in the handling department it is let down by steering feel. There is a disconnect between steering and road so it doesn't feel as BMW to drive like say an E90 did.
reviewed by Anonymous on 1 February 2020
reviewed by Anonymous on 1 February 2020
Write your review
About this car
| | |
| --- | --- |
| Price | - |
| Road Tax | A–G |
| MPG | 47.9–67.3 mpg |
| Real MPG | 76.9% |
Just reviewed...