BMW 6 Series Convertible (2011 - 2018)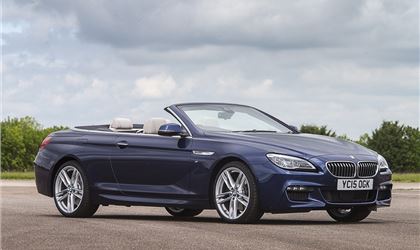 640i SE 2dr Auto Open Car
reviewed by lee789 on 20 February 2014
3
Tax/Insurance/Warranty costs
3
Cost of maintenance and repairs
5
Experience at the dealership
2
How you rate the manufacturer
Beautiful car, poor manufacturer
The new 6 series convertible is an amazing vehicle, especially if you pick up a low mileage 2-3 year old example at well under half of it's original price, as I did. However, at a base price new of £67k new for the SE 640i model, and an extra £10k for some decent options, it is IMHO, way overpriced. The 640i is very powerful, but I do take issue with the fuel economy figures quoted by BMW which in my experience are wildly optimistic. The area I am most unhappy with is the availability of parts from BMW. Most of the parts that have been required for my car have been on back order from Germany, and I have had to wait between a week and up to 17 days for them to arrive. Simply not good enough!! The dealer service has been brilliant, but that has been undermined by the poor service from BMW themselves, and their failure to supply the parts within a reasonable timescale. Fortunately none of these items has kept the car off the road, because if they had, I would be very angry indeed. My advice to anyone buying one of these cars is to thoroughly check functions like surround view cameras, which are expensive options, but seem to be prone to electrical faults and malfunctions. Otherwise, this is simply a superb vehicle and one that I would definitely recommend.
Write your review
About this car
| | |
| --- | --- |
| Price | £66,760–£81,585 |
| Road Tax | F–K |
| MPG | 26.4–50.4 mpg |
| Real MPG | 74.7% |
Just reviewed...