BMW 1 Series Convertible (2008 - 2014)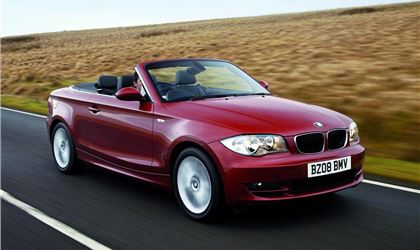 120d 2.0 M Sport 2dr
reviewed by Anonymous on 16 December 2020
5
Tax/Insurance/Warranty costs
5
Cost of maintenance and repairs
5
Experience at the dealership
5
How you rate the manufacturer
great little car
I bought this having had to part with my e46 m3 convertible, due to a new job with a long commute. the 1 series has some of the styling of the e46 which i just loved.

bought my 120d msport in aug 2016 with 50k miles on it and its now just hit 140k miles and still going strong on my 170 mile a day commute.

its been totally reliable throughout and the only work done was to stuff that obviously wears out at these mileages, so its had new brake pads and disks, shock absorbers, and clutch. while the clutch was out, i had the dual mass flywheel and the timing chain done ( its a lot easier and cheaper done together) and it drives like a new car. planning on keeping it for a while yet and fully expecting to easily get 200k miles out of it before i change it for a 220d convertible ( probably).

i love the msport suspensions. I enjoy driving and the msport suspension reduces the roll without making long journeys uncomfortable. The interiors are solid and hard wearing. at first the bmw business stereo seems a bit basic to look at, but its got everything you need and it sounds great too.

i am averaging 55.4mpg in mine, though i have done a couple of longish journeys where i had it up to 60mpg for the trip.

i love the styling, mine is blue, but thats obviously personal choice.

I think the service intervals on modern cars are too long, even with synthetic oils, so i do an oil change myself at about every 10k miles (effectively in between the 18k recommended services). its not hard or expensive to do, about £30 for the oil and 12 for the filter, so why not protect your investment?

I am really happy with mine.

In the interests of full disclosure, I must confess to being a bit of a BMW fan. Ive had 2 e39 5 series, an e61 523i, an e46 m3 convertible and this e88 120d convertible covering about 20 years of ownership in total and they have all been super reliable, comfortable and great to drive.
reviewed by Vaughan Glover on 18 July 2018
reviewed by Anonymous on 3 December 2013
reviewed by KR64 on 28 October 2013
reviewed by TTToommy on 27 June 2013
reviewed by TTToommy on 30 May 2011
reviewed by RobLovett on 23 March 2011
Write your review
About this car
| | |
| --- | --- |
| Price | £23,300–£37,790 |
| Road Tax | C–K |
| MPG | 30.1–62.8 mpg |
| Real MPG | 80.4% |
Just reviewed...