BMW 3 Series Convertible (2007 - 2012)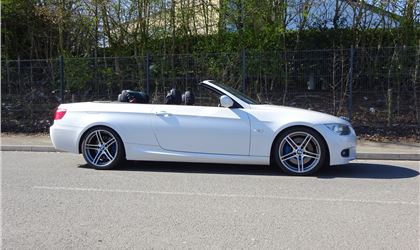 335i Msport DCT
reviewed by symonh on 1 May 2019
4
Tax/Insurance/Warranty costs
4
Cost of maintenance and repairs
5
Experience at the dealership
4
How you rate the manufacturer
Nice car, but has some flaws
Good looking car, has a terrific engine and build quality. Reliablity has been good apart from a couple of niggles.
To drive it is reasonably swift, but you can tell this is a very heavy car. A well driven, modestly powered hot hatchback would be able to keep up with you on the straights due to the power to weight ratios.
On the corners again you can feel the cars weight and it is no match for even mundane cars like a Ford Focus on the twisty stuff. It is also fitted with stiff suspension and suffers from body flex - more so with the folding roof down. I feel it would be a far better car if the suspension wasn't as stiff. It is too heavy to be a sports car, and with the stiff suspension it isn't great as a cruiser either. It is worth noting that I have managed to improve the ride quality and handling by removing the runflat tyres and fitting a set of regular ones (Whilst carrying a tin of tyre foam and a pump in the boot).
This may sound like a negative review, but I do like the car. It looks good with the roof up or down, and the metal roof is very convienient, even if it does make the boot space rather small The engine note is terrific when pressing on. If buying again though I would almost certainly go for the coupe and enjoy better handing, stiffer body and lighter weight.
I would also go for a manual gearbox. The DCT is very good for what it is, but it cannot match a manual for driver involvement.
reviewed by Anonymous on 13 September 2018
reviewed by Anonymous on 5 September 2017
reviewed by John Holton on 16 May 2017
reviewed by Anonymous on 31 January 2015
reviewed by Yorky Bob on 8 July 2014
reviewed by filkoj on 24 January 2014
reviewed by nyg on 17 March 2012
reviewed by peteindorset on 14 February 2012
reviewed by Yorky Bob on 22 August 2011
reviewed by C1J on 7 April 2011
Write your review
About this car
| | |
| --- | --- |
| Price | £27,235–£46,770 |
| Road Tax | E–L |
| MPG | 29.4–55.4 mpg |
| Real MPG | 85.6% |
Just reviewed...