Mercedes-Benz SL-Class (2002 - 2008)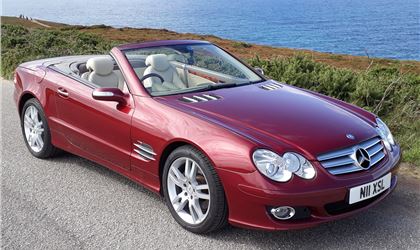 SL350
reviewed by Nick Simpson on 9 February 2021
4
Tax/Insurance/Warranty costs
4
Cost of maintenance and repairs
4
Experience at the dealership
5
How you rate the manufacturer
So much car for the money it's rude not to!
After quite a few years with my R129 the panoramic hard top was just getting too heavy.
The natural choice for me was the R230 with the folding panoramic hard-top.
I like to use these cars for trips to the Alps etc. and drive the lovely alpine roads and passes.
I decided on the SL350 (post 2005) which develops 272bhp and gives great mpg considering it's weight. It's still very sprightly though and never been found lacking so far. Another bonus, especially with the car being older, is the lack of ABC. Conventional springs are far better in the long run and I just don't drive like a mad-man! ABC = big bills!
Although the current pandemic has severely limited the use I intended, I am really looking forward to finally getting the car into, what I would call, it's natural habitat when it's all over!
My car has a full MB service history, but taking it to my MB specialist will save on the bills and I feel they're more likely to ensure everything's top notch. Well, they used to be at my main agents!
Being me, I really did not want a silver or black one. Silver is way too common and black just loses all the subtle lines on the car.
Beautiful to look at, amazing road presence, every extra you could want is standard and that roof operation just has to be seen!
reviewed by Anonymous on 15 July 2020
reviewed by Anonymous on 5 June 2020
reviewed by N Whitson on 28 October 2017
reviewed by Naldo on 5 October 2017
reviewed by Flak-Magnet on 30 August 2014
reviewed by nicholask on 12 February 2012
reviewed by JSMB on 22 May 2010
Write your review
About this car
Just reviewed...