Mercedes-Benz SL-Class (2002 - 2008)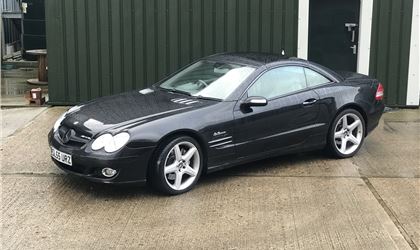 R230 5.5L
reviewed by Anonymous on 24 July 2021
3
Tax/Insurance/Warranty costs
3
Cost of maintenance and repairs
1
Experience at the dealership
4
How you rate the manufacturer
Awesome
Looked around for at least two years to find the ideal car.
Eventually I was convinced I wouldn't find a late R230 model for under £10k in good condition, then I found one at a small independent dealer in Newport, Wales. £8000 bought me a 2007 5.5l Black with Grey leather interior model. Mileage was just on 95000miles, which sounds high but was a one owner from new and used regularly. Cars are designed to be driven and not left for ages as problems arise especially with the SL in the form of the air suspension. I found a local Mercedes specialist as I found that main dealers completely rip you off and don't really want to know you unless you're a premiership footballer or buy a new Merc every 3 years.
That said, my excellent Merc specialist told me that even though you have bought a car for less than £10k you're still repairing a car that cost near on £100k new, so it's never going to be a cheap fix. Allow yourself a budget of around £2k a year for servicing etc. Main thing to think is if a problem occurs, £1000 is your starting point for repairs.
Tyres are not cheap for these beasts, £250 per corner.
Electrical systems can be a problem zone especially if you have no garage and intend on leaving the car out in all weathers. Check the boot out for water ingress as this can quickly rust out the auxiliary battery tray and completely screw up the roof motor.
The amount of luxury goods you get is amazing for a car of this age and the ABC system is great for when you want to get a hussle o in the corners. The 5.5 V8 has plenty of grunt and will keep up if not show so called sports cars of today a clean pair of heals. Too much time on the loud pedal though will drain the fuel tank quicker than you can fry an egg. I still get the grin factor though every time I get in the thing. The gearbox has 3 settings, C - Comfort/Cruise S - Sport (sharpens gear change and kick down) M - Manual (allows use of the flappy paddles).
Overall you will not be disappointed with the R230, good looking and well worth the expense. These models have now possibly reached their lowest price and will only start increasing as long as they are looked after and loved.
reviewed by Nick Simpson on 9 February 2021
reviewed by Anonymous on 15 July 2020
reviewed by Anonymous on 5 June 2020
reviewed by N Whitson on 28 October 2017
reviewed by Naldo on 5 October 2017
reviewed by Flak-Magnet on 30 August 2014
reviewed by nicholask on 12 February 2012
reviewed by JSMB on 22 May 2010
Write your review
About this car
Just reviewed...