Mercedes-Benz S-Class (2006 - 2014)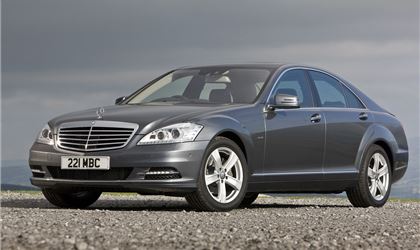 S350 Blutec
reviewed by Anonymous on 5 February 2019
5
Tax/Insurance/Warranty costs
4
Cost of maintenance and repairs
5
Experience at the dealership
5
How you rate the manufacturer
Elegant, comfy, fast
Bought from Mercedes (Swindon) so the sales service was superlative. Unusual in 'Dolomite Brown. Absolutely love the car... It IS big when it comes to parking (over 5m long.. and that's the short wheelbase!) but for long journeys it wafts along and cossets driver and passengers. It is very quiet on the move. Superb build quality and makes driving safe. It is a fast car when needed but not a sports car. However the sports suspension button and the ride height button are great. Journeys to Europe and Scotland have been an absolute delight. 38 - 43 real world mpg! The 7g tronic g/box on mine doesn't have stop/start (7gtronic plus for that) but it does have soft closing doors and other nice things.
Bad bits? Nothing has gone wrong but I'd not be comfy without a warranty. Not especially a cheap car to own so shop around for insurance and don't skimp on servicing / routine maintenance. Overall a very special car with 'old school' elegance and silver star at the end of the long bonnet that encourages you to enjoy the drive merely for the sake of it - who wants to hurry?
reviewed by Anonymous on 2 January 2019
reviewed by no Tarry on 19 August 2018
reviewed by goldeneagle on 30 May 2011
reviewed by bespoke on 11 July 2010
Write your review
About this car
| | |
| --- | --- |
| Price | £54,317–£165,120 |
| Road Tax | G–M |
| MPG | 19.4–45.6 mpg |
| Real MPG | 90.4% |
Just reviewed...