Mercedes-Benz CLS (2011 - 2018)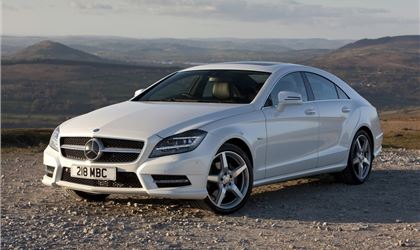 CLS220d 2.1 AMG Line Premium 7G-Tronic Plus 4dr
reviewed by Anonymous on 18 January 2022
3
Tax/Insurance/Warranty costs
1
Cost of maintenance and repairs
1
Experience at the dealership
1
How you rate the manufacturer
Looks nice, but you'll fall out of love with it as soon as it needs repairs. I wouldn't by another Mercedes Benz.
After borrowing a family member's Mercedes, I convinced myself that I wanted to make a move and purchase a car for the first time from the marque.

This will be the last Mercedes I buy... not meaning, "I'll hang on to it forever", more, I can't wait to get shot of it and I wouldn't touch the marque again with a barge-pole.

First the good bits, but read to the end.

I brought the car as it is a large, comfy car, but also low emissions, and is exempt from passing through ULEZ areas. In this respect it is good - although again, this is probably a bit of a mirage, as there is a class-action against Mercedes from consumers because of the installation of so-called defeat devices, but they are not the only manufacturer guilty of this.

The car drives nicely. It's the smallest engine, a 2.1l four pot that is frugal with diesel. It still feels like it has go when it needs to have. The drivetrain is one area where I haven't yet experienced issues.

The car has a beautiful appearance in profile, and despite its age, its styling is timeless and I think it will go on to become a future classic.

I brought mine as a 3-year old 35k car. It was immaculate on delivery - the worst bit of depreciation had gone from it, but the car still felt fresh and new and had its best years ahead of it.

It is nicely appointed inside, as you would expect. I wouldn't have chosen the gloss black interior trim inserts, but liked the rest of the spec. I find the inserts mark very easily and are hard to keep clean. Something like the grey burl wood would probably be more forgiving with fingerprints e.t.c.

The satnav system is old-before-its time... modern MB's have a more up-to-date interface, but I was disappointed to find that everything was controlled by a manual wheel which is a bit of a fiddle to use, when a Skoda which pre-dated it by 10 years had a touch-screen satnav with a much more intuitive and user-friendly interface. The fact the screen pokes out of the dashboard like a Tomtom on steroids also does the car no favours and is probably the worst bit of design in the vehicle.

Other than that, I like the controls in the car. It feels classic, knobs and buttons are by far my preference to having everything on a touch screen, and the car strikes a balance between a classic elegance with more modern hints.

It reflects that the model year is a car in transition - MB were moving from the older style C218 CLS where the screen was small on the dashboard, and I suppose this was a cheap way to add on new components without reworking too much of the surrounding dashboard plastic. Other compromises are the spare wheel area in the boot which has been lost to an AdBlue tank for emissions control. Again, it feels like it's been shoe-horned into a mid-life refresh.

The OEM sat nav / infotainment electronics in this vintage of car aren't as good as they could be compared to competitors and I've heard complaints of reliability problems. A popular upgrade is to buy non-OEM Android retrofit solutions, which fit in place of the original screen, give modern touch-screen functionality, a bigger screen and additional functions, with all of the original car functions also able to be displayed. At the moment, I tend to use Android Auto in the car rather than MB's interface which is dated. This is an improvement, but it doesn't integrate with things like the LCD in the middle of the speedometer which is a real shame.

That said, I've found Mercedes Benz dealerships to be really awful places to deal with, and the cost of repairs and availability of parts is horrendous. I've suffered from particular issues with the LED Multibeam headlights. When I brought the car it had a slight chip in the headlight, nothing huge, for a conventional headlamp with a bulb, it wouldn't have had a second thought. In time, the headlamp started to mist up, and eventually, the control electronics for the Multibeam headlamp failed. This was replaced with a relatively new but second-hand unit. After a year, this unit in turn failed and the car failed its MOT. This time, I thought I would plump for a new unit from Mercedes. Having been quoted north of 4k from a dealership, and having already spent £600 on the previous headlamp, the new one was £1700 fitted from the dealership. That was approaching 7 weeks ago, when my car went in to be fixed. Apparently there are none of this bulb in either the UK or Germany. I have been trying to ring up customer services, but it has been a terrible experience. My car has been off the road through Christmas and New Year, it has been really inconvenient. Nothing from MB, only weak apologies and assurances. The garage is having problems sourcing MB parts for other vehicles. He has another in the shop, with a parts delivery date last year in December, which hasn't been updated (four weeks ago). I've been relentlessly persistent with every level of customer service, emailed the CEO, who just swatted it down to his minions... I've exhausted all avenues for any sort of resolution and I've come away feeling really disappointed - and this taints my perception of the rest of the vehicle now.

Having had it for over a year, the novelty has worn off, accelerated largely by awful service from Mercedes. I feel an almost pavlovian aversion to ever buying anything from the brand again. Whilst their styling is very seductive, I don't feel I would spend my money in this direction again given such poor service.
reviewed by Andrew Magnus Schofield on 28 April 2020
reviewed by malcolm hunter on 26 August 2016
reviewed by wallywalnut on 13 August 2015
reviewed by Rowly on 6 May 2014
reviewed by tonyroz on 24 January 2014
reviewed by Baxi on 13 October 2012
reviewed by Jwilco on 16 May 2011
Write your review
About this car
| | |
| --- | --- |
| Price | £47,610–£88,675 |
| Road Tax | D–L |
| MPG | 28.5–57.7 mpg |
| Real MPG | 82.9% |
Just reviewed...