Mercedes-Benz SLK (2011 - 2016)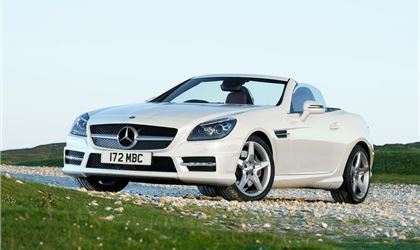 350 AMG Sport 306 Auto 2dr
reviewed by Anonymous on 24 February 2021
3
Tax/Insurance/Warranty costs
3
Cost of maintenance and repairs
3
Experience at the dealership
4
How you rate the manufacturer
Jekyl & Hyde --- comfort and fun
Bought as a replacement for a 280SLK ( basically my only and everyday car, which, having driven on several circuits, turned out to be a comfortable cruiser up to 3500rpm and an entertaining sportscar above that ). Initially slightly disappointed by softer feel of the 350, eventually discovered it could display much the same characteristics.
Handled better and also more quietly on PZeros than 280 did on Continentals.
Continued to achieve 32mpg on local runs and 36+ on motorways.
Very comfortable over distances -- even with my dodgy knees I didn't stiffen up after a few hours crossing the continent.
Initial problems with engine management system going into limp-home mode -- possibly connected with having done only 15,000 miles in 7 years previously -- seemed to be cured by using 98 octane fuel. Otherwise very reliable; basic annual services from main dealer not too expensive, but any other work done by excellent local specialist.
Not as much storage space inside as the 280 but still sufficient overall for me on my own for 10 - 14 days touring or with companion for 5 - 6 days !
Unfortunately I killed it in a puddle 1/4-mile from home having forded through 70-odd miles earlier.
reviewed by Anonymous on 13 February 2020
reviewed by barney100 on 3 September 2018
reviewed by ADRIAN TRIM on 6 December 2017
reviewed by Chazzn on 10 May 2017
reviewed by Yorky Bob on 13 October 2014
reviewed by streaker on 15 May 2014
Write your review
About this car
| | |
| --- | --- |
| Price | £30,345–£55,360 |
| Road Tax | C–J |
| MPG | 33.6–70.6 mpg |
| Real MPG | 70.6% |
Just reviewed...