Mercedes-Benz S-Class (2014 - 2020)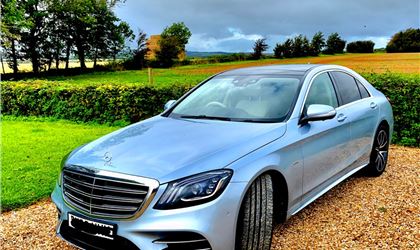 S350d Saloon 3.0 286hp Grand Edition Auto 4dr
reviewed by Anonymous on 29 March 2021
4
Tax/Insurance/Warranty costs
4
Cost of maintenance and repairs
5
Experience at the dealership
5
How you rate the manufacturer
Sublime road presence, technology and luxury
Secured a great deal on a new S-Class Grand Edition spec'ed by me std wheel base with driving tech. And monthly payments less than £70 from a similar spec'ed E class and 50% of a R.Rover.
The car is very accomplished silent engine, NVH noise vibration harshness best in class, 55mpg on motorway, reliability assists to drive itself, incredible to drive hard on switch back b-roads, best car ever.

Have had a few niggles the ac needed to be upgraded on warranty - when it was seen that a new ac unit introduced by Mercedes in sept 2019 was failing to deliver the required S class perf. However, dealer relatively quick to fix and service excellent.

Would buy again without doubt. Also keeps you fit as the desire to avoid car park damage means you park at extremities that mean an extra 5-10 min walk.
reviewed by Anonymous on 31 January 2020
reviewed by Humayun on 26 October 2018
reviewed by Anonymous on 26 October 2018
reviewed by Anonymous on 18 August 2018
reviewed by j brew on 15 January 2018
reviewed by Michael21 on 16 December 2016
Write your review
About this car
| | |
| --- | --- |
| Price | £89,105–£198,780 |
| Road Tax | A–M |
| MPG | 19.9–100.9 mpg |
| Real MPG | 69.8% |
Just reviewed...