Mercedes-Benz ML-Class (2012 - 2015)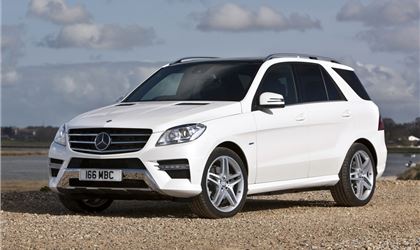 ML 350 BlueTEC AMG Sport 258 Automatic 5dr
reviewed by Anonymous on 21 January 2022
3
Tax/Insurance/Warranty costs
3
Cost of maintenance and repairs
3
Experience at the dealership
3
How you rate the manufacturer
Comfortable and expensive
My wife wanted a SUV to replace an SMAX, and we looked and this and the Disco 4. This was the preferred option as we didn't need the 7 seats or the larger size.

My wife loves the car. It's easy to drive, very comfortable and still towers over most other vehicles even 10 years later.

I am not so sure. It's definitely well built, but it super-thirsty - I struggle to get 35 irrespective of how/where I drive. I even got it chipped to aid fuel economy, which is why I'm getting 35 and not 28! Still, this isn't unusual for a car of this size and weight, so it's not a slight on the car as such

What isn't so great is the practicality. It'll easily fit 5 adults,and there is plenty of space in the front. But the boot is actually quite small / much smaller than I thought R

My only other suggestion is to make sure you get one with all the options you want, as there are plenty which are not in the standard spec!

So, would I recommend it? If you're after a large comfortable SUV the definitely worth considering.
reviewed by Anonymous on 4 December 2021
reviewed by Anonymous on 20 October 2020
reviewed by Anonymous on 20 October 2020
reviewed by Anonymous on 21 April 2020
reviewed by John Heath on 23 September 2017
reviewed by DPMG on 6 September 2016
reviewed by badkarma090 on 15 November 2013
reviewed by HotTowelSir on 10 May 2013
reviewed by Pedro3811 on 24 April 2013
Write your review
About this car
| | |
| --- | --- |
| Price | £44,450–£89,190 |
| Road Tax | G–M |
| MPG | 23.9–46.3 mpg |
| Real MPG | 77.1% |
Just reviewed...