Mercedes-Benz ML-Class (2012 - 2015)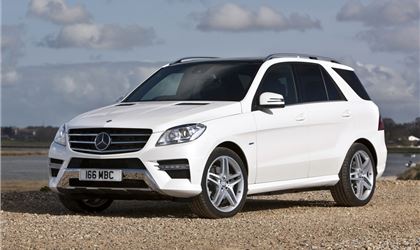 ML 250 BlueTEC AMG Sport 204 Automatic 5dr
reviewed by Anonymous on 21 April 2020
3
Tax/Insurance/Warranty costs
1
Cost of maintenance and repairs
2
Experience at the dealership
1
How you rate the manufacturer
most unreliable vehicle i have owned
I have had more problems with this car than any car i have ever owned.
1. Computer is forever flashing some form of malfunction - once hit a small animal on the road and it went under the car causing no damage at all except it activated the automated "bonnet malfunction" having considered it hit a person . $1500 later having had to replace the sensor i was none too impressed. was told couldnt register the car with that message on the computer screen
2. Computer sensor again detected emmissions issue with the "ad blue" in the fuel area. it gave me 600klm to fix it or shut me down which isnt much fun when you live 150km from nearest dealer
3. Tyres: This is a big issues with the specified Continental tyres - they are a nightmare. Have on two occasions had a flat on the main tyre and within a day while i am waiting for that to be fixed had flats on the space saver (they are literally a waste of space. car taken away first time on a truck and second time left jacked up for 3 days for everyone to see. Now there are no space savers in Australia so i have to wait until July to see one ......................can you believe that Mercedes would allow that to happen with the car tyre they spec and there are no alternatives. And so far trying to get any Mercedes support has been impossible.
Had to replace the battery 4 months ago so for those that might be getting to that stage start saving - just under $2000 to replace the "two" batteries !!!
If you buy this car i warn you be prepared to have a back up plan and deep pockets and change the tyres immediately unless you want flats and unacceptable wear rates.
reviewed by John Heath on 23 September 2017
reviewed by DPMG on 6 September 2016
reviewed by badkarma090 on 15 November 2013
reviewed by HotTowelSir on 10 May 2013
reviewed by Pedro3811 on 24 April 2013
Write your review
About this car
| | |
| --- | --- |
| Price | £44,450–£89,190 |
| Road Tax | G–M |
| MPG | 23.9–46.3 mpg |
| Real MPG | 77.6% |
Just reviewed...