Mercedes-Benz E-Class Coupe (2017 on)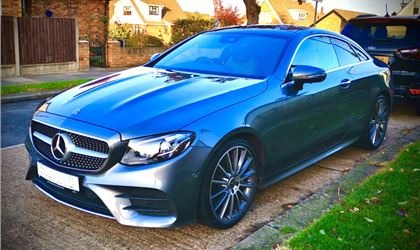 E350 2.0 299HP AMG Line Premium Plus Auto 2dr
reviewed by Anonymous on 19 November 2021
4
Tax/Insurance/Warranty costs
3
How you rate the manufacturer
Brilliant Luxury Cruiser - Annoying Infotainment
So… after one month of Mercedes ownership… how do I feel…

Coming from the BMW 3 series stable the first thing I noticed was the comfort… this is lovely!! The car doesn't jiggle and crash over every texture in the road… it rolls and bobs… the suspension is far more forgiving and nicer.

The second thing I noticed… the steering is not as sharp. Not by a long chalk. But… the feedback through the wheel is far superior to the horribly dead G20 however, still not at sharp as the F30. The steering wheel is not as soft as a BMW but it's a comfy tactile wheel nevertheless.

The third… interior quality is far better. This car is all about the bling. It is a very classy and refined place to be. 64 colour Choices for interior lighting sums it up.

The performance from the engine is decent. Moving from diesel (320d) to petrol the revs and power seem endless on the Merc. The engine noise is a bit revvy for image the car portrays but the engine seems smoother in its mounting than the 320d engine. The economy though… the 320d returned 500 miles on a full tank. The Merc E350eq…. 370.

The Merc gearbox is ok. Very smooth between shifts but not as responsive as the ZF in the BMWs. noticed a couple of hesitation moments in kickdown or at a roundabout.

Off the line though… it'll leave people behind. And in traffic it'll Overtake with ease.

Space is decent but access to rear can be a bit undignified… it's all about the front seats.

Now… the infotainment system.

It's very annoying!! Lots of sub menus… the shortcut buttons are moved away from the rotary dial and track pad. But the worst thing… that lovely steering wheel doesn't have a proper rewind or fast forward button. Instead you have the USELESS speak and favourites button…

The track pad ain't great on either the steering wheel or the centre console and the system is laggy. My old F30 was quicker between screens.

Burmester quality is decent. The equaliser seems a bit limited compared to the BMW HK system. But I think the sound seems a bit truer and the upper level is higher!

That being said. I am very pleased with the car. It's definitely a super comfy status symbol more than the precision, performance tool the BMW was.

And for now… that's what I was after.

So if you want a sumptuous slab of a car… a locomotive that'll plough through roads with ease and comfort. Give it a try. But a word of warning… it's not something that you chuck into corners.
reviewed by Anonymous on 19 November 2021
reviewed by Anonymous on 27 August 2021
Write your review
About this car
| | |
| --- | --- |
| Price | £39,975–£55,750 |
| Road Tax | Alternative fuel, H–K |
| MPG | 32.1–61.4 mpg |
| Real MPG | 79.1% |
Just reviewed...