Mercedes-Benz A-Class (2018 on)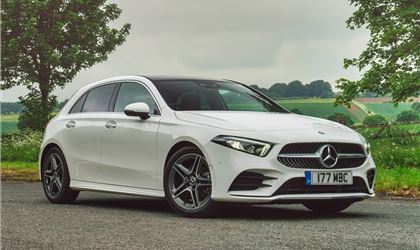 A180 1.3 Sport Executive Auto 5dr
reviewed by Anonymous on 1 November 2020
5
Tax/Insurance/Warranty costs
5
Cost of maintenance and repairs
5
Experience at the dealership
5
How you rate the manufacturer
Quality motoring, great equipment
All the general comments are valid - the overall feel, the look, the range of equipment. No negatives from those perspectives at all. My quibbles - and that is what they are - are fairly petty, but do affect
your overall enjoyment of the drive.

The 'built in dash cam' that was available just before we bought the car is disabled (or maybe not enabled) by Mercedes; dealer has no idea why, and it's really frustrating as cameras are there already - and fitting one on the screen is quite problematic (as was the case with my previous Civic SR) as the mirror surround is so full of the other built-in camera and sensing equipment.

The usual lack of spare wheel - yes, I can buy one, but why must I?

The inability to select a driving mode (economy/comfort/sport/personal) as the default mode, and the inability to select 'no lane departure warning' as the default mode - so I constantly get a shock when knowingly moving over a white line.

The significant variation in specifications between different models, for no real reason - it must cost Mercedes more to design something out and have two subtly different versions - eg size of display screens, dual zone heating, electric boot, keyless entry, etc. We had two or three minor (bad!) surprises when we found that something we thought would be present was, in fact, not automatically (or even optionally) available. There is so much provided, that it is really hard to see what is missing when you browse the documentation, and most of these are fairly low level things. It's not always possible to go for a test drive in exactly the model you will be buying...

Manuals which cater for every version of the model, and which fill the pages with 'warnings' - health and safety gone mad!

Just had first service - no problems at all in our first year, and no service issues: long may it continue!

If you are going for one, do spend time checking out exactly what bells and whistles you will be getting!
reviewed by Anonymous on 27 March 2020
reviewed by Anonymous on 28 December 2019
reviewed by Anonymous on 27 September 2019
reviewed by Anonymous on 29 July 2019
Write your review
About this car
| | |
| --- | --- |
| Price | £31,840–£38,875 |
| Road Tax | A–J |
| MPG | 38.7–74.3 mpg |
| Real MPG | 84.0% |
Just reviewed...