Mercedes-Benz C-Class W202 1993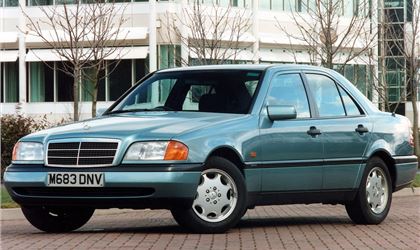 C200 Elegance
reviewed by JMBH on 26 June 2016
4
Tax/Insurance/Warranty costs
1
Cost of maintenance and repairs
3
Experience at the dealership
5
How you rate the manufacturer
Very reliable and robust car. The elegance suspension is I think more comfortable.
Many people fail to give cars the periodic maintenance they need. I am not talking of engine oil and filter although choosing the right grade say 10/40 is not enough. I am a marine engineer and for example, MTU (Marine mercedes) clasify all oils say MakeXX 10/40 in three categories. One lasts approx 250 engine hours another 10/40 lasts 500 and another even more. So take note of this. The auto gearbox has oil and filter too and must be replaced. Diff oil too. The AC has a filter/dryer which is very important since it filers any humidity too which is deadly for any ac system. The coolant must remain Mercedes unless you know how to choose an equivalent too. AND MOST IMPORTANT FOR ANY CAR. iF YOU DO LOADS OF CITY DRIVING YOU HAVE TO REPLACE EVERYTHING IN HALF THE MILAGE SPECIFIED. Oil is therefore not for example 5000 miles but replaced every 2500.
Nine is now 20 years old and it has 144,000 on the clock. I have replaced no major parts pn;y consumption parts like oils and filters brake pads etc. Malta roads are terrible and what I had to replace at 110,000 was the centre steering ball joint and in fact I just replaced the whole seteering rack.
What keeps any mercedes and car going is the maintenance and service which it receives. So your choice of mechanic and his level of expertise and attitude and attention to some important advice and details unless you do it your self or you have the knowkedge; is what maters the most over the years.
The owner always pays the price of any element of non conformance in maintenance. But if maintenance is done and the right way around too, these cars would last for ever.
About rust. If you live or drive in areas flooded with salt to clear ice you have only one choice. Give it Dinitrol. Dinitrol would know what to to do, believe me.
Anyway, the maintenance a car receives is he only thing which reduced the cost to own it. The more elements of non-conformance in maintenace, the higher it will cost.
My rating about how it drives is based on stability. These cars have a rear suspension configuration coming from the 190. You have to really abuse it to end up in trouble. I test these cars and the 190E which I have to their limit. Let me give you one example of the road holding they have compared to for example a car all know off like the Passat. Around corners, in standard mode (no spacers or any mods and using the recommended tyres i.e. good tyres) few cars come close to the road holding these cars have.
reviewed by Eureka on 7 December 2014

reviewed by Crewe1 on 11 May 2014

reviewed by quartermillionmiles on 28 March 2013

reviewed by lowdrag on 24 February 2013

reviewed by cherryred on 6 January 2012

reviewed by tescodirect on 8 September 2011

reviewed by gdbza1 on 9 June 2011

reviewed by redlorry on 26 February 2011

reviewed by d_taddei2 on 6 January 2011

reviewed by Rich71 on 29 May 2010
Write your review
About this car
Just reviewed...