Honest John's Motoring Agony Column 17-06-2017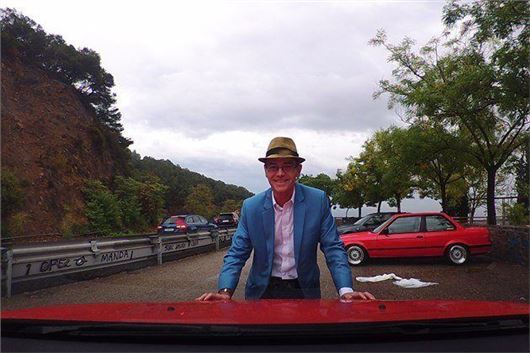 Published 16 June 2017
This week's emissives accomplished involve recall rip-offs, de-stress signals, clutch pack-ups, a key question, gaseous exchanges, handicapped Golfs, shaky starts, and that's just the beginning. 
As usual, emails to Honest John should be addressed to: letters@honestjohn.co.uk  Please try to keep them as short as possible.
Remap reading
I may be paranoid, but I booked my Audi A3 in to a main dealer to have what Audi call the 23Q7 update, which they have been forced to do in the aftermath of the emissions scandal. They did not have a courtesy car, so my wife accompanied me and drove me to work after dropping off the car. She picked me up in the evening and took me back to the dealer. I expected the work to be completed. It was not. I was told that the mechanic had found a P40300 fault on the exhaust gas recirculating cooler and they could not do the update. They wanted me to book the car in for the P40300 to be rectified first. Call me suspicious, but it just seemed a way of making a few quid from a loss leader. I took my car away, my wife and I both having wasted journeys. I emailed them for an explanation in the following terms: "My A3 cabriolet VN62UYP was booked in with you to have the emissions rectified on 4-4-17 in the aftermath of Audi having been found to have lied to its customers. Instead of doing the 'update' I was told that the exhaust gas recirculating cooler needs replacing. Before I trust Audi to do anything, will you please explain exactly what you do when carrying out the 23Q7 'update' and how that impinges on the exhaust gas recycling cooler fault P40300. I would like an explanation that I can share with an independent engineer before deciding what to do." I have received no satisfactory response, so, my questions for Honest John are: How is a 23Q7 'update' done? How long does it take? Is there any reason why they could not have done the 'update'? What is a P40300 fault? Could this just have been an opportunity to turn their lie rectification service into an economic opportunity? The jargon baffles the punter.
JM, Cardington, Shropshire
You didn't tell me which engine this has. Presuming a 2.0TDI, the ECU is remapped to create a different injection sequence that causes the engine to emit less NOx at the expense of creating more soot. If the EGR valve stem is already old and worn or the injectors are worn, the engine can't cope with the remap and that is why they are telling you that you need a new EGR. Had your car been of reasonable mileage and had it always been Audi dealer maintained, the fitting of a new replacement EGR is usually Free of Charge. If it has high mileage and/or has not been VAG maintained they will tell you that you need to pay for a new EGR before the NOx emissions fix can be carried out. If your car has a 1.6TDI engine, the fix is a little more complex.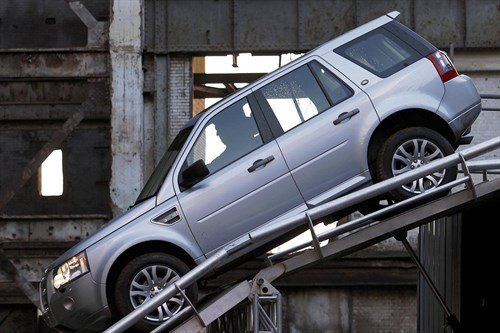 Freeland's just another word for…
I would like to buy a Freelander automatic and have a limited budget of £12,500. Can you advise the best model to go for please?
JW, via email
I advise against this and here's why: http://www.honestjohn.co.uk/carbycar/land-rover/freelander-2-2006/?section=good/ You're probably better off with a CR-V or a RAV-4.
Automatic change
I own a 2012 Ford Focus Titanium Powershift automatic. The gearchange is quick but during my ownership, since the car was six months old, I have had 3 replacement clutch packs. I am thinking of changing the Focus for a Mazda 3 Sport Nav petrol automatic on say a 2016/17 plate. I understand that Mazda automatic boxes are torque connecter boxes and are reliable. I would appreciate your views.
EW, Ipswich
That's right. 6-speed torque converter. Never heard of a problem with them. I actually ran one for a year and it was brilliant.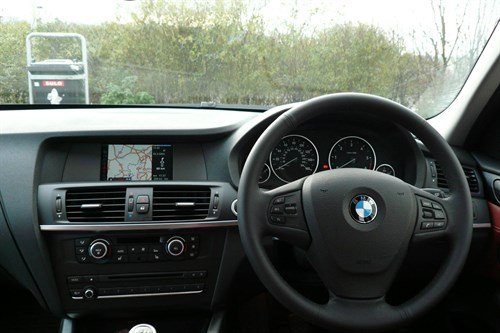 Electric avenues
I have owned my X3 from new. It was one of the first F25 models in 2010. It has travelled 53,000 miles. About 2 months ago it stopped recognising the key and I had to place the key against the column. This was intermittent and the dealer couldn't find a cause. Now I am getting a host of simultaneous faults including the ignition key, the stabilisation, seatbelt warning, handbrake and the TPA sensor all at the same time. The faults may all spontaneously disappear in that journey and stay away for a while only to reappear unpredictably. "The ghost in the machine," presumably? Unfortunately I am 250 miles from my dealer and cannot visit the dealership for 2 weeks, incidentally the dealer near where I am at present is not very helpful! Any suggestions (other than buying a new car)?
AR, Penrith
Possibly the main battery. Or a canbus electrical earth. Various components share the same power supply and a bad earth to one can affect the others. Try to find an independent BMW specialist in your area who can run the necessary checks. Our system comes up with these (some BMW dealers; some independent specialists): https://good-garage-guide.honestjohn.co.uk/Directory/Search?name=&region=North+West&postcode=&make=BMW&service=
Adman
I am getting fed up of reading in all the newspapers that all diesel cars are polluting and will all be rapidly depreciating in value. No one from the car manufacturers appears to be standing up for the latest clean diesels. My one-year old Skoda Yeti has both a particulate filter and an AdBlue reservoir that injects AdBlue into the exhaust. AdBlue converts the NOx from the exhaust into Nitrogen and Water, which are both perfectly harmless. The car's engine management system will not allow the car to start if it does not have sufficient AdBlue in the reservoir. Can you please educate your fellow journalists to consult the experts (i.e. you) before they start spouting off on subjects that they know nothing about.
MR, Gargrave
Ralph Speth is standing up, asserting that the only way new cars can meet Paris Agreement CO2 targets in the coming years is for many of them to be diesel. Your car will be EU6. But EU6 was only compulsory from September 2015 and that leaves an awful lot of older diesels set to be penalised for entering city centres from September 2020. You are correct that your engine is currently very low NOx. But over the years the cost of maintaining a DPF and SCR system can be considerable. We are getting reports of AdBlue heaters needing to be replaced after quite short lives. To my mind, the maintenance and replacement costs of diesel emissions equipment is the real problem with diesels and a justification for poorer residuals.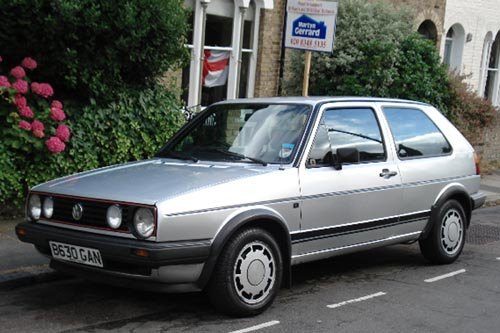 Hanker chief
I have always hankered after owning a modern Volkswagen Golf GTI ever since owning Mk2s (both the 8v and 16v) in the past. I intend keeping my ultra-reliable but uninspiring 2006 Toyota Corolla for the rest of this year until it reaches 100k miles, then buying a used Golf, but not sure which version to get. I like the look of the Mk5 if I can get one under 50k miles for a reasonable price but I'm put off by any car with a cambelt. Obviously I realise that Mk6 and 7 GTIs will cost a lot more but I heard that both the later versions have cam chains as opposed to belts.  Please could you confirm whether that's true and what would be your opinions and/or preferences about those 3 versions? My budget will be up to £15k. 
TM, via email
The timing chain EA888 was introduced in 2009, but it has had some problems and it wasn't until the Mk VII with both direct and indirect injection that these problems were solved. Buyer expectations of Mk VIs and MkVIIs are high, and so are the levels of complaints in http://www.honestjohn.co.uk/carbycar/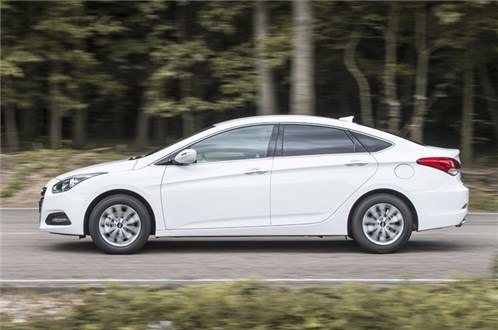 Doubly shafted
I have owned a 1-year old Hyundai i40 CRDI Premium Blue Drive Auto Saloon for 8 months, having been extremely pleased with the previous model that I owned for 2 years. However this one, with the newer gearbox, has an issue with a juddering transmission that occurs when accelerating away at low speed, for example when exiting a roundabout. It has been back to the dealership from which it was purchased a couple of times to try to rectify the fault. Although it seems marginally better each time on collection (various gearbox values were reset apparently) it soon reverts. The dealership claims that they (and Hyundai) are aware of the problem but do not have a permanent fix. Have you heard of this problem? Do you have any suggestions?
MC, Holmes Chapel
Likely to be the clutch pack. From 2016 model year, along with the KIA Optima, the i40 was fitted with a new 7-speed twin shaft transmission in place of the previous 6-speed twin shaft. This is the first complaint I have received about it.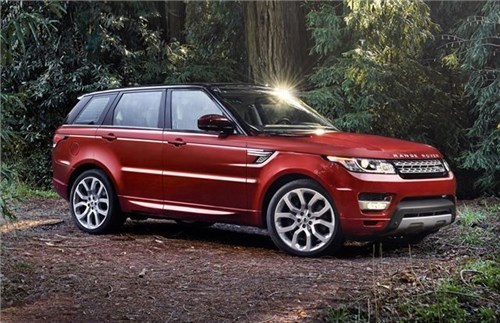 To D or not to D?
Having run a Range Rover Sport diesel for the last 7 years I have now ordered a new car the 3.0 TDV6 306HP Dynamic on a PCP at around £3k off list. At the end of the contract one would historically expect some monies over and above the GFV to maybe use to go towards deposit for next vehicle. Given the panic over diesel, is this surplus now unlikely to materialise and so would it be prudent to go for the 3.0V6 petrol Dynamic despite the higher fuel consumption. As an aside it is a tragedy that the medical research concerning air pollution has been misinterpreted possibly deliberately in some cases by almost the entire media and the mayor of London. Forty Thousand people do not die in the UK each year from air pollution. What the report actually said was that 40,000 "equivalent lives" are lost every year as a result of ALL outdoor air pollution which is actually a few hours or days each year over a population of 65 million. Only a tiny fraction of that is down to diesel cars or indeed to any cars. But the damage is done and people may well now lose their jobs and livelihoods primarily because of ideology and politics.
BB, Milford on Sea
The rule is to never expect any equity at the end of a PCP unless you buy a Honda, Hyundai or KIA. Lack of equity is almost always made up for by a 'deposit contribution' to the next PCP. So up to you. The supercharged V6 petrol has the same 6.8 second 0-60 as the diesel, but "only" 450Nm torque compared to 700Nm, a lower 130mph top speed and a significantly lower 26.9mpg combined, costing an extra £745 for every 10,000 miles. Ford is going to start using the 3.0 litre V6 'Lion' diesel engines in its F150 pick-up trucks so there is no sign of demise of the engine.
Car for a shingle man
I'm looking for a petrol automatic SUV, preferably with 4WD capability. I would like to keep the off-road ability, particularly in soft sand and shingle, of my Daihatsu Terios and the load carrying and comfort of my Mondeo Titanium Diesel Estate; the two cars the new one will be replacing. I anticipate 12,000 miles pa. I have the trade in value of the Mondeo and up to £20,000 to spend on a new or 1-2 year old vehicle. I've tried a Qashqai and Hyundai as hire cars on holiday. What else would you recommend I look at, acknowledging the fact that the new car will be a compromise?
AT, Norfolk
You didn't give me any basis on which to value the Mondeo. But my choices would be Suzuki Vitara S 1.4T Boosterjet 4WD, Peugeot 3008 1.2 Puretech 130 with Grip Control, Peugeot 2008 1.2 Puretech 130 with Grip Control. If you have enough money and want something bigger, perhaps a Skoda Kodiaq 2.0TFSI 180 AWD. Sand is an unpredictable surface to drive on, so the fatter and softer the tyres the better.
The claim game
My neighbour's wall fell down after heavy frost and damaged my car parked in my driveway. I had a substantial no claims discount and didn't report it to my insurer. My neighbour claimed on his buildings insurance for the car and wall repair. My car damage amounted to £1,000. Next year, my insurance premium increased from £300 to £550. When I enquired why they mentioned the claim (there was no claim from me). I mentioned that it was on private land and the car was stationary and locked up. They weren't interested. I decided to move to a new insurer and obtained a quote of around £300 once again. I'm afraid these insurance companies are a law unto themselves and it is a good idea to shop around.
MC, Thame
Your problem was that you were involved in a claim. They ask you, "were you involved in any claim." Not "did you make any claim". If you are involved in any claim, the underwriting algorithm can increase your likelihood of being involved in another claim. But you are correct. Like banks, car insurance in the UK is run to a bizarre set of ever changing rules hiding behind the premise of "absolute good faith."
Back to the future
Before spinal surgery I was told I wouldn't drive again, so sold my S-Max. After surgery, I was fine but cautiously bought a Fiesta (easy to handle). Now my surgeon and I feel happy that I can manage any vehicle I choose. I need to accommodate my partner, stepdaughter and two dogs. A new S-Max is pricey, so I have narrowed it to the Peugeot 3008, Citroen Picasso C4, SEAT Leon ST, Suzuki Grand Vitara, and Dacia Duster. I want a petrol engine and ideally a raised driving position. Incidentally, my partner hates the shape of the Picasso (my favourite option). Should I consider anything else and which might you go for?
FF, Newport
Peugeot 3008 1.2 Puretech 130s are great, but it was Car of the Year and there is a long wait for one. Citroen C4 Picasso 1.2 Puretech 130s are also great. Both can be had with the excellent EAT6 automatic transmission, though the 3008 only in Allure trim level. A SEAT Leon ST is very good with the 1.4TSI 150 engine. The Suzuki Vitara S 1.4T Boosterjet can be had with a manual 6 speed or a torque converter 6 speed. The best Duster is the 1.2TCe 125 Lauriate 4WD, but this is not available as an auto. Tests of all of these in http://www.honestjohn.co.uk/road-tests/
Bad start
I have a problem with a new car. I collected it on 31st March and on 7th April it suffered its first engine failure. It would not start from home. It was towed off to the dealer. I collected car on 18th April, assured it was now fine. Then on Friday 21st April it suffered a second engine failure. This time the RAC fixed the fault, but said it was a computer glitch and would recur. The dealer then had the car for a fortnight, testing it. He could not find the fault. I collected the car on 5th May and on 15th May it failed again. A new car should not have any faults. That is why I buy a new car. What are my options? I do not really want to be involved in a court case.
ES, via email
You simply assert your right to reject it for a full refund: http://www.honestjohn.co.uk/faq/consumer-rights/ You have not been able to 'enjoy' your new purchase at all.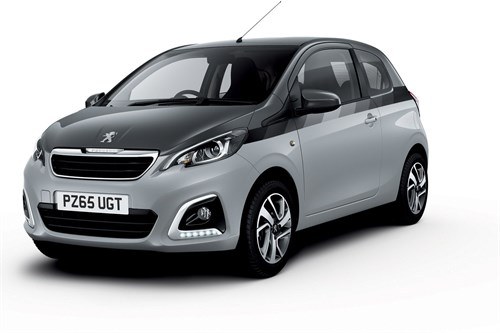 Priceless
A very low mileage Peugeot 108 is to be sold shortly and I am thinking of buying it from a friend. It cost £10,000 in 2014. What would a fair offer be? It has been serviced annually by the dealership.
KG, via email
Prices for a 2014 Peugeot 108: http://www.honestjohn.co.uk/used-prices/Peugeot/108/2014/ For more precise details, click on the trim level, engine size, etc.
Off roading
I have a 2015 Mini Cooper S that has now been off the road for over a month awaiting a wiring loom that BMW seems unable to supply. I was promised the part would be available by 16th May, but have been told today that the part is still unavailable and that BMW is unable to say when it will be available. This is completely unsatisfactory. I seem unable to make any progress in getting the situation resolved and wondered if you could help.
JL, Loxwood, West Sussex
Presumably you are in a reasonably equivalent courtesy car while you wait? They aren't mucking you about. They simply can't supply the part for some reason. Your options are to demand that they remove the wiring loom from a similar stock car and fit it to your car. Or to demand they buy the car from you at a 'reasonable' market price. Or to simply sit it out, but if it interferes with holiday plans that would have involved your car, demand that they supply you with everything necessary to take their courtesy car wherever you planned to go.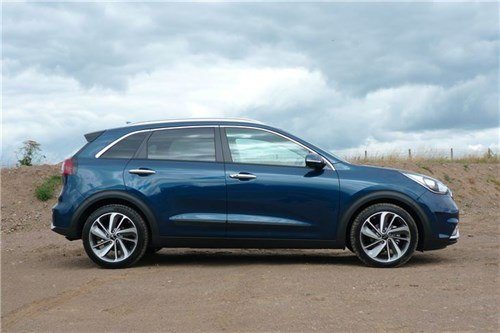 Concee'ding de feet
We are both retired and have 2 cars. We wish to find a single replacement car that we can both drive with my wife as the main driver. I am 6' 2" tall and currently drive a 3-year old KIA Cee'd Sportswagen. My wife is 5' 2" and drives an 8-year old KIA Cee'd hatchback. My wife is comfortable in her car, but can't really drive mine easily (with the seat forward to be able to reach the pedals her knees hit the lower side of the dashboard).  Having the seat any further back means it become more difficult to use the pedals and the seating position become more awkward and uncomfortable. What would you recommend as a suitable replacement that is easy to drive and has comfortable seats for both of us, taking account that it needs to have room for 4 tall adults, good all round visibility, easy to park at our local supermarket, an automatic would be considered, 4 wheel drive not ruled out. 

MC, via email
Check out a KIA Niro: http://www.honestjohn.co.uk/road-tests/kia/kia-niro-2016-road-test/ You could also consider a Sportage, but, being a hybrid, the Niro is cleaner and, being slightly smaller, is easier to park: http://www.honestjohn.co.uk/road-tests/kia/kia-sportage-2016-range-road-test/
Jam sandwiched
I am wondering whether you have any advice what to do to persuade Lexus to fix my satnav problems. I've chased them as far as I can go without any satisfactory response. The screen informs me that there are roadworks where there are none and shows either speed limits that are patently incorrect or none at all. This is in a GS300 model purchased in December 2016 and to date all that I have been told is that a software fix is needed and Lexus are working on it. Do I have any consumer rights? Have you had other Lexus owners contacting you with the same problem?
KP, Kidderminster
It's the nature of 'closed' satnav systems that rely on mapping disks or SD cards to be perpetually out of date. The only ones that are up to date are those that automatically download updates via a built-in 3G or 4G system. However, in the UK, congestion can be so severe that even a jam busting system up to date within half an hour can lead you from one jam to another.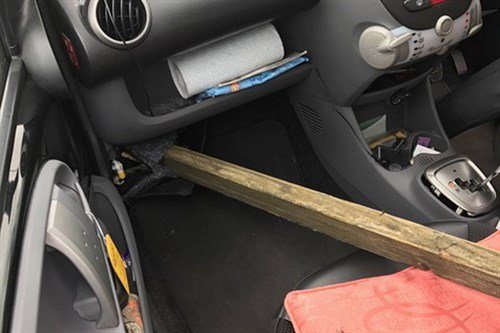 Affensive behaviour
Your section is possibly not the right place to address country driving safety, but may I remind drivers that country motoring is more dangerous than in towns. The picture shows what can happen if a car leaves the road and goes through a field fence. To state the obvious, a fence rail has gone through the passenger floor. Luckily on this occasion no one was injured.
PW, Knutsford
You've made your point. I'll remind people that fence posts can be as dangerous as the ends of Armco barriers. No one expects that. Faced with a head-on in a country road, I'd take the hedge or the fence every time, never realising it could stab the floor.
Impending diesaster?
I drive a company Mazda CX-5 and am due to replace it. I asked if I could have a petrol version of the CX-5 and was told petrol wasn't an option in company cars. It may be my grade or company policy, I don't know. But are diesels still that much cheaper on high mileage leasing than petrol? I do about 26-27k per annum. 
BB, Suffolk 
If the company has a diesel only fleet policy then there's not much you can do about it. On the basis of Real mpg figures and your 27k pa mileage the company saves about £1,000 a year on your fuel costs. It must then dispose of the cars before they become expensive to maintain. Its problem (or the lessor's problem) is that as the public wakes up to the financial disaster that an ex-fleet diesel can be, residual values will drop and could exceed the savings on fuel.
Click to Honest John's Motoring Agony Column 17-06-2017 Part 2
Comments
Author

Honest John
Latest