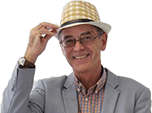 Honest John's Motoring Agony Column 03-12-2016 Part 2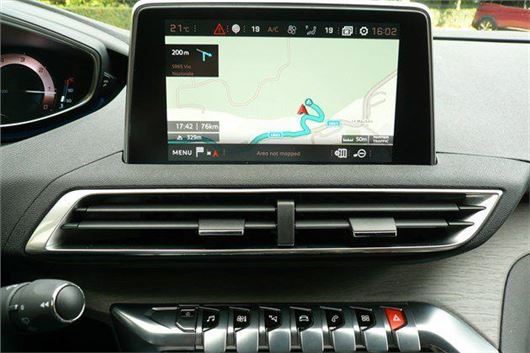 Published 02 December 2016
Click back to Honest John's Motoring Agony Column 03-12-2016 Part 1
Dashed inconvenient
May I add my complete, wholehearted agreement to James Foxall's comments regarding in-car technology. My last Prius was moderately complicated, but my latest model is more full of switches and buttons than some of the aircraft I have flown. That might not matter, but now I must take my eyes off the road, find the button which will bring up the required item on the screen and press that to get whatever it is I need.  I did write to Toyota to point out that I had to go through that routine just to change the temperature and/or blower to alter the cabin temperature and that a simple rotary knob(s), easy to reach and operate without looking were safer than the now ubiquitous touch-screen.  I did not get a reply. In my aircraft I had an autopilot and no traffic on the same road coming the same way.  Interestingly, the modern cockpits are so predominately automatic and full of glass screens that some pilots have forgotten how to "pole" their aircraft.  (See Sky Documentaries on Aircraft Accidents).  But as you say, the problem is that manufacturers are fearful that if they fall behind in attracting buyers with the latest exciting looking cockpits - which is what they now remind me of -  they will lose out on sales.  Who could blame them?  Where do we go from here?  Fully automatic cars - hmmm, I think those are some way off yet and only in the developed world. Sorry to be a "Mouldy Oldie", which I am, but the Ferrari super-dooper-hyper car you illustrated on the front of the Car section a couple of weeks ago prove to me the utter illogicality of such vehicles, if such it can be called.  The driver was sitting in the middle of what looked like a 30 ft long projectile, massively expensive, grossly overpowered for normal use, capable of speeds several times the maximum permitted and no room for even one golf club - and the point is...?  Yes, yes, I know, it will probably only be used on a track and it represents the ultimate car manufacturers' product, but seriously?  Otherwise I predict one of them will finish up on "Wrecked Exotics" in the not-very distant future.  An awful lot do.
RS, Taunton
I can't answer for Telegraph Cars. I can only answer for myself. But, after criticism of its touch-screen-only-no- buttons dash of the Peugeot 308, PSA improved it for the new Citroen C3, then finally capitulated with a line of toggle switches directly below the touch-screen of the new 3008. But manufacturers still haven't learned, and neither have people. One of the best bits of ergonomic design of the last 20 years was the 'tunnel vision' speedometer of the original Toyota Yaris that put the digital speed readout at the same focal length as the road ahead. But some people were stupid and said they didn't like it, which is why Toyota returned to ridiculously messy and difficult to read dial type speedometers for most of its cars. Now we have the crass situation where cars have dial type speedometers backed up digital displays reflected in the windscreen, which is plainly nuts. But Audi is getting there with its virtual dash displays that allow the driver to select what he wants, how he wants it, combining speedo, satnav, turn by turn instructions and rev counter right there in front of him. And knobs for things like heating and ventilation.
Cover note
Can you recommend a quality car cover for my Honda Jazz and what should be the dimensions?
DS, Dorking
http://www.covercar.co.uk. Tailored to fit any specific car. Choose indoor or outdoor. £200 - £500.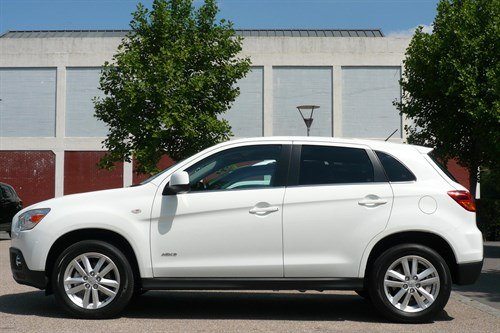 Diesed and confused 
My Mitsubishi ASX automatic, 7 months old with 7,150 miles has 6% fuel dilution of the lubricating oil according to a sample analysis report. I go out of my way to avoid short journeys. These diesel cars have a dipstick to mark high oil level (through oil contamination) and an oil change not long increased from 9,000 miles to 12,500 miles. This is my 3rd diesel ASX4, but my first auto that uses the 2.3 diesel and that I would have thought would be well sorted by this time in it's lifetime. The ASX has features I like but my patience is getting thin in getting my "perfect" car. My oil distributor friend tells me that the bulk diesel tanks he fills often have layers of fat/lard. No wonder the engine manufacturers have problems.
RG, via email
Yes, you're right. Extra diesel is introduced to the engine to 'actively regenerate' the DPF, but sometimes it's too much or, if the DPF does not ignite, the fuel just sinks down the bores into the sump. The dual effect is to dilute and contaminate the lube oil and also to raise its level which can be dangerous if left unchecked because it can rise to a level where a compression ignition engine starts running on its sump oil and cannot be shut down except by force stalling it.
All or nothing
May I confirm it is acceptable to replace both the worn-out front tyres on my VW Up with 'All Season / Cross Climate' type. I don't wish to replace all 4 if I can get away with it (the backs have standard factory Continental). I fully understand you have to swap all 4 for Winter tyres, but do I have to with the Cross Climate / All Season/
MS, Burton on Trent
No. All Season or cold weather tyres need to be fitted to all four wheels, especially on a front wheel drive car otherwise you could find yourself spinning off the road in severe conditions.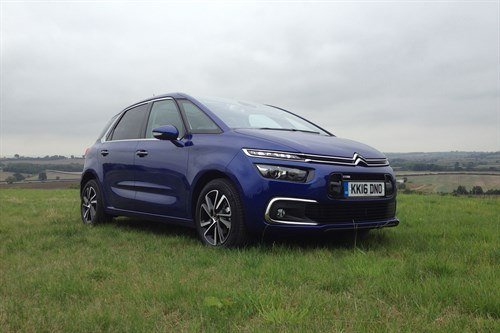 Change of Scenicry
Son's aging Scenic needs replacement. Apart from another Scenic what other vehicles with automatic petrol engines with 5 or 7 seats would suit a family of five. Has to be a sensible size as it is parked in congested Battersea? Are Citroen or Ford choices better? Usage is mainly local with the occasional 80 mile trip and the possibility of a holiday trip abroad.
NT, via email
Currently best is a Citroen C4 Picasso with the 1.2 Puretech 130 engine and EAT6 torque converter automatic transmission, largely because the high 230Nm torque of the engine is well matched to the transmission and weight of the vehicle.
Monitoring the situation
My VW Golf has 16-inch wheels. I have a set of 15-inch steel rims fitted with winter tyres left over from my previous car, a Skoda Octavia. Would there be any problems if I put these wheels on the Golf? Would the speedometer and odometer still be accurate?
WW, via email
If they are the same 5-stud fitting they should fit, and the rolling circumference of the deeper profile tyres should be almost the same, but if the newer car has valve based TPMS then that will be a problem.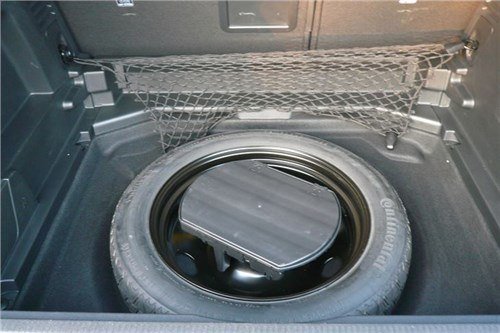 5th wheel
I was interested in PM's letter regarding spare wheels. Recently, I intended to replace my C Class Mercedes only to find that space-saver wheels were no longer fitted and so I ditched the idea. The trouble in buying a spare wheel is that there is nowhere to stow it without giving up storage space. A number of other manufacturers give you a choice between a wheel or the repair kit. The base of the boot is sculptured to accommodate the space saver without interfering with the boot space. This is sensible and gives the customer choice. Actually, I am dead against the spread of the repair kits and would welcome an article in the 'Cars' supplement to help make the manufacturers see the customer's views.
PR, via email
Car chooser at HJUK allows you to specify a spare wheel among your criteria. Article about the disaster of tyre repair kits here: /our-cars/mazda-6-22d-se-l-nav-auto/hj-gets-a-puncture/
Left fuming
I have a 2003 Mercedes C220 (2.1) CDI with 137k miles. No major problems to date. Serviced regularly by good quality local independent garage. Oil changes at 10k miles, etc. each year. In the past few months, mainly when at standstill, the cabin gets filled with a pungent smell of diesel fumes: smells a bit sulphuric. Obviously blows away when in motion, and can be kept at bay by using the air recirculation switch. My local garage has checked all air inlet/outlet vents, and run a cleaner through the fuel, but cannot trace cause to date. Looking on MB chat sites there seems to be a common theme suggesting a problem with gunge around the fuel injectors. I would be grateful for any pointers on this problem.
BF, Tewkesbury
I'd suspect that the EGR valve is blocked. Consequently the engine is not recycling crankcase fumes so they are escaping, eventually into the cabin of the car.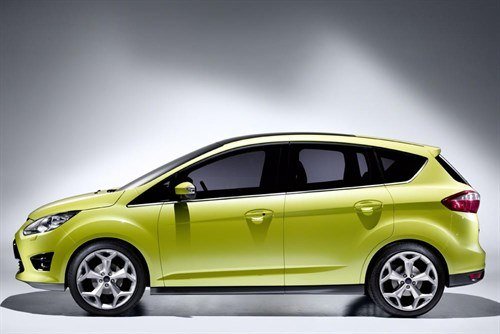 Slippery customer
I recently had my clutch of my Ford C-Max 1.0 EcoBoost replaced after it was slipping. The local garage fitted a new clutch and dual mass flywheel. After a week or so, I noticed bad burning smell on occasions. I took it back and they said they didn't notice smell. Now, 4 months after new clutch, there is smoking from bonnet and very bad burning smell when held on the clutch for just minute or two as I edge out of my driveway onto a busy road. Taken back to garage and they are accusing me of burning clutch out. After a couple of months? I've been driving 32 years and never had to replace a clutch before. Should they replace this free? 
BR, via email
This has been a problem with Focus and C-Max, especially the 1.0 EcoBoost engine. The clutch does burn out very easily when used in this manner.
Job done
I am approaching retirement and I have £30,000 to spend on a replacement SUV for my 2009 Jeep Cherokee. It should have similar load-carrying capability i.e. 4/5 adults plus a Dog. I have looked at the Jeep Grand Cherokee, which I like, but concerned at long term reliability, I have also looked at the Volvo XC60 D5 (220) R Design Lux Nav, which I understand is due a model change in 2017. Looking at early 2016 models there is not much price difference in the two cars even though the Jeep is a much more expensive car from new. I would be grateful for any advice.
AW, via email
I'd go for a KIA Sorento KX2 manual.
Automatic fearbox
My mother in law drives a 2005 Clio with the 1.4 petrol engine and automatic gears. It's done about 80,000 miles. On almost every outing after about ten minutes driving in Normal drive it feels as though the car changes down a gear with the resultant jolt, and warning light appearing. She stops, waits a few minutes and then is able to re-start and continue her journey uninterrupted. The gearbox oil has just been replaced as it was suggested this might be a cause, but the problem still occurs. Given that Mother is just over 80, her hesitant driving has been suggested as a possible cause. Can you suggest other possible causes and remedies please?
NT, Salisbury
Unfortunately Renault automatic transmissions from this period were prone to servo valve block trouble. This is the gizmo that actually changes the gears. A visit to a member of http://www.fedauto.co.uk should get it fixed.
Same old story
Like 'AF' in a previous column, my wife's 2002 Automatic MINI One was diagnosed with a failed gearbox by a BMW MINI dealer, but at only 17,000 miles. BMW Mini ungenerously declined my suggestion that they might make a token contribution towards the £2,500 replacement cost (I had hoped for perhaps £250), saying the car should be used more. Could auto gearboxes really fail through lack of use, and should BMW have been expected to help with the expense? As a result of our disappointing 'BMW' experiences, we would not buy a new automatic MINI - and when I replace my car next year it will not be with a new BMW. So who was the loser? 
MG, Beaconsfield
A 2002 MINI is 14 years old. Imagine the reaction of a manufacturer to the failure of a transmission of a 14-year old car in 1975? Legal liability only remains for the 6 years a high value consumer durable is "reasonably" expected to last without major faults. Manufacturers tend to build towards an expected "life" of 7 - 8 years. And, in fairness, back in 1975 most 7 - 8 year old cars were routinely scrapped. So, though some old cars have been preserved (usually at great expense) the normal longevity of a car has not changed much. It's just that they are more reliable for longer these days and as a result we expect more.
Curing a limp
My 1998 Lexus 300GSE has recently developed a fault that has so far proved impossible to rectify. The engine control light and the VSC light came on and the car went into limp home mode. The fault under diagnostics shows as a problem with the electronic throttle control assembly. Replacement of the electronics involving 3 different parts, has had no affect whatsoever. In a different garage, the car had its tracking adjusted 3 days before the fault showed. There seems no obvious link, but could there be?
DM, via email
I can't help but there's a thread here that might: https://www.cargurus.com/Cars/Discussion-c3961_ds548625
Click back to Honest John's Motoring Agony Column 03-12-2016 Part 1
Comments
Author

Honest John
Latest