Cheapest SUV to insure 2022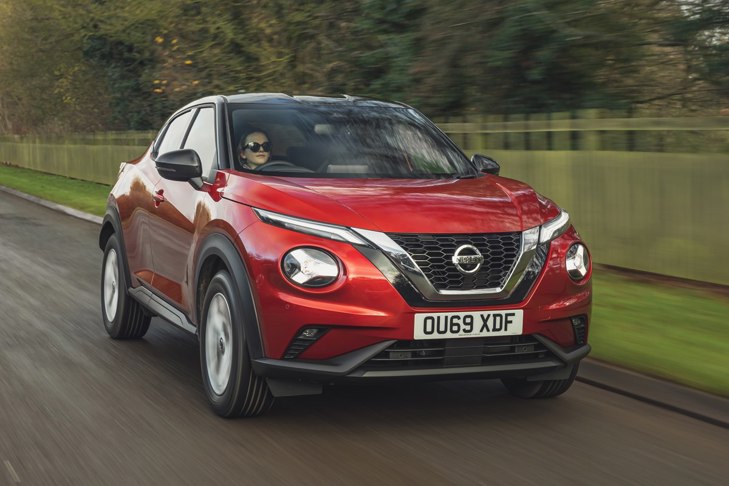 If you're after a stylish and family-friendly new car, chances are you'll be looking at an SUV. These 4x4-inspired high-riding machines are the hottest type of new car right now, with dozens of models already on the market – and more arriving all the time.
Compared to a regular hatchback, the benefits of an SUV are obvious. Not only do they have more presence and pizazz on the road, they are also more practical inside, with a higher and more confident seating position that feels a cut above the rest.
But although many modern SUVs are derived from hatchbacks, and thus are generally very fuel-efficient and good to drive, they can sometimes cost more than a normal car to insure. If you don't choose the right SUV, your annual premiums could be significantly more.
It doesn't have to be the case, though. Here, we have identified 10 SUVs with low insurance ratings, which should attract premiums barely any higher than a regular family hatchback or supermini. They are some of the cheapest SUVs to insure in the UK right now.
Citroen C3 Aircross
The Citroen C3 Aircross is a successful modern SUV from the rejuvenated French firm. It has a foursquare and high-riding stance, which yields a particularly impressive and versatile amount of space inside. The C3 Aircross rides really comfortably and the 'Citroen Advanced Comfort' programme even extends to a special, ultra-soft type of seat covering. It is available with an 82hp Puretech engine that, while hardly the fastest against the clock, still offers decent pulling power for a relaxed drive. And because power is kept in-check, it can achieve a low group 6 insurance rating. This helps ensure premiums are more than affordable enough for the family budget.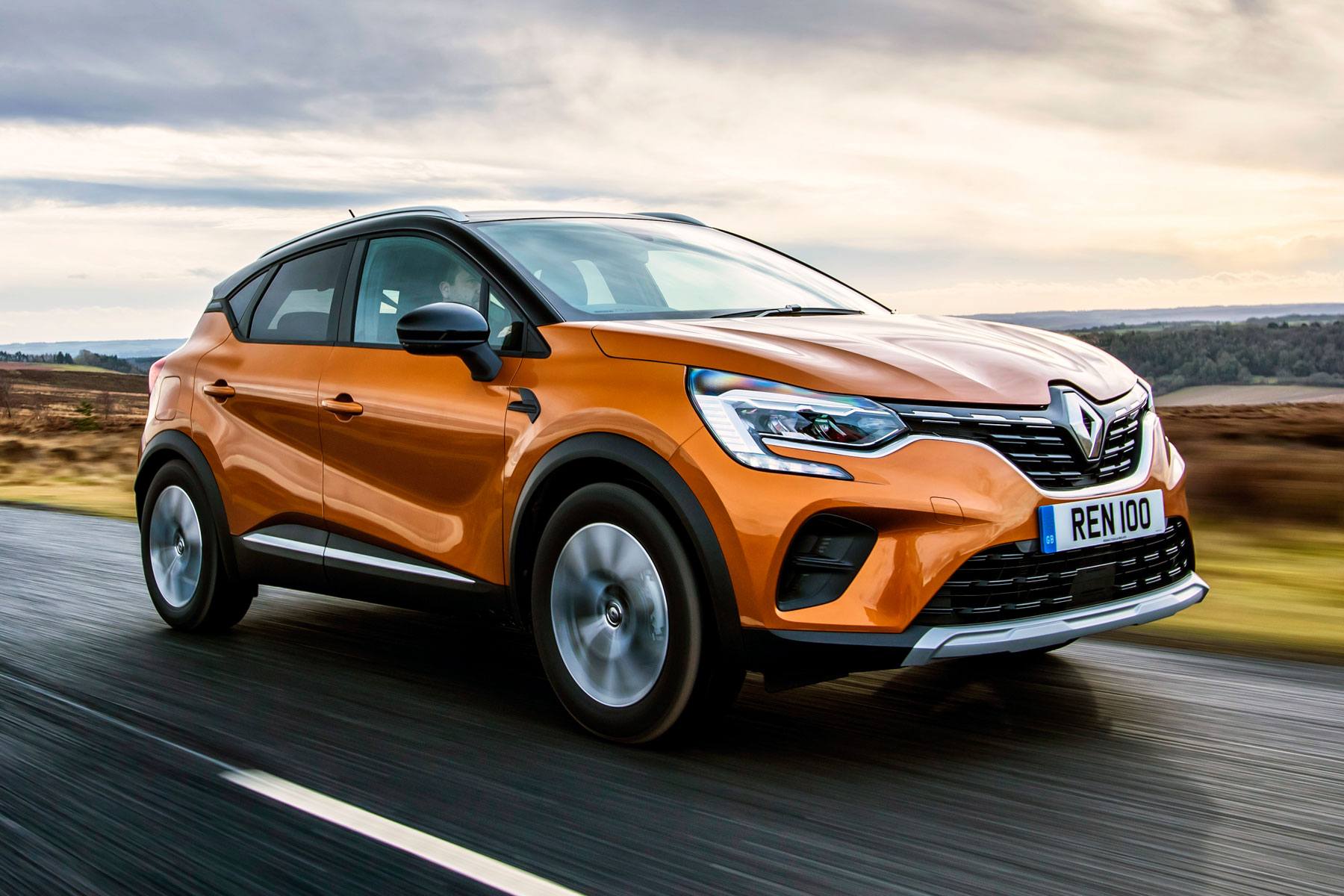 Renault Captur
Renault has long been a favoured brand for those seeking cheap-to-insure vehicles. The Captur SUV is no exception. It boasts insurance ratings as low as group 7 – and that's for a version with a punchy turbocharged TCe 90 petrol engine, with just enough oomph to cope with the needs of a growing family. It's actually our favoured engine overall from the Captur line-up, thanks to its smooth nature and excellent fuel economy. Like the smaller Clio it's derived from, the Captur handles neatly and has a stable feel on the road. Its roomy and flexible interior is trimmed in high-end materials that make it feel a cut above many alternatives.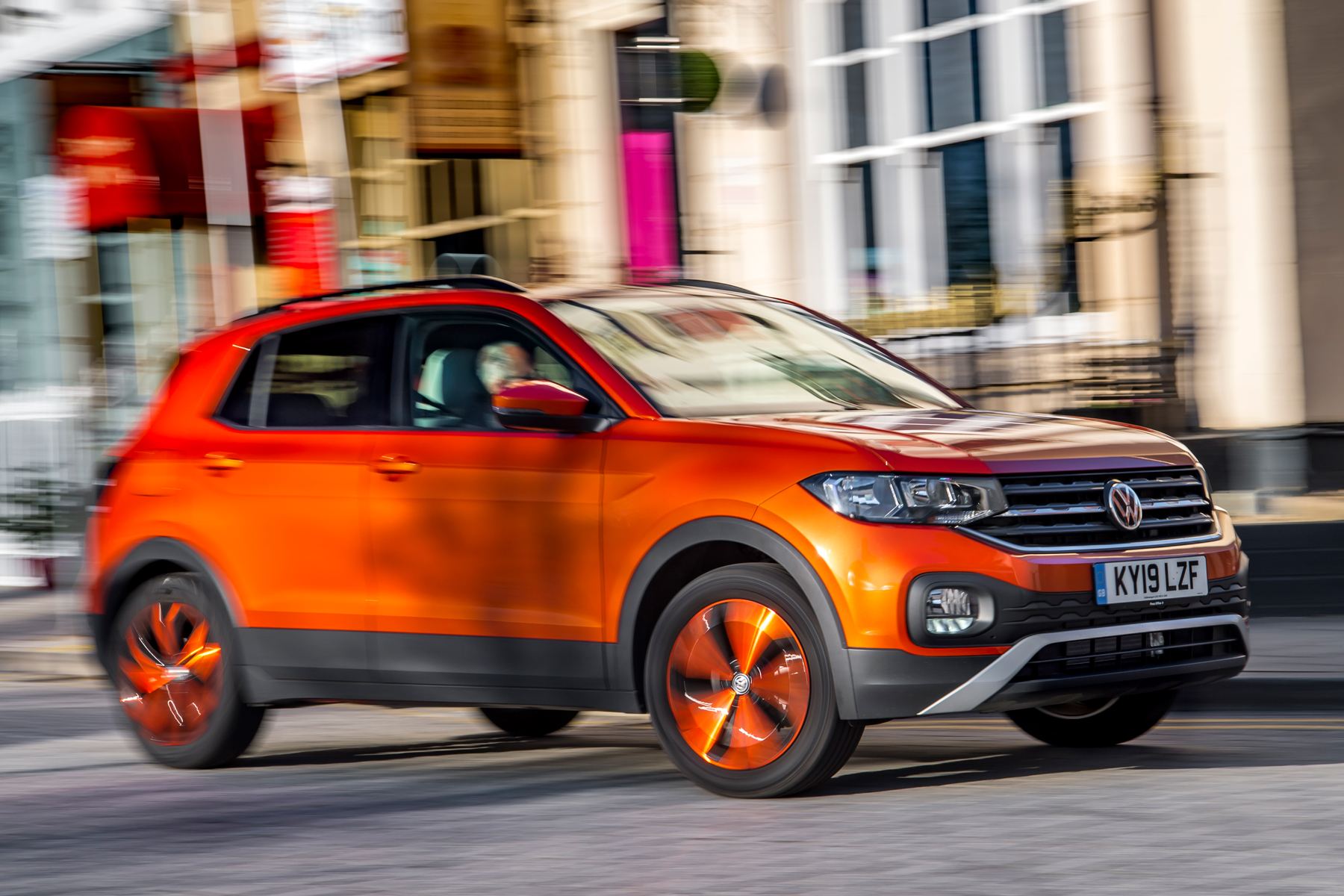 Volkswagen T-Cross
The Volkswagen Polo is one of the cheapest cars of all to insure. Its crossover SUV sibling, the T-Cross, is similarly competitive. Despite coming with an all-turbo range of TSI petrol engines, the headline insurance group is as low as 8, which is for the TSI 95 motor. This engine has enough muscle for fully-laden family duties, aided by a spacious interior and roomy boot. The T-Cross is a fairly well-equipped car, with a good amount of standard safety assistance technology. We're also fans of the styling, with its muscular and timeless lines, backed up by the build quality Volkswagen is famous for.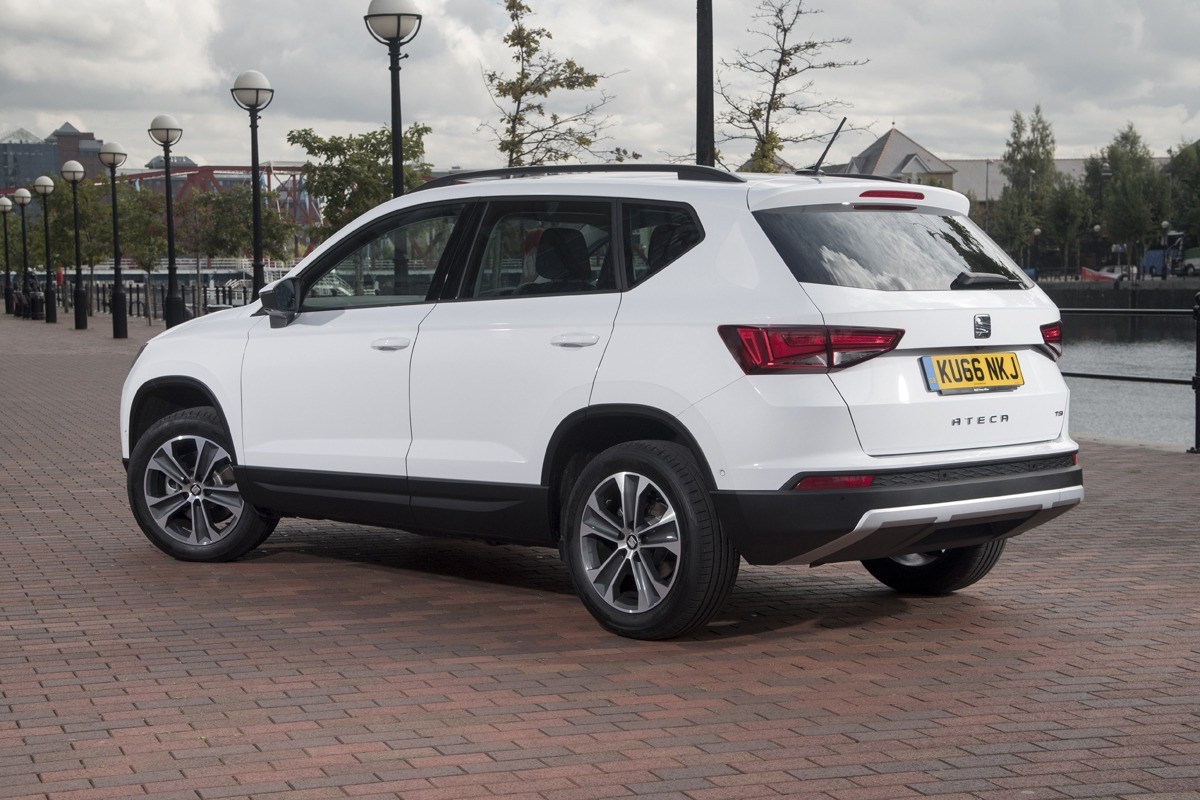 SEAT Ateca
The SEAT Ateca is a family-sized SUV, a step up from supermini-derived models such as the Volkswagen T-Cross and SEAT's own Arona. A rival to the Nissan Qashqai, it has an efficient line-up of engines, and offers low insurance groups to match its smaller sister cars. The 1.0-litre TSI engine range starts from as low as insurance group 8, with the perfectly powerful enough 115hp version coming in at group 9. This makes it not only one of the cheapest SUVs to insure, but also one of the best all-rounders. The Ateca looks assertive, has a really practical interior and SEAT's standard equipment levels are very generous. We particularly like the FR versions, which are enhanced by a sportier appearance and racier interior trim.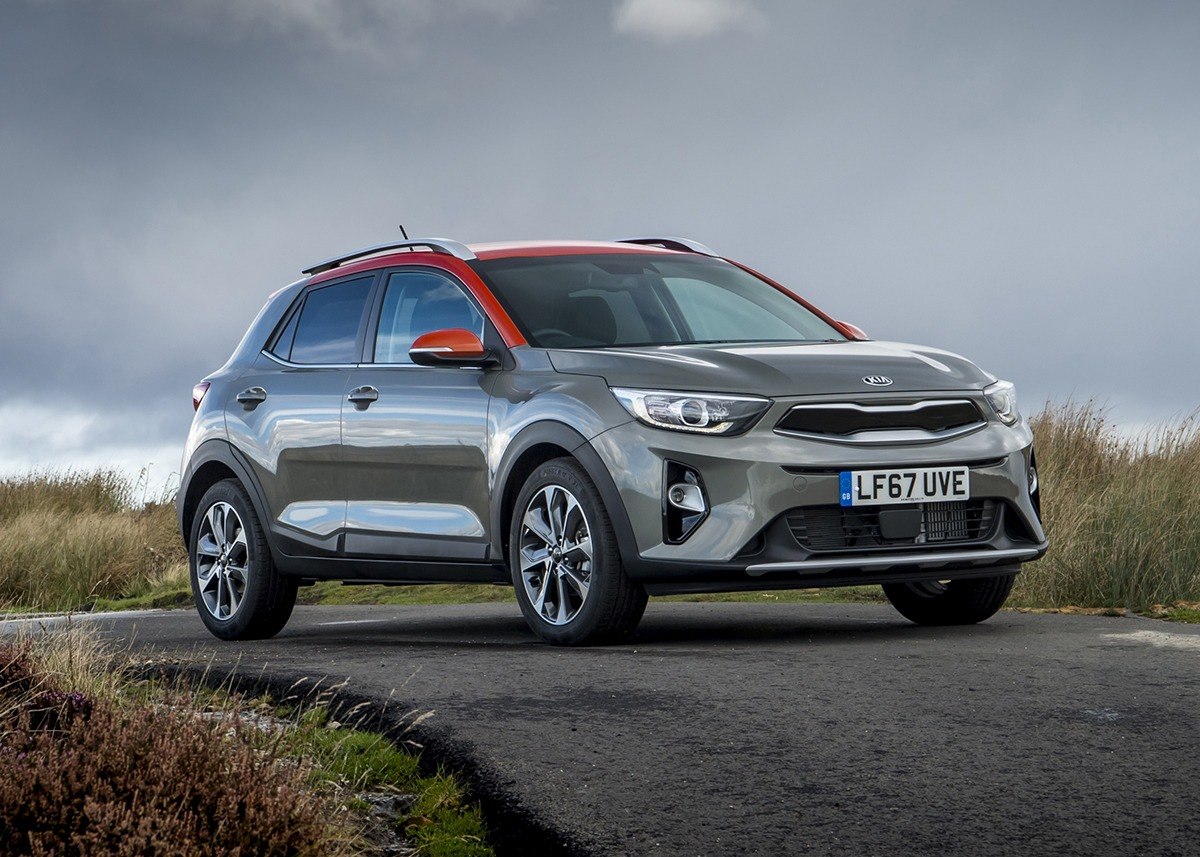 Kia Stonic
The Stonic is Kia's smallest SUV from an ever-expanding range. It is derived from the popular Rio supermini, and has a similarly efficient range of turbocharged petrol engines. These help offer insurance group ratings that, for the entry-level 1.0-litre motor, start from a very competitive group 8. The Stonic is a well-equipped car, and has a good amount of room for adults and tall teenagers, while the firm's brilliant seven-year, 100,000-mile warranty remains a key draw for buyers. We also like the contrast colour options available with a Stonic. It's the sort of customisation brands such as MINI have made famous.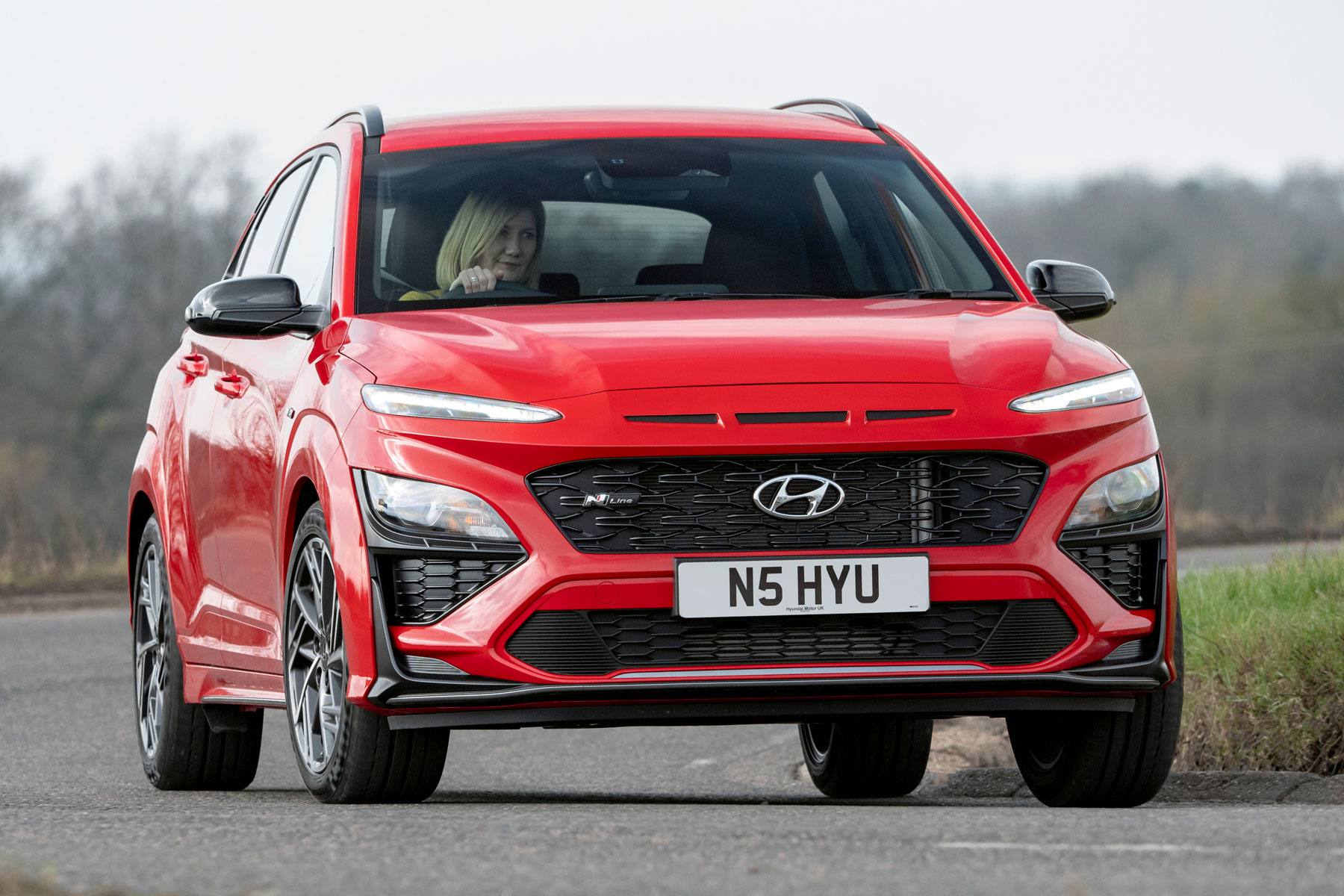 Hyundai Kona
Hyundai is another brand with a diverse and growing range of SUVs. The Kona is one of its sportier offerings, with a distinctive and rugged appearance that positions it in between small and mid-size SUVs. It's available in pure electric guise, but we're looking at the petrol-powered versions here. The 1.0-litre turbo Kona is in insurance group 9, while the efficient hybrid version goes one better with insurance group 8. All Konas come with Hyundai's five-year warranty, which is unlimited in mileage. It's perfect for providing peace of mind to those who drive more than 20,000 miles a year.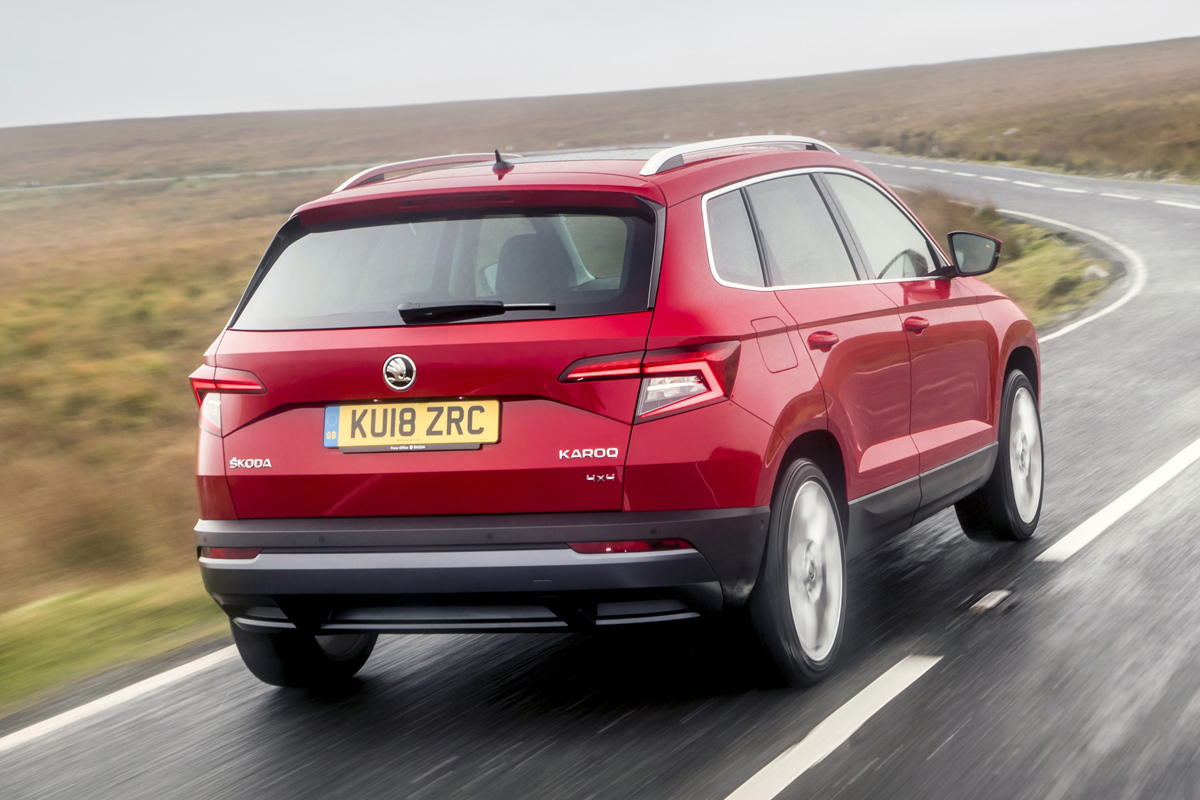 Skoda Karoq
Skoda SUVs all begin with a 'K'. The Karoq is its mid-size offering, which replaced the Yeti a few years back. In entry-level 1.0 TSI petrol guise, it offers insurance groups as low as 9 – very impressive for such a practical and passenger-friendly SUV. The Karoq seats five people in comfort and has a huge boot, while typically Skoda value for money means you can get a really good specification without having to spend a fortune. If you want something a bit smaller, the similarly able Skoda Kamiq (a sibling to the Volkswagen T-Cross) is even cheaper to insure.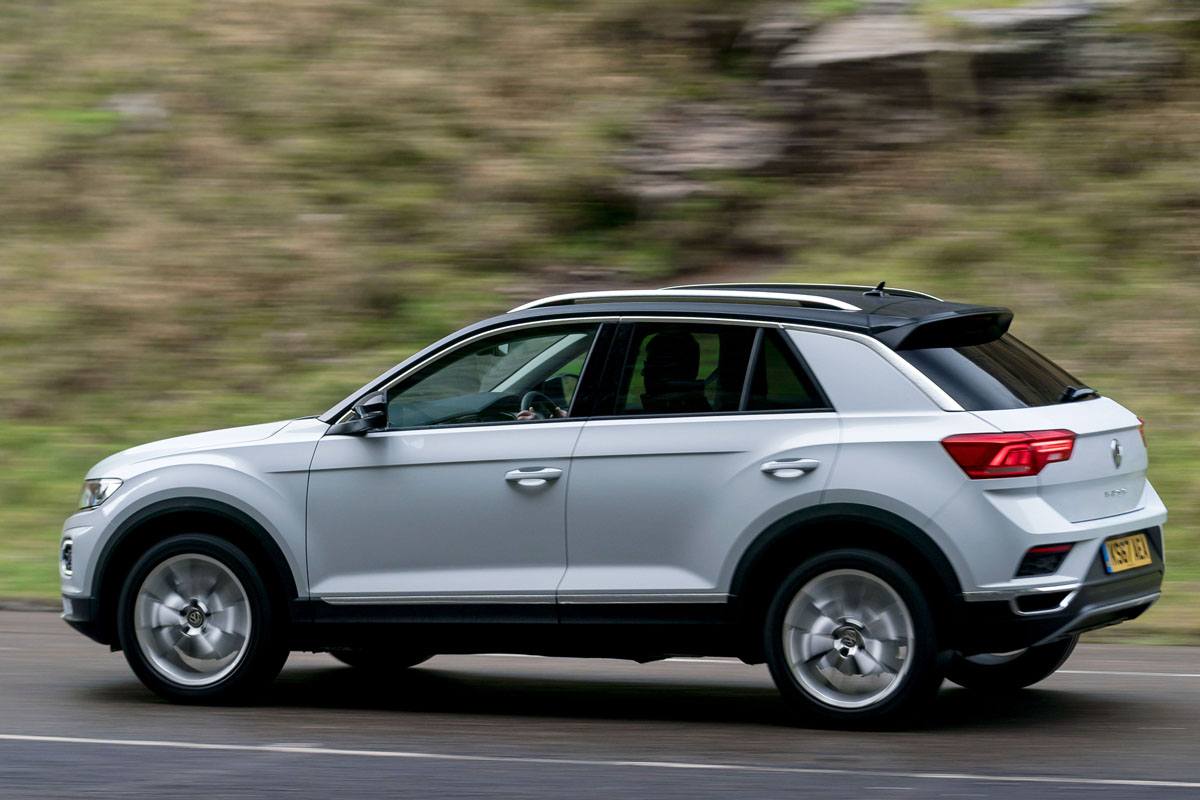 Volkswagen T-Roc
Talking of the T-Cross, the Volkswagen T-Roc is its sportier, slightly larger cousin. Think of it as Volkswagen's far-more-affordable tribute to the Audi Q8. Derived from the larger Golf platform, it's a classy car to drive, with a grown-up feel and confident responses no matter how challenging the road or weather. It's roomy inside, and its coupe-style look is a bit more exciting than a regular family SUV. You can get high-power versions of the T-Roc, including an extreme T-Roc R and even a Cabriolet, but the cheapest SUVs to insure are the 1.0-litre TSI versions. These start from a highly competitive group 10.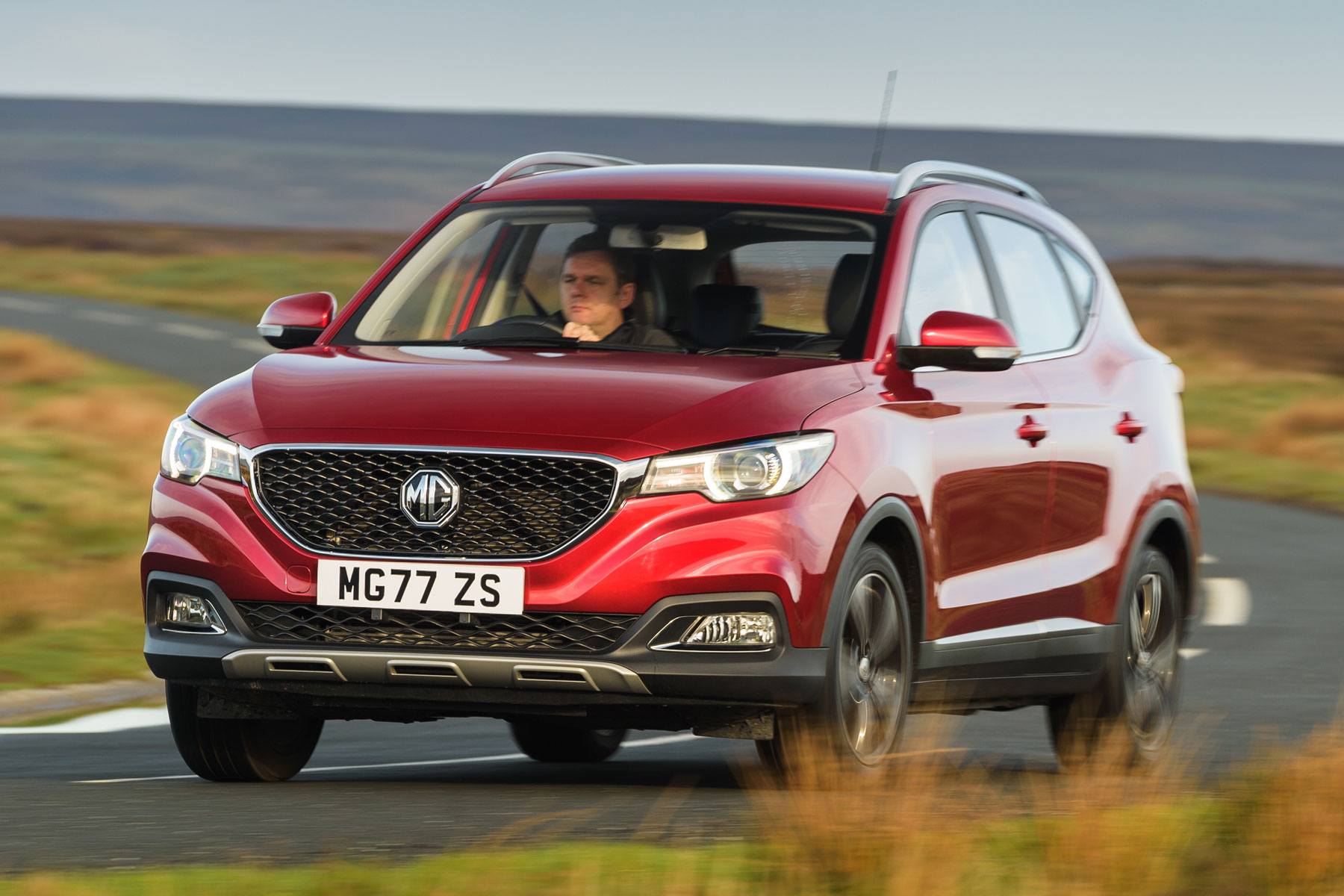 MG ZS
The MG ZS has two headline draws even for those simply looking at the spec sheet. For a start, prices are very competitive, opening from several thousand pounds less than similar small crossover SUVs. It also has a lengthy seven-year warranty that few rivals can match. The ZS's high-riding and bold appearance also makes it look more expensive than it is, while insurance ratings starting from group 10 help extend the savings to the annual car insurance premium. You can also choose a pure electric ZS EV, and while it isn't as cheap to insure as its petrol-powered equivalents, it's still competitive by electric car standards.
Nissan Juke
The British-built Nissan Juke is a best-selling small crossover SUV in the UK. It's the model that, taking inspiration from the larger Nissan Qashqai, defined the breed more than a decade ago. This latest version is sleeker-looking than the original but no less distinctive, and it has a much higher-quality interior that's far more practical for passengers. The boot is also vastly more accommodating than early Jukes, and you can get an optional Bose premium audio system. All models now come with a 1.0-litre turbo engine, which makes them competitive for insurance. Official ratings start from an affordable group 11.
Do SUVs cost more to insure?
SUVs generally do cost a little more to insure than the regular family cars they're often based on. This is because they cost more to start with, which has to be reflected in the insurance premium. They are also, sadly, more desirable cars to thieves, which can raise the car crime penalty a touch. Families are likely to use SUVs in a broader range of driving situations as well, which some car insurers may reflect in higher premiums.
How can I find the cheapest SUVs to insure?
To find the cheapest SUVs to insure, it's best to look at insurance group ratings. Our guide to the cheapest here proves that there are several best-sellers that have single-figure insurance group ratings (the groups range from 1-50), and these will be the cheapest of all to insure. As a rule of thumb, if you're sensitive to insurance costs, choose lower-powered engines and also consider variants that have a better level of safety assistance tech fitted as standard. Car insurers reward the reduced risk of crashes with lower premiums. 
Are high performance SUVs expensive to insure?
High-performance SUVs are, we're afraid to say, generally expensive to insure. Not only do they see premiums raised because of their lofty power outputs – the Volkswagen T-Roc R produces an eye-watering 300hp, for example – but prices are also higher because of their desirability. Car thieves love SUVs, but they also love high-performance cars. Combine the two and you've a recipe for premiums that will be higher than average. If you're keen on a high performance SUV, make sure you have a full no-claims bonus to offset the expense.
Ask HJ
What is the best way to insure an additional driver?
What is the best way to insure an additional driver and what is the cheapest insurance?
You could add the driver to your own insurance for a fee or your additional driver could take out temporary cover themselves, which is usually available for up to 28 days. We have a guide on cheap car insurance here: https://www.honestjohn.co.uk/cheap-car-insurance/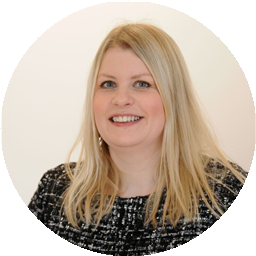 More Questions
More cheap car guides
More expert car guides