Top 10: Everyday cars with abnormally expensive VED
Published 18 March 2015
This top 10 looks at those cars that really break the mould – or choke it, rather, because of their incongruously high VED ratings. All these cars spit out an abnormally large amount of carbon dioxide relative to the cars in their class. 
With each car we've also given an example of something else with the very same CO2 emissions, for reference – something that the tax man views as equally gas-guzzling. You'll be surprised.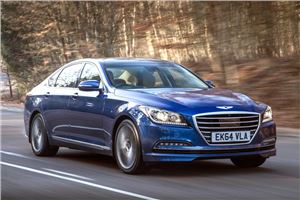 1
Hyundai Genesis 3.8 GDi V6 DCT
Price: £47,995
CO2: 261g/km
Nothing about the Hyundai Genesis makes much sense on paper, but particularly its CO2 rating, which puts the car in the very most evil tax band, M (for malevolent, presumably). That means it has a first year VED rate of £1,090 and £505 thereafter. Ladies and gentlemen, from the company that brings you the i10, here's a saloon that's less environmentally friendly than a BMW X5M V8.
Same CO2 rating as: Porsche Cayenne 4.8 Turbo Tiptronic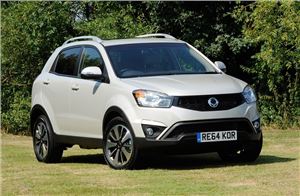 2
SsangYong Korando 2.0 ELX 4WD Auto
Price: £21,495
CO2: 199g/km
A SsangYong Korando buyer has 199 problems, but being rich ain't one. Probably. And that's why spending £490 on first year VED, then £265 per year afterwards, is likely to be extremely upsetting. And also probably why most possible Korando suitors head straight to a place where they can buy a Nissan Qashqai or something instead. 
Same CO2 rating as: Jaguar F-Type Convertible V6 Supercharged Auto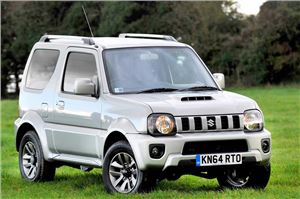 3
Suzuki Jimny
Price: £14,545
CO2: 167g/km
On sale since 1998, if the Suzuki Jinmy were a person, it wouldn't be a person any more, it would be a zombie. So it's probably no surprise that the little 4x4 doesn't lead the way in the CO2 stakes: a four-speed auto and 1.4-litre petrol engine combine to create the same amount of CO2 per kilometre as a long wheelbase Jaguar XJ limo.
Same CO2 rating as: Jaguar XJ LWB 3.0 V6 Diesel Luxury Auto and more than the Band A Jaguar XE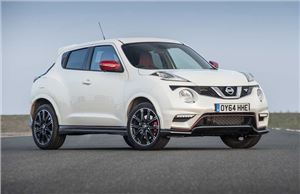 4
Nissan Juke 1.6 DIG-T Nismo RS X-Tronic
Price: £23,750
CO2: 169g/km
In fairness, the Nissan Juke Nismo is both quite specialist and quite powerful, with a 218PS 1.6-litre turbo under all that body kit. However, that's still an awful lot of CO2 to be releasing from the exhaust of a car with about the same amount of interior space as an acoustic guitar.
Same CO2 rating as: Audi A6 Avant 3.0 BiTDI quattro Auto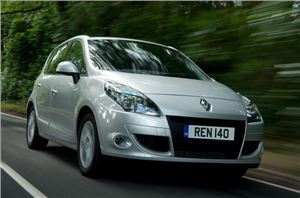 5
Renault Scenic 1.6 VVT 110
Price: £19,360
CO2: 172g/km
It's amazing to think that a mid-range French people carrier could emit the same amount of CO2 as the archetypal massive gas-guzzler, the BMW X6 – and one with three turbos at that. Yep, the 172g/km rating of the Renault Scenic 1.6, which will cost an owner £205 per year in VED, is the same as that of a 2.2-tonne hatchback-o-saurus with supercar-worrying overtaking ability. Scary.
Same CO2 rating as: BMW X6 M50d Auto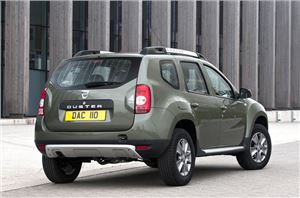 6
Dacia Duster 1.6 Access
Price: £9495
CO2: 165g/km
Dacia's base model Duster is, much like its Sandero, a surprisingly cheap car to buy, but not so when it comes to the day-to-day business of filling it with fuel – as 165g/km proves. Arguably, this is the difference between low-cost engine sourcing and engineering that seeks to make everything as clean and efficient as possible. See the car below for proof.
Same CO2 rating as: Mercedes-Benz CLA 45 AMG Shooting Brake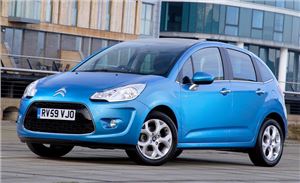 7
Citroen C3 1.6 VTi Automatic Exclusive
Price: £16,250
CO2: 150g/km
The range-topping Citroen C3 may have a plush automatic gearbox, a heady 120PS and a rampant 10.9-second 0-62mph sprint time, but the price is 150g/km of CO2 – an amount that will cost £145 per year in annual VED. The only comfort is that, to look at it, nobody will suspect your car is killing the planet as quickly as a Jeep.
Same CO2 rating as: Jeep Renegade 1.0 MJet 4WD Limited Auto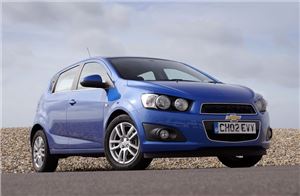 8
Chevrolet Aveo 1.4 LT Automatic
Price: £13,040
CO2: 147g/km
Chevrolet's 'affordable' supermini spits out the same amount of CO2 as a turbocharged BMW 4 Series of two-and-a-half times the price and power. The BMW is bigger, of course, and takes less than half the time to hit 62mph. That's your German engineering in action right there, against your American engineering - if you're into boiling everything down to highly questionable stereotypes.
Same CO2 rating as: BMW 4 Series Gran Coupe 428i SE Auto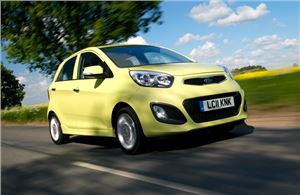 9
Kia Picanto Quantum 125 Auto
Price: £12,595
CO2: 130g/km
If you're after a city car with very low CO2, then this Picanto is no Quantum of solace. Moving on, Kia's special edition Picanto has loads of kit and looks great, but its combination of 1.25-litre petrol engine and four-speed automatic gearbox mean 130g/km of CO2. In this class, that basically gives it a license to kill (trees).
Same CO2 rating as: Citroen C4 Grand Picasso 1.6 THP Exclusive Auto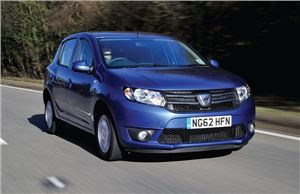 10
Dacia Sandero 1.2 Access
Price: £5995
CO2: 135g/km
The cheapest new car in the UK it may be, but with its 1.2-litre petrol engine getting on a bit, it's far from the cheapest to run. Still, what's £130 per year when you've only spent six grand on your runabout in the first place? That's what Dacia would say, anyway – the myriad companies pushing the CO2 ratings of their small cars ever further below 100g/km would probably disagree. 
Same CO2 rating as: Skoda Superb 2.0 TDI