Our Cars: Audi A6 3.0 TDI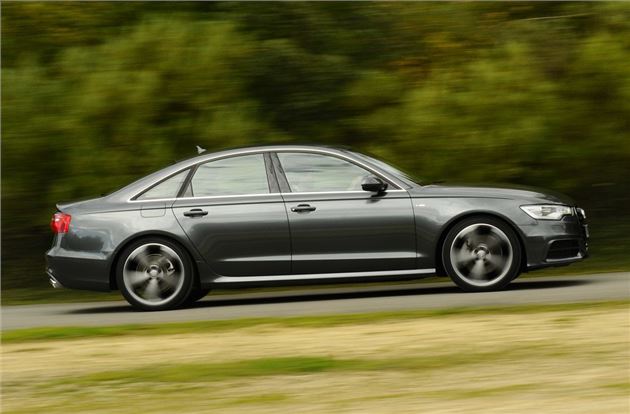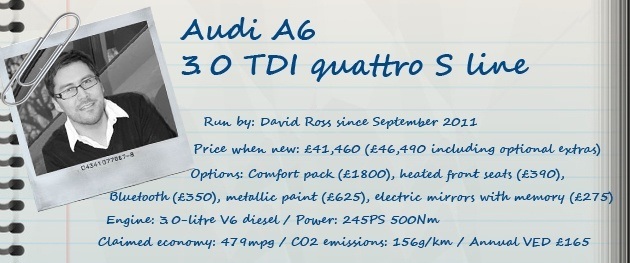 2 December 2011: The best A6 features
The Details
| | |
| --- | --- |
| Current mileage | 6013 |
| Claimed mileage | 47.9mpg |
| Actual economy | 40.2mpg |
Ever more demanding owners and the subsequent competition between manufacturers to get people to buy their model as oppose to a rivals, has been good news for car buyers. It means more equipment as standard, better value for money and ever advancing technology. And nowhere is this more evident than in the 'executive car' class that includes the Audi A6 along with the BMW 5 Series, Mercedes E-Class and the Jaguar XF.
The list of standard equipment is very impressive. All A6 models get parking sensors, cruise control, automatic lights, rain sensitive wipers, dual-zone climate control, electric mirrors and an electric parking brake. That seems pretty ordinary now but 10 years ago the majority of that would have been in the optional extras list.
And the A6 gets even better. It comes with leather upholstery, something that a few years ago would have set you back around £1500 if not more, plus a good satellite navigation system that includes Bluetooth for your phone. On other cars something similar would probably cost a further £1500. Having sat nav is of course a real help especially as the Audi system works off an SD card so it's fast at working out routes. It gives you three alternatives and lets you choose which one you want.
But my favourite features on the A6 are some of the less obvious ones. I love the multifunction steering wheel. True, it's becoming the norm on most cars now, even small hatchbacks like the Ford Fiesta, but it's still a highlight in the A6. The leather steering wheel has a real quality feel to it and the buttons are all easy to use, which isn't the case with certain cars.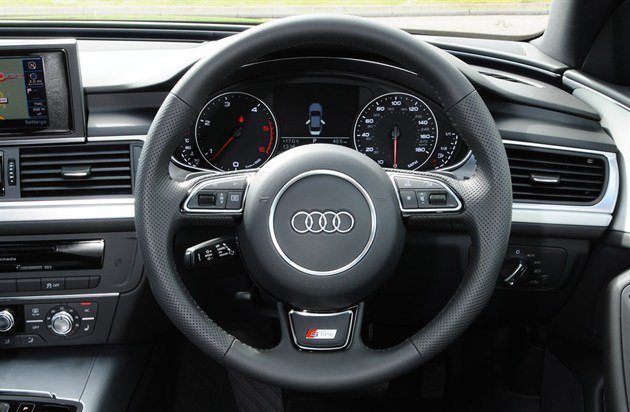 The buttons are neatly incorporated into the steering wheel and they're simple to work out. One side goes through the various screens of the trip computer while the other side lets you turn the stereo volume up and down. There's also a programmable button - the one with the asterisk-type symbol on it. I say programmable - it's not as good as the BMW 5 Series system where you can have whatever you want. On the A6 you have a choice of a few set functions, such as switching the navigation voice guidance on or off. On mine it switches between the radio and media function.
The auto dimming rearview mirror is really useful feature. It may not be very exciting but it's something which you don't truly appreciate until you drive a car without one. However my favourite feature is the keyless start. It's not that i'm especially unorganised and can never find my keys, it's more that it means you can leave the key in your coat pocket or bag, and just press the button next to the gear lever and away you go. When it's late, dark and cold, being able to jump in and start the car straight away is such a great feature.
It also means that if you're like me and have far too many keys on your keyring, they don't have to hang from the ignition, banging against your knee everytime you go round a corner. Our A6 goes one better as it is fitted with the optional Comfort Package. It costs an extra £1800 and adds electric front seats with a memory function, driver's seat four-way lumbar support and the advanced key. It's the latter which is really useful as it unlocks the doors when you approach the car, so you don't have to find the key fob and press the unlock button.
It's similar to the system fitted in the Suzuki Swift that John is running but a touch more sophisticated. You don't have to press a button to open it, you just put your hand on the handle and apply light pressure for a second and the Audi unlocks. It's very clever - you don't even have to pull the handle fully. To lock it you just put your finger in a little touch sensitive button and it locks again.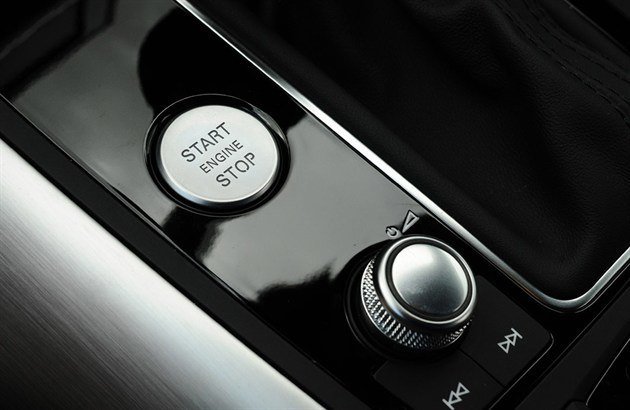 « Earlier: 5000 miles in Later: The A6 gets ready for winter »
Updates

The past six months with our A6 have absolutely flown by and it's proved to be a real favourite so we're sad to be saying goodbye.

The A6 doesn't come with front fog lights. Well, not the traditional type - instead it gets 'all-weather' lights which are actually more effective.

A recent test of the revised A5 Sportback got me thinking about how similar it is to our A6. And surprised at how closely matched they are.

There's a vast number of optional extras available on the A6 and here are what I reckon are the best five.

Fuel saving engine start-stop systems are becoming more common on new cars, indeed even our A6 3.0 TDI has one.

I've left it a little late but with the cold weather on the way it's time to get our A6 properly prepared with some winter tyres.

2 December 2011: The best A6 features
The A6 is fitted with plenty of advanced technology under the skin, with lots of features designed to make living with it easier.

Our A6 has already racked up 5000 miles in less than three months and the 3.0 TDI engine is getting better and better.

I've spent a lot of time behind the wheel of the A6 lately. Much of it in traffic. But it's given me plenty of time to play with the Audi MMI.

Audi offers a great choice of alloy wheels on its models with some superb looking designs. And when it came to the A6 we were spoilt for choice.

The A6 goes straight to work with a mammoth pan-European trip to Frankfurt and a chance to test out motorway economy.

The new Audi A6 is the latest addition to 'Our Cars' and the 3.0 TDI quattro S Line version we've chosen has already had a hectic start to its time with us.