Our Cars: Audi A6 3.0 TDI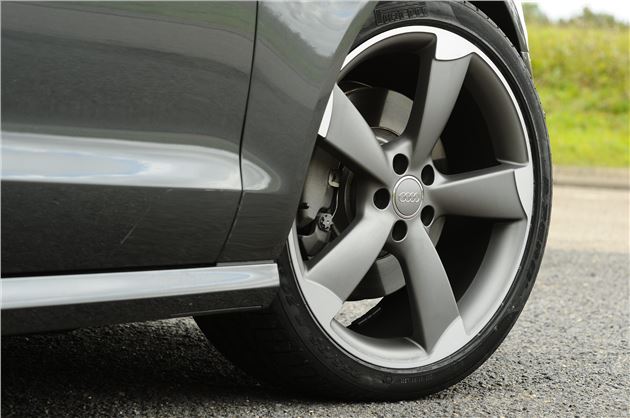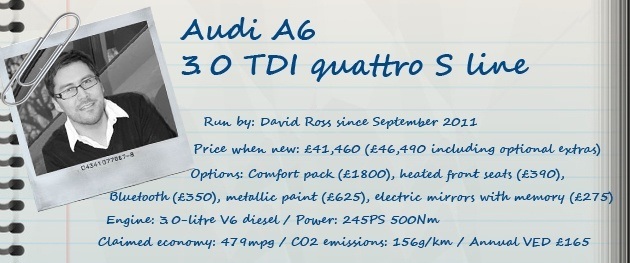 17 October 2011: Wheels of fortune
The Details
| | |
| --- | --- |
| Current mileage | 3066 |
| Claimed economy | 47.9mpg |
| Current economy | 38.9mpg |
I'm definitely of the opinion that wheels make a car. Nothing ruins the appearance of a good-looking car like wheels that are too small, or indeed, too large. Like Goldilocks, they need to be just right. Oh - and aftermarket alloy wheels should never ever be fitted to any car. Ever. 
The majority of new cars now come with alloy wheels as standard, although entry-level versions of smaller models do often still have wheel trims or as they now poetically call them 'wheel enhancers'. It wasn't always so. I remember my dad having a 1985 Mercedes E-Class (well it was called a 200 back then) which unbelievably didn't come with alloy wheels as standard. Then again, it also had manual winding windows...
I'm now in the very privileged position of being able to choose the specification for the car I run - and this includes wheels. I'm still of an age where, for me, it's all about the big wheels. I'll happily sacrifice a bit of ride comfort for a good looking set of alloys. And with the A6 I had a plenty of choice and spent a lot of time deliberating on what to pick.
As the pictures below show, there are nine different choices of wheel on the A6. As I'd chosen an S line model the 17-inch wheel isn't available - the smallest that comes on the higher trim level is the 18-inch 5-twin-spoke wheel (PQ1/PQ2 in the pictures below).
I do like the 19-inch 7-twin-spoke wheels (PQT) while the 20-inch 10-spoke-V partly polished wheels (PRU) really stand out. However, the latter are only available in the SE trim for some reason. My final choice came down to either the 20-inch 5-segment-spoke wheels (PQS) which are similar to those fitted to the RS6 or the 20-inch 5-arm-rotor titanium design (PQU) which were first seen on Audi Black Edition models.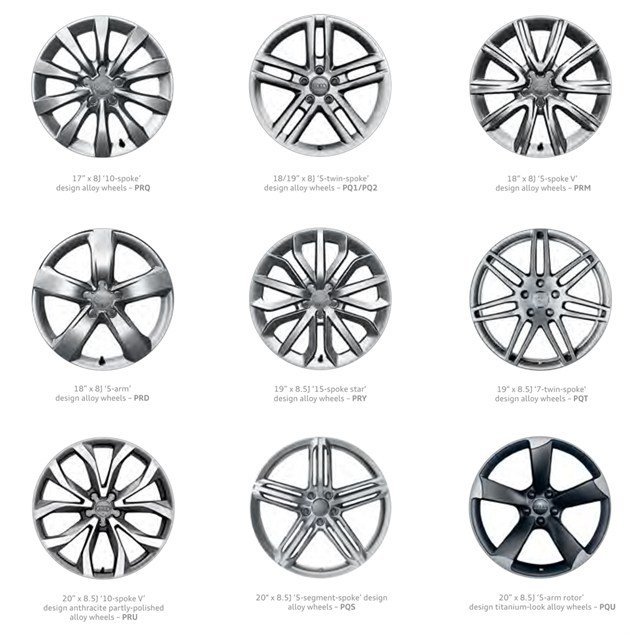 The difficulty comes in trying to envisage what the wheels will look like on the car. In a brochure (like above) they all look good but finding out what suits the car (and the colour you've chosen) is harder. The Audi configurator is a great tool for this as you can choose diferent wheels and colours to get an idea, but I personally think that nothing is the same as seeing the car in the metal.
Ultimately what swung it for me was driving past an Audi showroom and seeing a white A6 on display with the titanium-look wheels. It really stood out and looked more like a performance car than a diesel saloon (albeit a very powerful diesel saloon). And when our A6 car arrived I was very pleased with my decision, especially as the colour of the wheels goes so well with the Daytona Grey paintwork. I've had plenty of people comment on what a good looking car is and I like the fact the overall appearance isn't over the top. Subtle but purposeful.
Of course having 20-inch wheels fitted does affect the ride comfort somewhat, especially as the S line has lowered sports suspension. It's certainly quite firm but it's not uncomfortable and never crashy over bumps. In fact, the firmer set-up means the A6 copes well over the uneven rural roads where I live and doesn't get unsettled. However, there can be quite a bit of road noise on certain surfaces.
Having big wheels does make you much more aware of kerbs too. I hate scratching or damaging alloy wheels and when they're a darker colour, any marks are even more noticeable. Annoyingly I recently scuffed one, despite being incredibly careful (some would say a little over precious...) about them. It was in a central London underground car park with a very tight entrance and some mean kerbs. It's only a small mark on the rear right wheel - about the size of a 50p coin - but it's right on the edge of one of the 'blades' so it's very conspicious. When I change to my winter wheels and tyres i'll get it sorted so it's nice and shiny again for 2012.
What's good so far:
Performance: The 3.0 TDI is an incredibly refined engine and one of the best V6 diesels around. It's not shy when it comes to acceleration though and thanks to huge reserves of torque, it's mightily quick - most impressively from around 30mph. There's little on the road that's as quick.
And what's not:
iPod connector: Or rather lack of it. I assumed the A6 would come with one as standard but what is they say about never assuming anything? It does have an SD card slot but it's not as handy as being able to just plug in the iPod and play it through the stereo.
« Earlier: To Frankfurt and back Later: That's infotainment »
Updates

The past six months with our A6 have absolutely flown by and it's proved to be a real favourite so we're sad to be saying goodbye.

The A6 doesn't come with front fog lights. Well, not the traditional type - instead it gets 'all-weather' lights which are actually more effective.

A recent test of the revised A5 Sportback got me thinking about how similar it is to our A6. And surprised at how closely matched they are.

There's a vast number of optional extras available on the A6 and here are what I reckon are the best five.

Fuel saving engine start-stop systems are becoming more common on new cars, indeed even our A6 3.0 TDI has one.

I've left it a little late but with the cold weather on the way it's time to get our A6 properly prepared with some winter tyres.

The A6 is fitted with plenty of advanced technology under the skin, with lots of features designed to make living with it easier.

Our A6 has already racked up 5000 miles in less than three months and the 3.0 TDI engine is getting better and better.

I've spent a lot of time behind the wheel of the A6 lately. Much of it in traffic. But it's given me plenty of time to play with the Audi MMI.

17 October 2011: Wheels of fortune
Audi offers a great choice of alloy wheels on its models with some superb looking designs. And when it came to the A6 we were spoilt for choice.

The A6 goes straight to work with a mammoth pan-European trip to Frankfurt and a chance to test out motorway economy.

The new Audi A6 is the latest addition to 'Our Cars' and the 3.0 TDI quattro S Line version we've chosen has already had a hectic start to its time with us.