Our Cars: Audi A6 3.0 TDI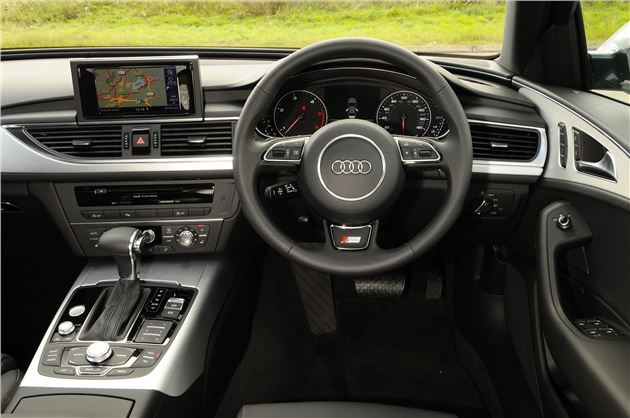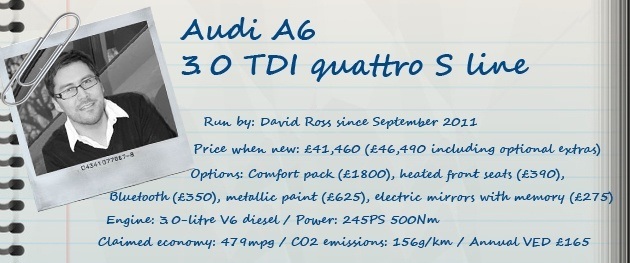 4 November 2011: That's infotainment
The Details
| | |
| --- | --- |
| Current mileage | 4960 |
| Claimed economy | 47.9mpg |
| Current economy | 41.2mpg |
I've been racking up the miles in the A6 in the last few weeks. There have been plenty of new car launches across the country, from North Wales to Yorkshire, journeys down to central London as well as trips to airports to catch flights for car launches abroad. It's all adding up and in just two weeks I've covered almost 2,000 miles in the Audi.
The 3.0 TDI has taken it all in its stride and thanks to plenty of motorway driving, fuel economy has improved to 41.2mpg. Sitting in traffic (especially in London) means the engine stop/start system also kicks in more often. It's a very clever system and one of the first to be fitted to an automatic gearbox - previously these kinds of fuel saving systems have only been on manual gearbox cars.
When you come to a complete stop (there's usually a split second delay while the system makes sure you're not going to pull away immediately) the engine switches itself off. You barely notice as it's a very smooth operation plus everything else in the car such as the air conditioning and stereo, continue to operate as normal. Then, when you take your foot of the brake, it automatically restarts. Some people find the system annoying - indeed there's a button to switch it off - but when you think of the fuel it saves, particularly in busy traffic, it makes total sense.
This is just one of the technological highlights in the advanced A6. But one of the more obvious ones is the Audi sat nav and stereo system. The whole 'infotainment' system - surely a word coined by the Americans - is called MMI, or Multi Media Interace in full, by Audi. It incorporates the satellite navigation, stereo, Bluetooth and usefully traffic information.
The whole thing is controlled through a dial on the central console just behind the gear lever, similar to the once much-derided BMW iDrive system. With so many functions it's the only way to have such a complete system without the dash being littered with a million and one buttons. Things are made easier by four buttons for the main systems - radio, media, nav and telephone.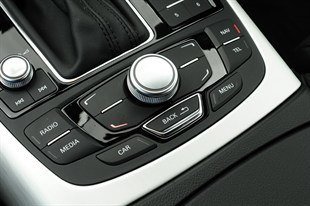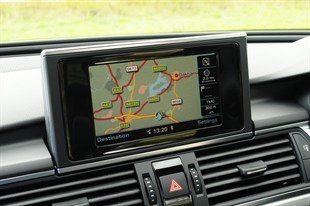 It's a very intuitive system and easy to get to grips with. As I'm lucky enough to to drive so many different cars with varying sat nav and infotainment systems (there's that word again) it's easy to see which ones work and which ones don't. The system Ford use is one of the better ones around and the BMW set-up is good too, although some of the functions aren't always that obvious. But for my money the Audi system is the best around and certainly the simplest to use, despite the raft of functions it has.
Our A6 comes with the standard MMI system which includes two SD card slots below the CD. One is for the sat nav data and the other allows you to put in an SD card full of music. What is surprising is that there's no iPod connector cable as standard. There is an aux-in, but that doesn't let you control your iPod through the MMI nor does it charge it. You'd expect an executive car at this level to have the connector fitted as standard - after all, it's fitted to the new Q3. Instead the AMI connector (that stands for Audi Music Interface) is a £260 optional extra.
What this meant was having to buy a suitably large SD card - a 32MB seemed to do the trick - and transferring all my music from my PC onto it. To be fair, it's pretty much identical to having an iPod connected and even shows track info including the album covers. It operates the same too so you can scroll through and choose songs by album, artists or song title.
Plus it's always in the car, so you don't have to worry about getting half an hour into a long journey before realising you've left your iPod on the kitchen table. The only thing you can't do is have playlists (unless you create them yourself on the SD card) and the system does leave a gap between tracks which isn't ideal for albums that are designed to flow (think Pink Floyd's Dark Side Of The Moon). Plus of course you have to remember to update the SD card with new music everytime you do the same on the iPod.
Of course - as some people have pointed out - I could just listen to the radio. Which brings me to another gripe about the A6 - the lack of DAB digital radio. It's a £410 option on the Audi which seems pricey considering that the UK will - supposedly - be switching over to digital radio in 2015. Whether that happens or not remains to be seen (it's looking pretty unlikely) but as a big fan of BBC 6 Music it's frustrating that I can't listen to it in the car.
My only other small issue is with the display screen that slides out of the dash. The standard sat nav comes with a 6.5-inch screen which is fine for the job. However, it's not the highest resolution and compared to the quality of the optional MMI Navigation Plus system (which has a 7-inch screen) which seems much sharper and brighter, the standard screen is a bit disappointing.
« Earlier: Wheels of fortune Later: 5000 miles in »
Updates

The past six months with our A6 have absolutely flown by and it's proved to be a real favourite so we're sad to be saying goodbye.

The A6 doesn't come with front fog lights. Well, not the traditional type - instead it gets 'all-weather' lights which are actually more effective.

A recent test of the revised A5 Sportback got me thinking about how similar it is to our A6. And surprised at how closely matched they are.

There's a vast number of optional extras available on the A6 and here are what I reckon are the best five.

Fuel saving engine start-stop systems are becoming more common on new cars, indeed even our A6 3.0 TDI has one.

I've left it a little late but with the cold weather on the way it's time to get our A6 properly prepared with some winter tyres.

The A6 is fitted with plenty of advanced technology under the skin, with lots of features designed to make living with it easier.

Our A6 has already racked up 5000 miles in less than three months and the 3.0 TDI engine is getting better and better.

4 November 2011: That's infotainment
I've spent a lot of time behind the wheel of the A6 lately. Much of it in traffic. But it's given me plenty of time to play with the Audi MMI.

Audi offers a great choice of alloy wheels on its models with some superb looking designs. And when it came to the A6 we were spoilt for choice.

The A6 goes straight to work with a mammoth pan-European trip to Frankfurt and a chance to test out motorway economy.

The new Audi A6 is the latest addition to 'Our Cars' and the 3.0 TDI quattro S Line version we've chosen has already had a hectic start to its time with us.