Our Cars: Audi A6 3.0 TDI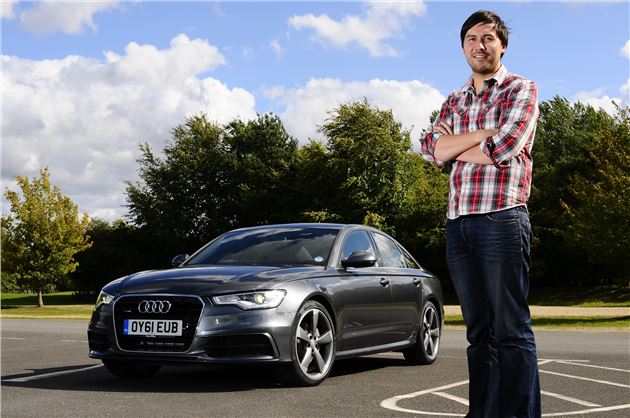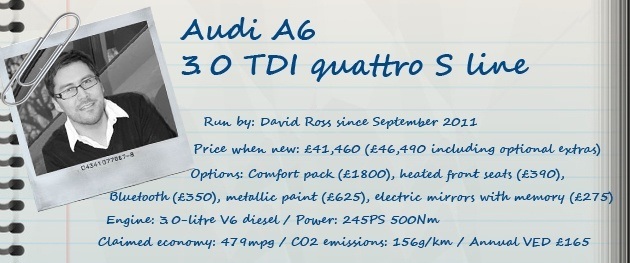 19 September 2011: Moving up in the world
The Details
| | |
| --- | --- |
| Current mileage | 1510 |
| Claimed economy | 47.9mpg |
| Current economy | 39.4mpg |
It's been a busy start for the latest addition to Our Cars. Our brand sparkling new Audi A6 arrived at the beginning of September with just 100 miles on the clock (I think that's what they call factory fresh) and since then it's racked up a further 1400 miles in just two weeks including a mammoth trip to Frankfurt and back in just a few days.
The A6 has taken it all in its stride of course. But then I didn't expect anything less from what has been a much sought after addition to Our Cars. We chose the top of the range 3.0 TDI quattro model in S line trim which comes in at a few quid shy of £41,500 on the road. I opted for Daytona Grey (exclusive to the S line) which is a nicely subtle colour that suits the lines of the new A6 well. Havanna Black metallic was an option but seemed quite dull or there was Ibis White but it's a flat non-metallic paint and I wasn't sure it would work on a car as big as the A6.
After configuring our car on the Audi website I did think it was missing something. The 18-inch wheels are a neat design but I felt our car deserved to stand out a little more so chose to indulge myself slightly by giving it a bit of bling in the shape of some 20-inch 5-arm rotor design titanium look alloys. This style first appeared when Audi introduced Black Edition models and they look great on the A6 - helped by the fact the titanium colour matches the Daytona Grey paintwork.
The A6 comes very well equipped as standard and like its big rival - the BMW 5 Series - has leather upholstery and sat nav as standard. The competition in this class is certainly as tough as ever which is good news for buyers, as brands are increasingly making what were once pricey optional extras, standard equipment. On the old A6, the standard sat nav system and leather would have set you back a fair few notes. Certainly it won't be too long before we start to see similar on future generations of smaller cars like the A4 and 3 Series.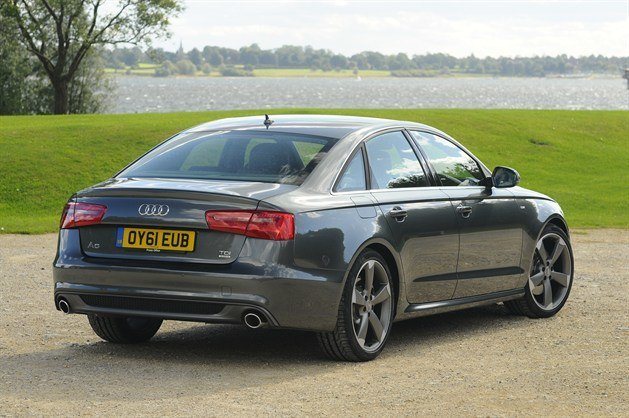 Standard equipment on the A6 includes everything you'd expect on a modern executive car such as climate control, parking sensors, an electric parking brake (none of that foot-operated nonsense Mercedes-Benz persists with), keyless start, Bluetooth, a multifunction steering wheel plus light and rain sensors.
That's some of what you get on the SE while opting for the sportier S line - which costs an extra £2350 - adds front sports seats, larger alloy wheels up from 17-inch to 18-inch, Valcona leather rather than Milano leather, sports suspension, xenon headlights and LED rear lights along with S line bumpers and side skirts.
Of course it's still easy to get carried away when you're choosing optional extras and even ticking a few boxes can quickly add on a few grand to the price. So I tried to be sensible(ish) and aside from the big wheels the other extras I chose were heated front seats (for those cold winter mornings), auto-dimming exterior mirrors with a memory function and mobile phone preparation which upgrades from the standard Bluetooth by letting you control your phone via the MMI (Multi Media Interface) system and steering wheel buttons.
My one big splurge was the Comfort Package. This is one option I thought was essential on a top of the range A6. True, it's not cheap at £1800 but it adds electric front seats with a memory function, driver's seat four-way lumbar support (really good on long journeys) and the advanced key which means you don't have to unlock the car - instead you can leave they key in your pocket or bag and just pull the door handle to unlock the car. Pressing a small button locks it again. You also get a very useful reversing camera, so all in all it's good value.
In total our new A6 cost £46,490 and that's for a well kitted out, good-looking top of the range V6 diesel model. It certainly stacks up well against the competition (which we'll be comparing our A6 against in a few weeks time) especially as this is the only premium saloon that comes with four-wheel drive. In fact I already have winter wheels and tyres on order (the big alloys will have to make way for a few months sadly) for when the inevitable snow comes.
What's good so far:
Quality and refinement: As soon as you get behind the wheel of the A6 you realise how well finished and perfectly engineered it is. Quality runs through every element from the main controls to the smallest details - it's one of the reasons the Audi brand has become so successful. On the move it's supremely refined too with that wonderfully smooth 3.0 TDI engine providing serene performance.
And what's not:
Not much: I'm really struggling to find fault with the A6. In the first two weeks it's already covered 1400 miles and hasn't missed a beat. I'm looking forward to doing plenty more miles in it.
Later: To Frankfurt and back »
Updates

The past six months with our A6 have absolutely flown by and it's proved to be a real favourite so we're sad to be saying goodbye.

The A6 doesn't come with front fog lights. Well, not the traditional type - instead it gets 'all-weather' lights which are actually more effective.

A recent test of the revised A5 Sportback got me thinking about how similar it is to our A6. And surprised at how closely matched they are.

There's a vast number of optional extras available on the A6 and here are what I reckon are the best five.

Fuel saving engine start-stop systems are becoming more common on new cars, indeed even our A6 3.0 TDI has one.

I've left it a little late but with the cold weather on the way it's time to get our A6 properly prepared with some winter tyres.

The A6 is fitted with plenty of advanced technology under the skin, with lots of features designed to make living with it easier.

Our A6 has already racked up 5000 miles in less than three months and the 3.0 TDI engine is getting better and better.

I've spent a lot of time behind the wheel of the A6 lately. Much of it in traffic. But it's given me plenty of time to play with the Audi MMI.

Audi offers a great choice of alloy wheels on its models with some superb looking designs. And when it came to the A6 we were spoilt for choice.

The A6 goes straight to work with a mammoth pan-European trip to Frankfurt and a chance to test out motorway economy.

19 September 2011: Moving up in the world
The new Audi A6 is the latest addition to 'Our Cars' and the 3.0 TDI quattro S Line version we've chosen has already had a hectic start to its time with us.