Our Cars: Audi A6 3.0 TDI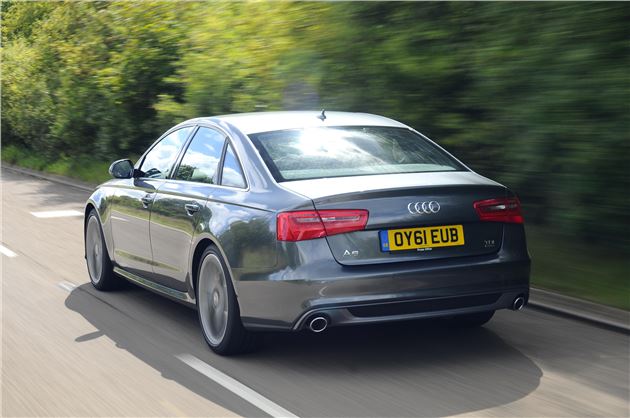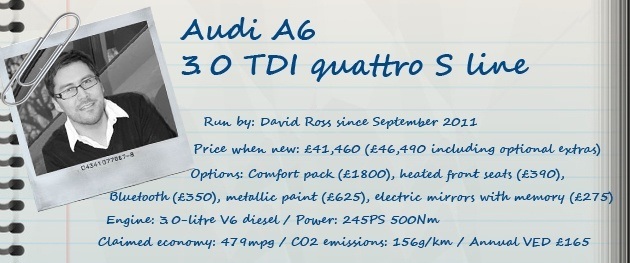 3 October 2011: To Frankfurt and back
The Details
| | |
| --- | --- |
| Current mileage | 2122 |
| Claimed economy | 47.9mpg |
| Current economy | 40.2mpg |
No sooner had our new Audi A6 arrived than it was being put straight to work, transporting myself and editor Dan Harrison to Frankfurt to cover the motor show. It's one of the most important dates in the calender and one of our busiest too as we try and get round the whole show (rumour has it that you walk nine miles in total if you see everything) to cover all the new models and concepts. Exhausting it certainly is.
But before that there's the small matter of getting there. By car. First it's the 'easy' bit from where we're based in the East Midlands down to Dover to the get on the Eurotunnel (the gale force winds and word of 15 foot waves made us very pleased not to have chosen the ferry) then through a bit of northern France, across Belgium and the bottom of the Netherlands before heading south east through Germany to Frankfurt. Simple. Only 580 miles there - and back of course.
Before we headed off, the A6 had only covered a few hundred miles so this was the perfect opportunity to run it in. Plus it gave me a great chance to see how the A6 performed on the motorway in terms of refinement and fuel economy. Stocked up with Haribo (a mild obessesion which peaked on my M25 challenge) we headed off early doors on a Monday and were surprised (and suspicious) at how light the traffic was down the M11 and M25 through Kent and down to Dover.
The Eurotunnel crossing was as straightforward and speedy as ever and then we were into the bleakness that is northern France. It only took me a few minutes to work out how to change the useful digital speedo in the A6 from mph to kmh (via the main menu in the MMI) and we happily say at 130km/h all the way through France, Belgium and the Netherlands. It's very dull but there's no point risking the wrath of police on the continent (particularly the French) who will happily pull over a UK-plated car for exceeding the speed limit and sting you with a several hundred euro fine. Besides, we needed that money for coffee, strange foreign sandwiches and more Haribo.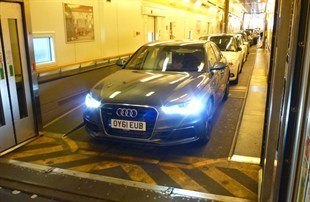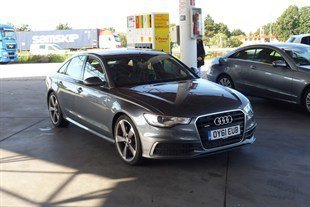 Cruising at a steady 80mph highlighted how refined the A6 is at motorway speeds. It's amazingly quiet with barely any wind noise while the 3.0 TDI engine is hardly breaking sweat at less then 2000rpm. The A6 comes with cruise control as standard which is ideal for the quiet stretches of motorway we found, where it's tempting to increase your speed by a few mph, creeping steadily quicker before you realise just how fast you're travelling.
Audi's Adaptive Cruise Control is available as an option and it's a useful system - keeping a set distance between you and any vehicle in front - up to your set speed. It also slows you down if a slower moving vehicle pulls out in front of you. It's not cheap at £1800 but on our trip there were a few times I regretted not choosing it simply because it makes motorway driving much more relaxed.
Relaxed certainly describes the A6. It's effortless at covering motorway miles and the leather sports seats (standard on the S line trim) are extremely impressive. The extra lumbar support on the driver's seat, which is part of the optional Comfort Package, really helps too and you can use it to support your lower back. So despite long stints of driving, neither of us felt any aches after two full days of driving - and a day of motor show inbetween.
Once into Germany, where there are no speed limits on big stretches of the Autobahn, the gloves were off and we were able to crank up the A6 to the kind of speeds it's truly designed for. What's amazing is that even as the figures increase to big speeds the A6 takes it all in its stride. So while the scenery is flashing past a lot a quicker at 130mph, it's just as serene inside with barely any more noise. It feels just as stable and composed too.
Of course going very fast does have an adverse affect on fuel economy. While we'd been sticking to 80mph, the A6 was averaging around 40mpg according to the on board computer but as soon as we hit Germany that soon started to plummet to around 36mpg. I didn't dare look at what the real time consumption was. Back in the UK and some back to reality driving has seen economy creep back up to a more respectable figure with the A6 averaging 40.2mpg. There are plenty more long journeys planned for the Audi though and i'll be keeping an eye on fuel economy.
« Earlier: Moving up in the world Later: Wheels of fortune »
Updates

The past six months with our A6 have absolutely flown by and it's proved to be a real favourite so we're sad to be saying goodbye.

The A6 doesn't come with front fog lights. Well, not the traditional type - instead it gets 'all-weather' lights which are actually more effective.

A recent test of the revised A5 Sportback got me thinking about how similar it is to our A6. And surprised at how closely matched they are.

There's a vast number of optional extras available on the A6 and here are what I reckon are the best five.

Fuel saving engine start-stop systems are becoming more common on new cars, indeed even our A6 3.0 TDI has one.

I've left it a little late but with the cold weather on the way it's time to get our A6 properly prepared with some winter tyres.

The A6 is fitted with plenty of advanced technology under the skin, with lots of features designed to make living with it easier.

Our A6 has already racked up 5000 miles in less than three months and the 3.0 TDI engine is getting better and better.

I've spent a lot of time behind the wheel of the A6 lately. Much of it in traffic. But it's given me plenty of time to play with the Audi MMI.

Audi offers a great choice of alloy wheels on its models with some superb looking designs. And when it came to the A6 we were spoilt for choice.

3 October 2011: To Frankfurt and back
The A6 goes straight to work with a mammoth pan-European trip to Frankfurt and a chance to test out motorway economy.

The new Audi A6 is the latest addition to 'Our Cars' and the 3.0 TDI quattro S Line version we've chosen has already had a hectic start to its time with us.