Money Saving Offers, Deals & Vouchers
In This Guide
Arranged Exclusively For HonestJohn.co.uk Readers
We've arranged a deal on GAP insurance just for HonestJohn.co.uk readers. Use the ALA GAP Insurance voucher code HJ21 at ALA GAP Insurance* and get 12 per cent off the standard price of a policy.
Protect your vehicle against expensive mechanical and electrical repair bills with a warranty. Get £75 off a 12 month MotorEasy warranty plan when you use our exclusive code HJ75 at the checkout.
Code can not be used with any other offer or discount.
Motorway* is one of the UK's most popular sites for selling your car online. Simply enter your car's registration number and mileage to sell your car to a dealer for a better price than part exchange.
Motorway connects your car with the best offer from an exclusive network of 4000+ verified dealers and professional buyers.
By selling directly to a dealer, you cut out the middlemen and could get more than through other selling routes.
Motorway is completely free to use if you're selling your car.
Keep your car looking newer for longer with MotorEasy protection products
HJALL - 10% off Alloy wheel Insurance
HJTYR - 10% off Tyre Insurance
HJCOS - 10% off Cosmetic Repair Insurance
HJGAP - 10% off Cosmetic Repair Insurance
Plus don't forget we also offer £75 off when purchasing a 12 month warranty with code HJ75

Car Guide redefines 'car checks' by focusing on the information that helps buyers save time, money and highlight future risks. It is the only company using AI to show what is likely to fail in the future.
A full buyers report costs just £8.99 and it includes all the typical data plus future failures, upcoming service and repair costs and also unrecorded salvage.
Click here to buy today. 
We've arranged a deal on warranty cover just for HonestJohn.co.uk readers. Save an extra 5% off a RAC Warranty Supplied by ALA using voucher code HJWTY. 
It can not be used with any other offer or discount.
Make sure you use the code ASAP.
We've arranged a deal on Breakdown Cover for HonestJohn.co.uk readers. Use the Emergency Assist voucher code HJOHN20 at Emergency Assist and get 20 per cent off the standard price of a policy.
Make sure you use the code ASAP.
GEM are offering new customers 12 months breakdown cover for the price of 10. Nobody wants to discover a flat battery, so having home start cover is essential at the moment. All GEM Motoring Assist breakdown cover policies automatically include home assistance.
Make sure you use this offer ASAP.
We've arranged a deal across BCP for HonestJohn.co.uk readers. Use the links below and get up to 30 per cent off the standard price.
Make sure you use the code before 31 Dec 2021.
Up to 30% discount on Airport Parking (Gatwick, Manchester and Heathrow only)
10% discount on Airport Hotels
10% discount of Airport Lounges
We've arranged a deal on Breakdown Cover for HonestJohn.co.uk readers. Use the Insure4Breakdown voucher code Honestjohn5 at Insure4Breakdown and get 5 per cent off the standard price of a policy.
Make sure you use the code ASAP.
1
Too late to bag a bargain? Deals from previous weeks
2
Deals between 10-14 February
Friday 14 February
Take your loved one out this Valentine's Day with a Three Course Dining Experience and Cocktail for Two at Marco Pierre White's London Steakhouse Co.
Thursday 13 February
Wednesday 12 February
4 years 0% APR finance on selected models, when you buy before 31 March 2020. Offer applies to purchases of all variants of the GSX-R1000R, GSX-R1000, GSX-S1000F, KATANA, GSX-S1000, GSX-S750, and V-Strom 650/XT purchased from a participating Suzuki Dealership. HP finance only. Minimum deposit required: £500.
Tuesday 11 February
The 3-in-1 Graco Slimfit is the only car seat you'll ever need. It'll last your little one from birth right until they no longer need to use a car seat at around 12 years old (0-36kg). Featuring side impact protection with True Shield technology, EPS, energy absorbing foam, and integrated belt lock-off for easier seat belt installation. It's currently £129 at Halfords, down from £179.
Monday 10 February
Save 25% on Silentnight beds and mattresses at Argos with code SILENT25 at checkout, or quote to use the discount in-store.
3
Deals between 3-7 February
Friday 7 February
The Breville One-Touch VCF109 Coffee Machine is currently £149 at Curry's, down from £299.
Thursday 6 February
Still wondering what to get your love for Valentine's Day? Why not opt for 15% off an Estée Lauder Youth Dew Luxuries Fragrance Gift Set from John Lewis, bringing it to under £40.
Wednesday 5 February
Save money on big brands like Karcher, Autoglym, Meguiar's, Muc-Off, Demon and more!
Tuesday 4 February
Honest John members can saver over 50% on 12 craft wines, yours today for only £59.88 - plus you'll also get a FREE bottle of sparkling Prosecco and FREE delivery!
Monday 3 February
Get two nights' accommodation for two people at a choice of more than 150 hotels across the UK and Europe with this offer from Buy A Gift.
4
Deals between 20-24 January
Friday 24 January
Thursday 23 January
It's that time of year where all the vehicles in Britain begin to get covered in grime and oil from the roads. Lovely. So, why not invest in a pressure washer? The Karcher K2 is currenly £98, down from £130, on Amazon and comes with a hose and two control lances.
Wednesday 22 January
Tuesday 21 January
The Coleman Coastline 4-person tent is currently £179, down from £350. 
Monday 20 January
This deal 25% off applies to new, single personal based cover. Ends 3 February 2020 at 9am.
5
Deals between 6 - 9 January
Thursday 9 January
Need a new vacuum cleaner? Argos has a massive saving on its range of Shark cordless vaccum cleaners.
Wednesday 8 January
We've teamed up with Virgin Wines to offer Honest John readers a better than half price saving on 12 mouth-watering wines! Plus a free bottle of Prosecco and free delivery.
Tuesday 7 January
LastMinute.com has a huge January sale on currently with deposits as low as 10%.
Monday 6 January
Amazon has a huge saving on their Sonicare range with most of the range reduced from £299 down to £99.99.
Average UK Fuel Prices for W/C 17 February 2020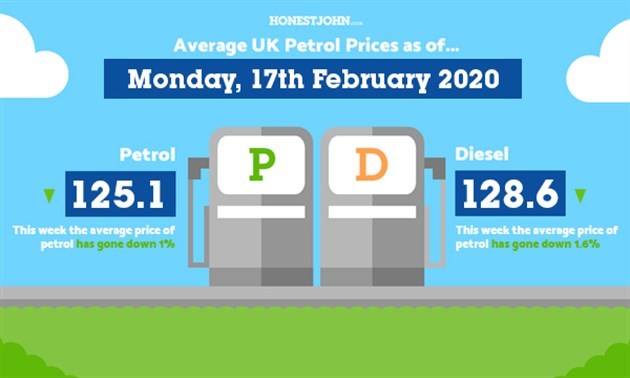 Car manufacturers offering car finance deals with free insurance:
Citroen is offering a 'SimplyDrive' package that includes three years' insurance, road tax, servicing and breakdown cover. The same deal applies to the DS range, too.
Peugeot's three-year 'Just Add Fuel' PCP deal combines insurance, road tax, servicing, breakdown cover and warranty costs into a single monthly payment.
Car manufacturers offering car finance deals with zero percent finance:
Alfa Romeo, Audi, BMW, Citroen, Fiat, Ford, Honda, Jaguar, Mazda, MINI, Mitsubishi, Nissan, Renault, SEAT, SsangYong, Suzuki, Toyota, Volkswagen, Vauxhall, Volvo.
See more manufacturer offers >>>
Ask HJ
I am buying a new car - what is the best way to insure it until I sell the old one?
I am buying a car from my dad - a 2013 Volkswagen Golf - and then selling my current car privately. I expect to have both cars for about a month in total. What is the best way to insure them while I have two?
You can either insure them separately, or on your existing policy. If you do not have long left on your old policy, contact them and request proof of no claims for the new insurer and policy - then run both policies parallel to each other. If you are at the start of the policy, put your new vehicle on that policy, insurers generally will allow you to have both vehicles on the same policy from a few weeks to a month.

More Questions
Ask HJ
How much would a decent dash cam cost?
What would be the cost of a reasonably priced, good dash camera?
I'd say to get a good dash cam you'd need to spend at least £30. You can definitely get them for less, but the footage quality isn't always great. For an extra tenner, it's worth knowing you can see the reg number or particular details in the event of an accident. The Aukey DR01 is currently £50 on Amazon right now, but we've seen it as low as £38. It's not got many features but the footage quality is very decent, review here: https://www.amazon.co.uk/AUKEY-Supercapacitor-Dashboard-Recording-Dual-Port-Black/dp/B01LWN99YA/ref=sr_1_1_sspa?ie=UTF8&qid=1531131508&sr=8-1-spons&keywords=aukey+dr01&psc=1 Obviously if you spend more, you'll get better footage quality and features (like GPS, WiFi etc). But if you just want a basic camera, you can find a host of good ones for less than £50 on Amazon. Check out our top ten best dash cams under £50: https://kit.honestjohn.co.uk/top-tens/top-10-dash-cams-under-50-1/ Alternatively, you can take a look at the reviews of all the dash cams we've tested for a variety of prices: https://kit.honestjohn.co.uk/category/dash-cams/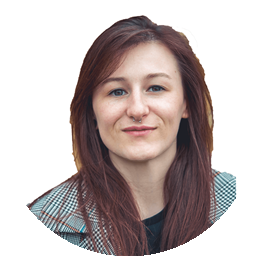 Answered by
Georgia Petrie
More Questions
* Sometimes we show a link with a * next to it. It means that it is an affiliate link and as a result helps HonestJohn.co.uk stay free to use. It's tracked to us and if you go through it, it can sometimes result in a payment or benefit to the site.