Our Cars: Audi A6 3.0 TDI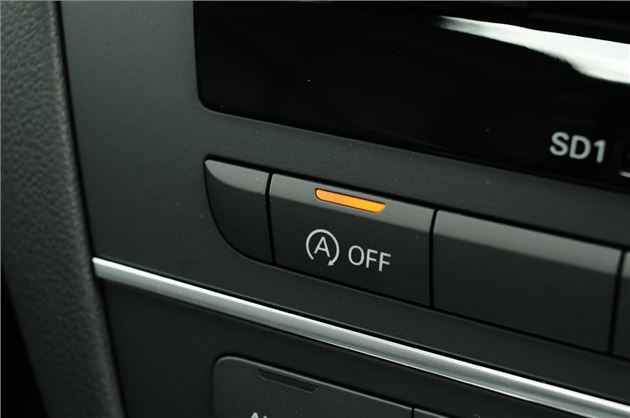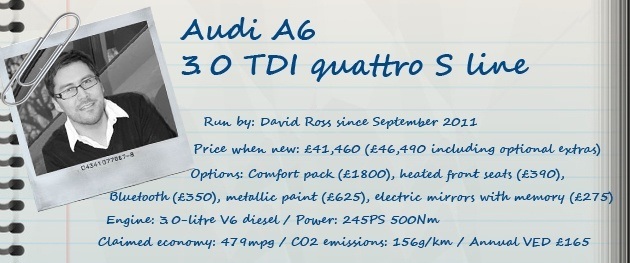 6 January 2012: Auto start-stop: Good or Bad?
The Details
| | |
| --- | --- |
| Current mileage | 7670 |
| Claimed economy | 47.9mpg |
| Actual economy | 40.2mpg |
Engine start-stop systems. That's right, this is going to be one of those updates. Feel free to leave now and go and look on eBay if you want. But while it's not exciting, you can't ignore the fact that more new cars are being fitted with an engine start-stop system as standard. My Polo BlueMotion had one while all new facelifted Audi A4 models get one as standard.
Initially they were fitted to cars with a manual gearbox. The idea is very straightforward. When you stop and put the car in neutral (and take your foot off the clutch) the engine automatically stops. As soon as you start putting your foot on the clutch pedal again, it restarts. Simple but very effective, especially if you spend a lot of time in traffic.
The technology has now advanced so that these fuel saving system can be fitted to automatics, like our A6 3.0 TDI. It works in the same way, so when you come a stop, it cuts in. Cleverly, the system delays a split second to make sure you aren't going to drive away immediately, before it stops the engine.
You don't need to put the gearbox in N, you can just leave it in D. As soon as you come off the brake pedal, the engine fires up again. It may seem odd having it on a large car like this with a V6 diesel engine but on paper it's an effective system, reducing CO2 by around 8g/km and improving fuel economy by approximately 3mpg.
Some people find engine start-stop systems annoying but once you get used to it, you pretty much forget it's there. Plus of course there's a button on the dashboard to switch it off, but given the fuel it saves, why would you? My regular journeys into London highlight just how long you spend stationary - and how often the system is on the 'stop' mode, not using any fuel. Given that even the Ferrari California comes with a start-stop system, it seems it won't be long before all cars have them as standard.
The cold weather has highlighted the fact that the start-stop system doesn't work all the time. It won't cut in if the engine isn't up to temperature or the car is on a steep gradient or if the exterior temperature is very low or high. It also won't operate if the air conditioning temperature you've set hasn't been reached or the steering wheel is close to full lock (it assumes you're about to pull out of a tight junction).
Occasionally when in stop model the engine fires back up again. Even with your foot firmly on the brake. Apparently this happens if the the interior temperature and the temperature programmed into the air con unit don't match or if the power consumption from in-car systems is very high.
It's not the only fuel saving measure in the A6 of course. There is also an energy recovery system that uses kinetic energy from the car as it slows down. When it's coasting or braking, the alternator converts this kinetic energy into electrical energy. This is temporarily stored in the battery and when the A6 accelerates again, the power flows back into the electrical system. Told you we'd get through it...
« Earlier: The A6 gets ready for winter Later: The top 5 optional extras on the A6 »
Updates

The past six months with our A6 have absolutely flown by and it's proved to be a real favourite so we're sad to be saying goodbye.

The A6 doesn't come with front fog lights. Well, not the traditional type - instead it gets 'all-weather' lights which are actually more effective.

A recent test of the revised A5 Sportback got me thinking about how similar it is to our A6. And surprised at how closely matched they are.

There's a vast number of optional extras available on the A6 and here are what I reckon are the best five.

6 January 2012: Auto start-stop: Good or Bad?
Fuel saving engine start-stop systems are becoming more common on new cars, indeed even our A6 3.0 TDI has one.

I've left it a little late but with the cold weather on the way it's time to get our A6 properly prepared with some winter tyres.

The A6 is fitted with plenty of advanced technology under the skin, with lots of features designed to make living with it easier.

Our A6 has already racked up 5000 miles in less than three months and the 3.0 TDI engine is getting better and better.

I've spent a lot of time behind the wheel of the A6 lately. Much of it in traffic. But it's given me plenty of time to play with the Audi MMI.

Audi offers a great choice of alloy wheels on its models with some superb looking designs. And when it came to the A6 we were spoilt for choice.

The A6 goes straight to work with a mammoth pan-European trip to Frankfurt and a chance to test out motorway economy.

The new Audi A6 is the latest addition to 'Our Cars' and the 3.0 TDI quattro S Line version we've chosen has already had a hectic start to its time with us.